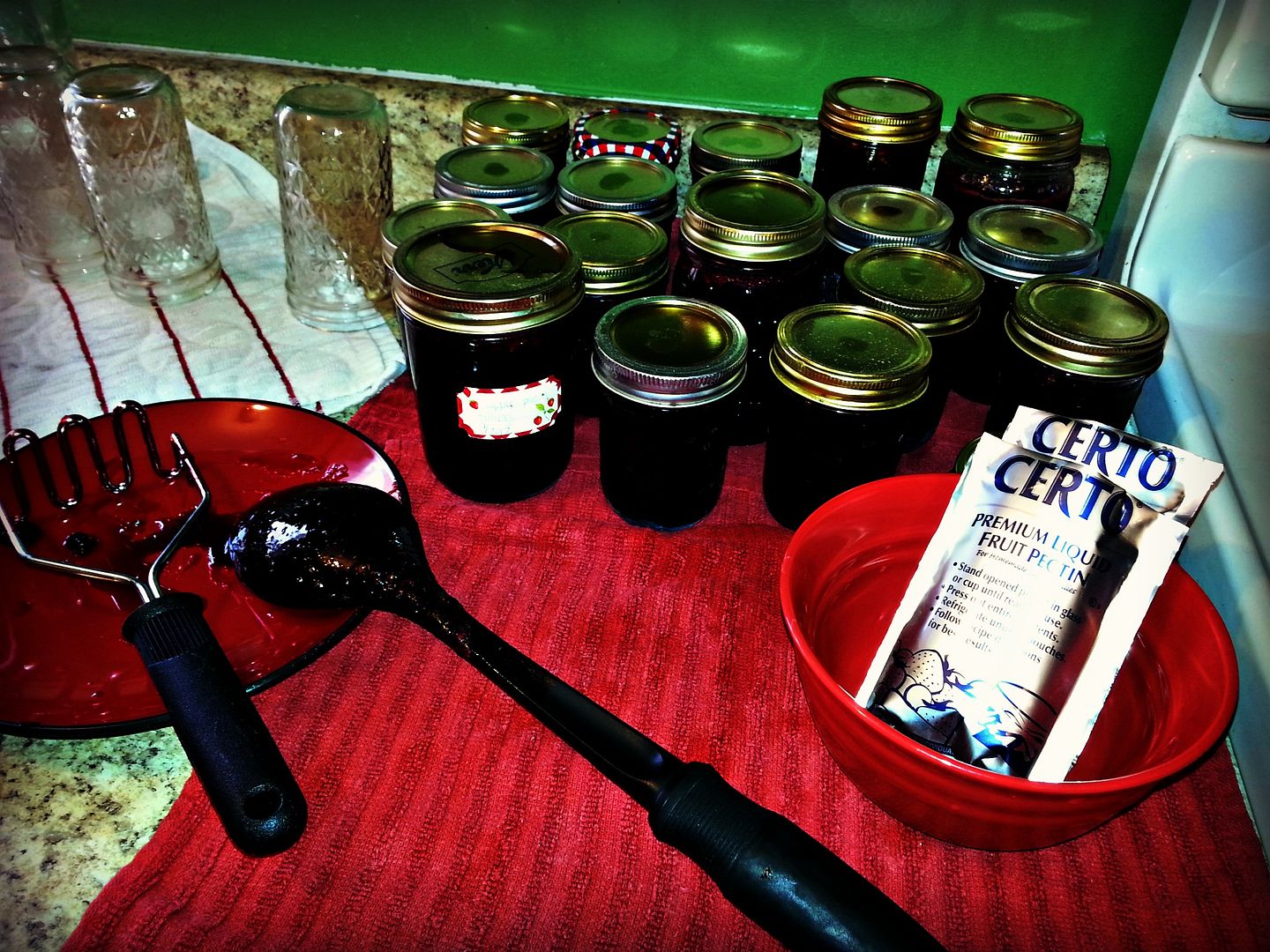 Alright lovelies, I know many have asked about whether I can or not. Well today I am setting the record straight...yes I do :) My motherinlaw taught myself and my sisinlaw a few years back. It has got to be one of the best things she has ever taught me. Some of you have asked for a tutorial, but to be honest I don't think I'll be writing one of those any time soon. Mainly because I don't feel comfortable sharing my knowledge about it yet. I'm not a pro, just an aspiring one. I can share some of my favorite tips and tricks though.
I use the
Ball Blue Book
for all my recipes. I found mine at Wal-Mart for under $10. It has a
how to
for anything you could think of canning. When it comes to Jam I use the Grape Jelly recipe. The one that uses grape juice, sugar, and pectin. Only three ingredients and then you have homemade jelly! I also have substituted Cran-apple juice for the grape juice to make jelly. It is pretty darn scrumptious too! Jelly also takes about 2 weeks to completely set, once canned. Just a little FYI for ya :)
I had a bunch of berries I had froze over the summer, last year. These things needed to be used, so I decided to take a few days and can all the jam and jelly I would need for a year. I thawed out all my berries and then used them to make batches of mixed berry jam. I used blueberries, blackberries, and strawberries. I had purchased all of these from
Bountiful Baskets
and Costco last summer. I bought them when the were at a rock bottom price and then freezed them. It's too hot to can in the summer here...
or at least it is for me...
so I freeze my berries in the summer and can them in the winter and spring.
I know that canning a years worth of something may sound like a daunting task, but it is so wroth it. I ended up doing between 20 and 30 jars of jelly and jams. Canning isn't hard, it is just time consuming, which is why I always recommend canning enough for 6 months to a year. This enables you to go longer periods in between canning. My philosophy is if you are going to get out all the stuff, fill that huge pot with water, and take the time...you might as well make it worth it right?
I find my juice on sale and combine coupons throughout the year. I then use it when I decide to make my jellies and jams for the year. Being able to have this one condiment taken care of is awesome! We are big PB and J fans, so having a good supply of jams and jellies is a must. I know that no icky stuff is in our jars, and that makes this mamas heart happy :)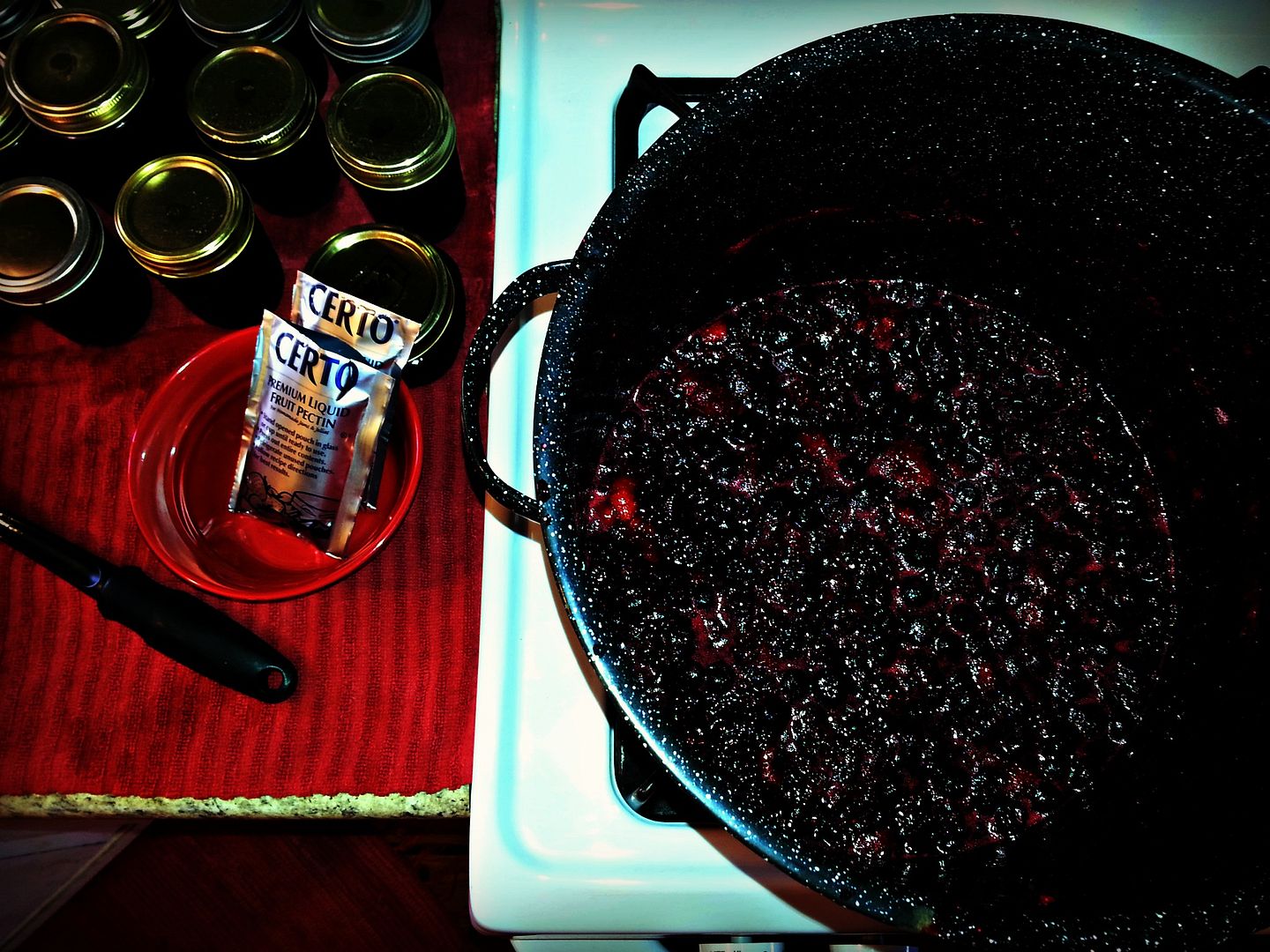 When doing my jellies, I use liquid pectin. I use the powdered kind for my jams. When you water bath your jams and jellies, they will have a store like consistency. Making freezer jams is absolutely easier, but you never get that thick consistency you see with store brands. This is why I water bath my jars.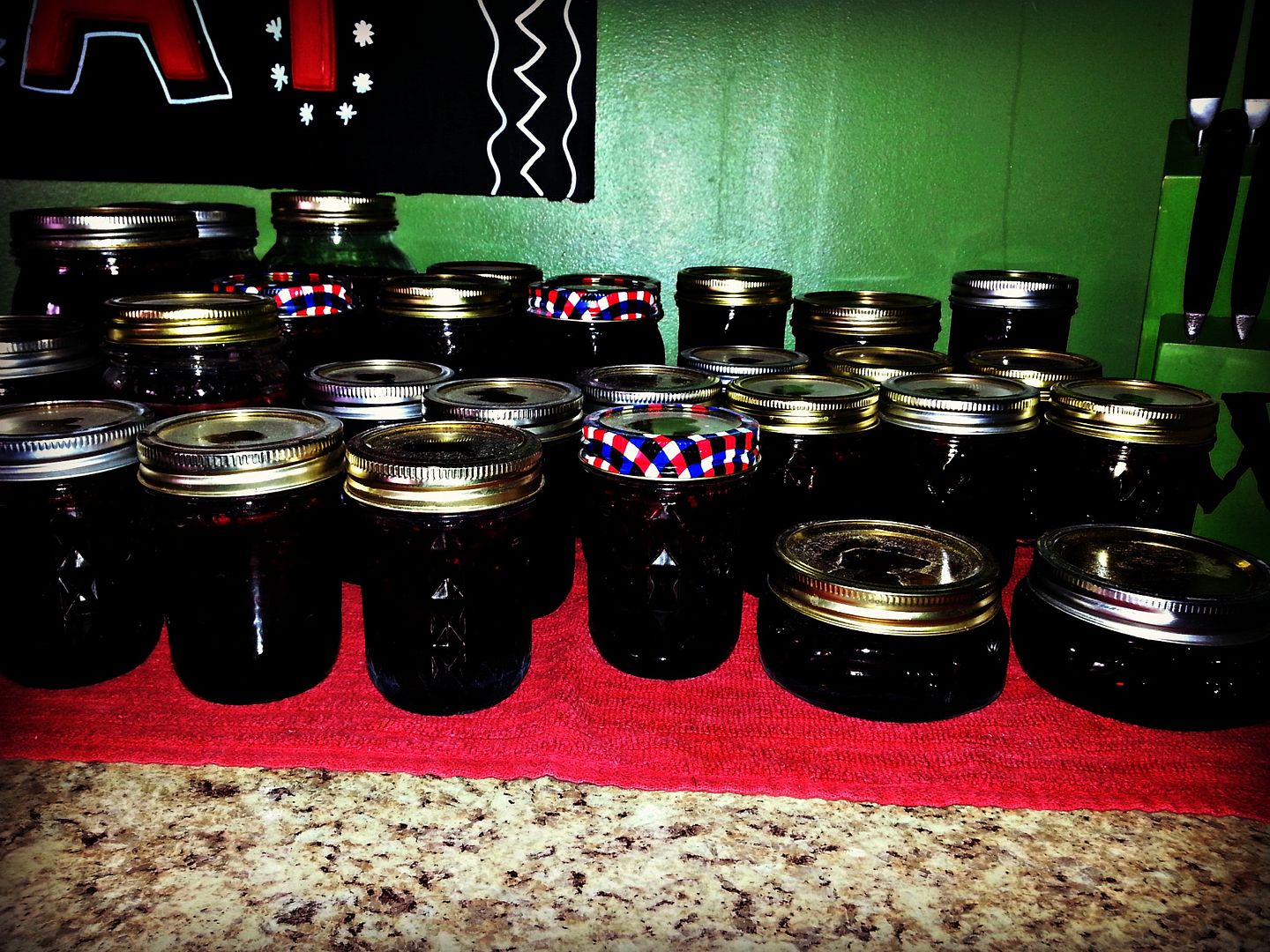 A quick way to sterilize your clean jars is to heat your oven to 220'. Place all your jars, lids, and rings (all separated) into the oven and allow to heat for 10 minutes. You must keep the oven door closed the whole time. Once your ten minutes is up, turn off your oven, and leave your jars in the oven until your ready to use them. This one step is a HUGE time saver. It is much better then boiling each jar in hot water.
So there you have it....just a few, quick tips and tricks. I love looking at all these filled jars. It makes me all smiles!
XO Danielle