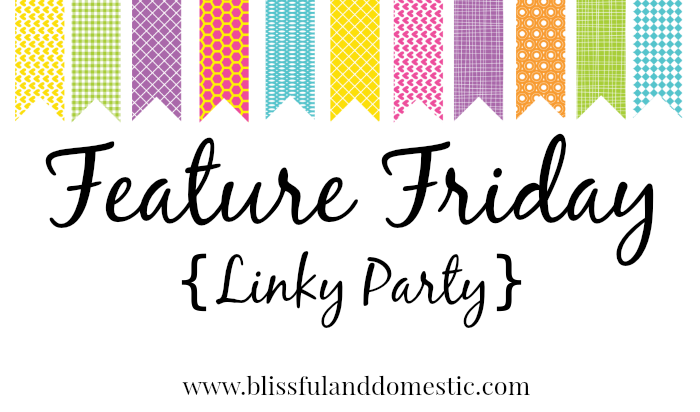 Hello Lovelies! It is Thursday night which means tomorrow is TGIF! I am so excited. This has been a busy week behind the scenes of this blog. I have a bunch of stuff in the works, which I will share with you soon. I can't wait to spill the beans when I am able to! Last week we had a few technical issues, but all is well now. Now that everything is A ok, I am ready to party!

OH and don't forget to sign up for Blissful and Domestic's newsletter too! It comes out each week and not only keeps you updated on all the blog happenings, but you will find featured recipes, frugal tips and tricks, family night ideas, linky party features, and more! Sign up above my header, so you don't miss out on a thing:)


I'm keeping it super simple. No buttons, just follow Blissful and Domestic via Google, Twitter, Facebook, or newsletter. Following along is a great way to stay caught up on all the happenings here on Blissful and Domestic. It is also a great way to see if your project was featured. I will be sharing all features via my social media pages and weekly newsletter. That means your project or recipe could be seen by over 20,000 people! So follow along and link up below. I can't wait to see all the cuteness you guys and gals have been creating!

XO Danielle






Don't forget to subscribe to my YouTube Channel!