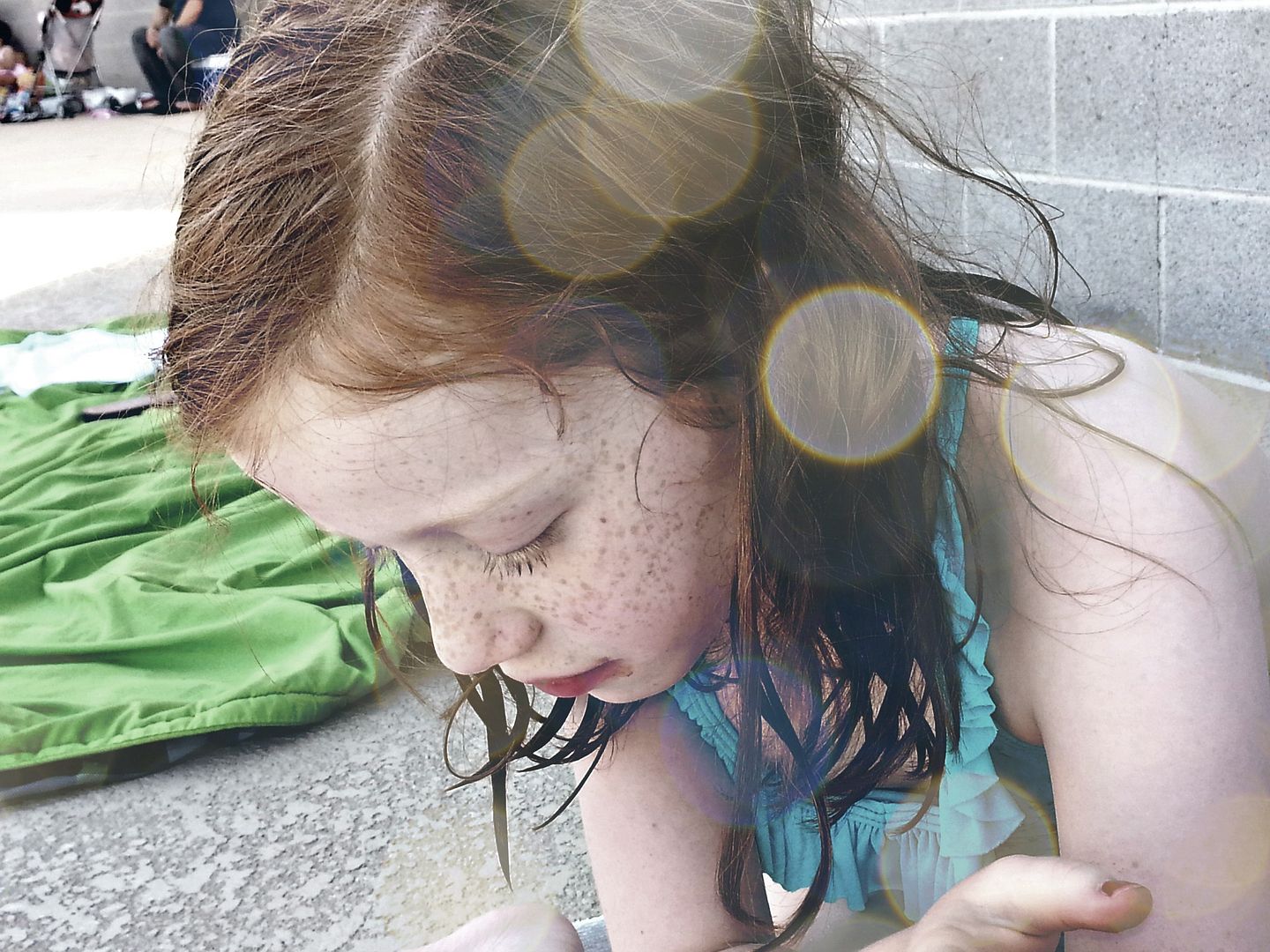 Just one moment was all it took. One moment she was right in front of me, I turned my head, and when I looked back she was gone. On Friday night, I went through the worst five minutes of my life. We were leaving my sis-in-law's wedding. It was late, the littles were spent from a night of dancing, laughing, and cousin play. Miss Priss, in particular, was ready to go. She was cranky and not loving the fact it was taking us a bit of time to say goodbye to the bride and groom and everyone else in between. We were leaving the reception, Miss Priss was in front of me
(stomping if I remember right)
, and Keagan and Hubby were behind me. I turned my back for one moment to give one last goodbye, I turned back around and she was gone. I couldn't find her anywhere. At first I thought she was just a few steps ahead of us, trying to get us moving out the door. I searched, but she was nowhere to be found. That is when Hubby and I looked at each other and something changed. We realized we couldn't find our little girl. He ran back into the reception, searching for her....thinking she may have walked back to give her cousins one last hug. She wasn't there. Keagan and I started yelling her name, searching frantically. It was in this moment that my worst fear
ever
was coming to light. I didn't know where my child was.
As parents we all have the fear that our child will go missing. It's a nightmare we never want to endure. In those moments, when our little is gone, fear and panic take over. Time stood still. Family started helping us search. I said a prayer. Keagan said a prayer. I went to the DJ and asked him to announce her name over the microphone, in case she was somewhere hiding.....thinking all this was a game. Then I heard the words that brought tears to my eyes "We found her". What a relief that was. I have never been so angry with my daughter and so happy all in the same moment. Her Uncle Shane found her. She had walked to the elevators and decided to go up the stairs instead by herself.
She had decided to go out on her own because she thought she knew best. By the time she realized she was alone, she had gone to far. She couldn't remember the way back to the reception. She was in a big hotel, unsure of her surroundings. She did however remember a little tidbit we continually tell our children. If you get lost, stay where you are and we will find you. She sat on those stairs, knowing her family would come find her.
Seeing that freckled face again was such a blessing. I hugged her and we both cried. I told her how scared I was...how scared we all were that we couldn't find our little girl. We told her never to walk away like that again. She is just a child and can not go off on her own. We cried on and off most of the way home. It was terrifying for the whole family.
While on the way home, we said a prayer of thanksgiving. A prayer to thank our Heavenly Father for delivering her to us. A Heavenly Father who guided my brother-in-law to where Miss Priss was. He was watching out for our family that day.
This morning I started thinking about that terrifying night. I started thinking about how sometimes in life, we are all just like Miss Priss. We stomp off, thinking we can do it all on our own. We say "I got this" and refuse the hand of our Father in Heaven. Most times we end up lost, unsure of the way back. We become lost, just like Miss Priss was, sitting on those steps, waiting for help to come. When we are lost, not sure how to get back to where we need to be, we have a Savior who will reach out his hand and guide us back. He is the way back. When we are lost and scarred, he can bring us peace.
I know that I am very blessed that nothing happen to my little one. I know that some parents are not so fortunate. My heart and prayers go out to them. I pray today you will hug your little ones a little bit tighter. I pray you will kiss them on those cheeks a little bit more. We are blessed to get to have such sweet spirits in our life. Whether it is your child, niece, nephew, granddaughter, or grandson, I pray you will cherish them today. Teach them about what to do if they get lost. Teach to know their home number. This is a lesson to teach them over and over again, so when a problem arises they are prepared. I pray that when we are going through a trial, that we do not go at it alone. God is there, willing to help, all we have to do is ask. God is good and he is always with us.
I pray for you and me today.
XO Danielle






Don't forget to subscribe to my YouTube Channel!