This is a Guest Post by Karen
Disneyland is such a magical experience, and was a wonderful part of my childhood. We definitely want our kids to experience it, but not at such a high expense! Here are some tips and tricks I've gathered to help make the trip a little more financially manageable.
Save the money outside of your current budget
If you stick to a planned out budget, chances are you have some sort of allowance for entertainment. We decided to save for this trip independently of our entertainment budget. Sell household items, toys, earn some extra cash on the side, and put it towards your Disney fund. Our trip so far has been funded by a combination of selling toys and household items, a monetary gift from a family member, and a small amount of some unexpected money that came in. This has also been a great way to teach financial principles and numbers to our kids. Each time they sell a toy, we track the money earned towards our trip on a flip board. Also be sure to add the costs of gas, travel, food, and souvenirs to your budget.
Go for the cheaper ticket options
Be sure to familiarize yourself with all of Disneyland's ticket options. The Annual Pass may seem like a better deal, but it comes at a steep price. Do the math. If you are going to visit the park more than 6 or 8 times a year (the amount of visits necessary to just break even with the cost), then it may be worth it. However, you've also got to factor in all of the expenses that go along with those trips such as the gas, food etc. That's where it really starts to add up. The 1-Day (1 park) tickets and the 2-Day (1 park per day) tickets with the AAA discount are great options if you want to spend less. Beware of the Park Hopper upgrade too. Realistically, it is very hard to see and experience a lot of both Disneyland and California Adventure in one day.
Pack your own food
We like to pack our own lunches and snacks on trips. I cringe at the theme park food prices - and for junk food! Yikes! I allow for some treats and junkier food on trips because, well it's a treat! So, about a week before the trip I head to the 99 Cent Store first to see if they have some pretzels, granola bars, and other snack items that are junky enough that they are a treat, yet aren't entirely chemical laden. After seeing what I can score there, I also make sure to pack peanut butter, jelly, bread, organic apples, cereal, ziplocks, and a big flat of bottled waters. We use reusable water bottles during the year, but on trips we opt for these because who wants to do dishes on a trip?! If I've had time to do some couponing, I may throw some of those food items in our bag too. Lunch and snacks are therefore covered. We probably will have 1 or 2 snacks or meals at the park, but at least this limits the amount spent on food.
Buy souvenirs ahead of time
Gift shops can be money suckers! I want to buy my kids something to enjoy and remember the trip by, but I do not want to spend a fortune. So, I like to buy some gifts ahead of time at discounted prices then surprise them with it while we are there. I usually aim to get something practical like a clothing item as well as something fun. I also like to strategically avoid the gift shops. Steer clear of them in the park as best you can! Look at the park map ahead of time to proactively avoid the shops. If you live near a Disney Outlet Store, go there without the kids sometime and get a few things to surprise them with. Zulily also routinely has Disney branded items at a discount.
Buy Disney Gift Cards . . . and a Word About the Disney Credit Card
To save even more, see if Raise.com has some Disney Gift Cards available. Raise sells gift cards at a discount. If you have some extra gift cards laying around that you will not be using, sell them on Raise to make some extra cash! Then, use those gift cards at the outlet to purchase your souvenirs, or you can also use them at the park itself. Be sure to read restrictions carefully! Also keep your eyes open for Disney Gift Card deals at stores like Target, and grocery stores. If you have a Target Red Card, you will get 5% back on your purchase. I've also seen some grocery store promotions throughout the year like get $10 in groceries for every $100 in gift cards spent. Every little bit of savings counts! You can also use the gift cards as a way to budget out your trip, only allowing yourself a certain amount to be spent in the park. I will mention that Disney offers a credit card with some interesting perks. Be sure to read the fine print carefully! You get 10% off Disney Store transactions with a minimum $50 purchase. The discount cannot be applied to theme park passes. By opening an account you also get a $50 credit after your first purchase. Other perks include a character meet and greet for card holders (with one complimentary 5x7 photo), select dining discounts, and reward dollars can be earned to redeem towards merchandise, theme park tickets, resort stays and Disney movie tickets. You can find more details about the card Here. Just be sure to weigh out the pros and cons. I generally steer away from opening new credit cards. If you currently have a card with a rewards program, you may find that you will use those rewards more than the Disney rewards after your trip. Also, remember to pay that card with the budgeted cash you saved quickly upon your return!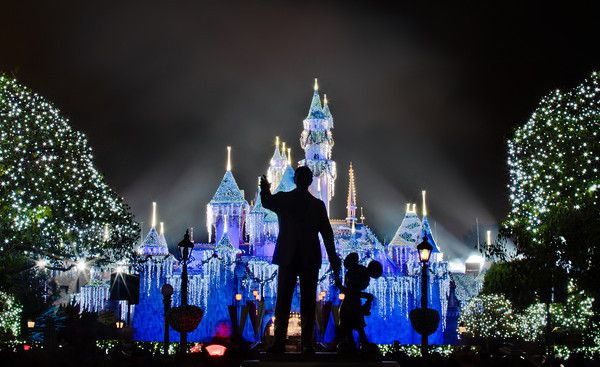 Minimize hotel expenses
If you have friends or family within a close driving distance of the park, stay with them. If you live in Southern California, also consider making it a day trip and pack pj's along for the kids to change into as they snooze away on the way home. If you need to stay in a hotel, you can find many options near the park that are much cheaper than the Disney branded hotels. Trip Advisor is a wonderful resource for finding such hotels.
-Karen
-----------------------------
Thanks Karen! I love all the amazingly simple tips and
tricks
you shared! Don't forget to check out Karen on her
blog
!
XO Danielle






Don't forget to subscribe to my YouTube Channel!