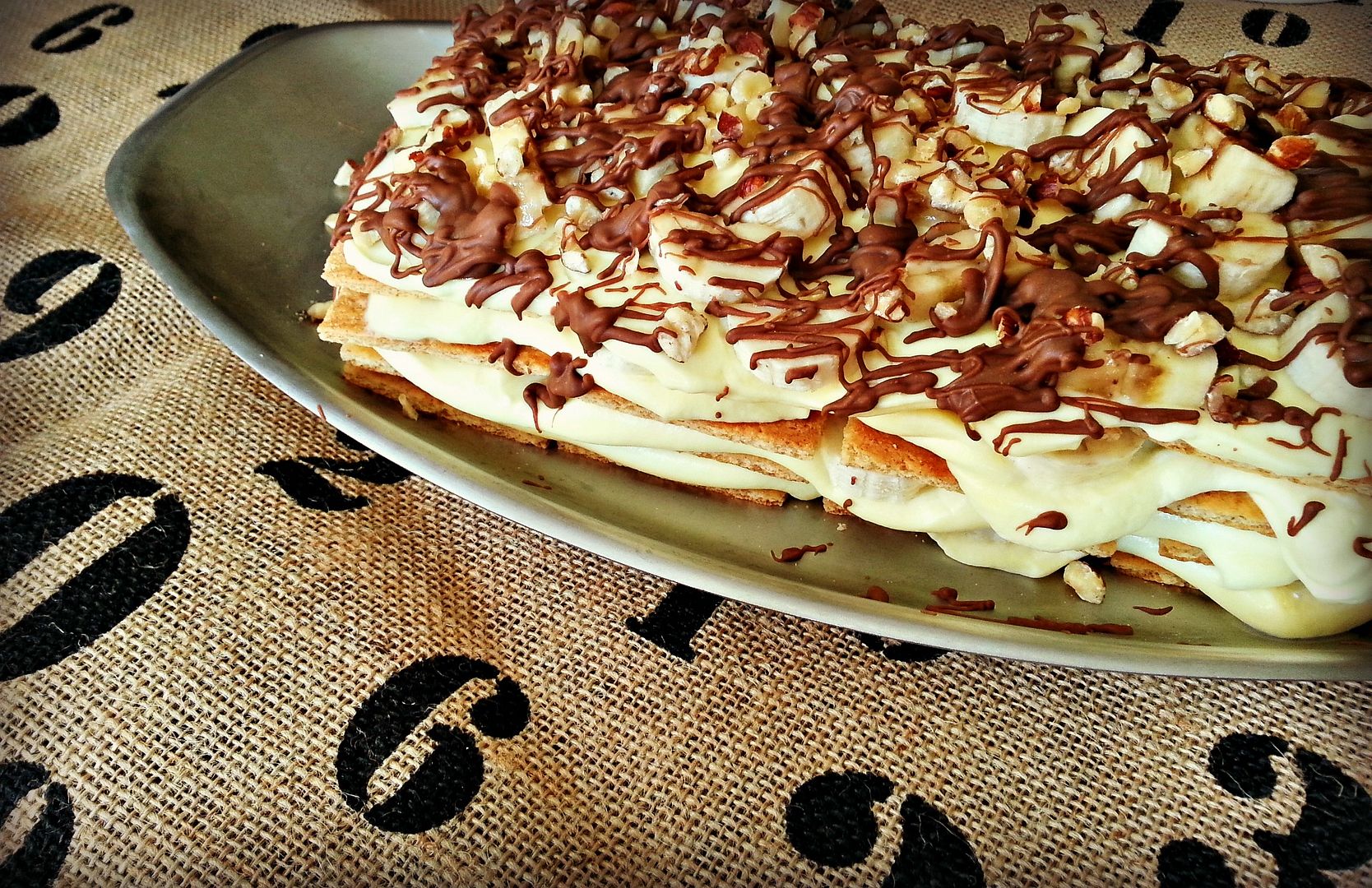 Good morning lovelies! It Wednesday and that seems like the perfect day to share a yummy dessert. In all honesty though, isn't any day a good to share a sweet treat? I think so. My hips may disagree, but I don't listen to them. The taste buds are running the show today:) Over the weekend we celebrated my Dad's birthday. He is turning...well...err...that part doesn't matter. He is a young 50+...I'll save him from having his age plastered across the web. You're welcome pops! Anyways he turned a ripe old age of something older than thirty and a birthday cake was called for to help in the celebrating. He told me he wanted a pie. Banana cream to be exact. That put me in a pickle, since this mama has not mastered pies yet. In fact I have actually never tried. They intimidate me a bit (I know I need to put on my big girl pants and give it a try. I will promise. someday). I could have bought a pie, but where is the fun in that? I also would have nothing to share with you today if I had gone the store bought route, so really I was thinking of y'all.
I Googled some recipes for banana cream ice box cakes, since my
Oreo Cake
was a hit last week. I came across
this one
and it is a winner. I tweaked it a bit and am here to share this yummy, no baking required, cake. It looks like a cake, but taste like a pie. Yum yum!
Ready to see how simple it is to make?
Let's get started!
Banana Cream Pie Ice Box Cake
2 - 3.4 oz boxes of Instant Banana Cream pudding mix
2-1/2 cups whole milk
1 small tub COOL WHIP whipped topping, thawed (or make some whip cream at home)
16 whole honey graham crackers
4-5 whole bananas
1/3 cup milk chocolate melting chips*
2 tbl chopped hazelnuts for topping
In a medium size mixing bowl, combine your pudding mix and milk. Mix with a whisk for 3-4 minutes, until completely mixed. Put in the fridge for 10 minutes. Once your 10 minutes have passed and your banana pudding has thickened, fold 3/4 of the tub of whipped topping into the pudding. Mix until just incorporated.
On a long serving tray, (I used this silver one I recently got for 50 cents while thrifting. Score!) place four graham crackers, so they fit side by side in a long rectangle. Using a bag, pipe a layer of banana pudding onto crackers. Top with 1 chopped banana. Repeat this 2 more times. For your fourth layer, just add four crackers and banana cream. Put in the fridge and allow to sit for 4 hours. Next top with one more chopped banana, hazelnuts, and melted chocolate.
To melt your chocolate, place it in a microwave safe tub and heat in 30 second intervals, stirring after each heating. You want a smooth, melted chocolate. Once you reach that consistency, drizzle your chocolate over your cake and place in the fridge for another 2 hours. Cut and serve!
*Notes*
-I find my chocolate melts in the bulk food section of Winco. You could use baking chocolate as well.
-For piping I use a gallon size bag, with the end cut off.
Don't you just love a good ice box cake? Especially in the summer. :) Make something yummy for those munchkins today :)
XO Danielle
Looking for something else delicious?
Try these sweet treats!






Don't forget to subscribe to my YouTube Channel!