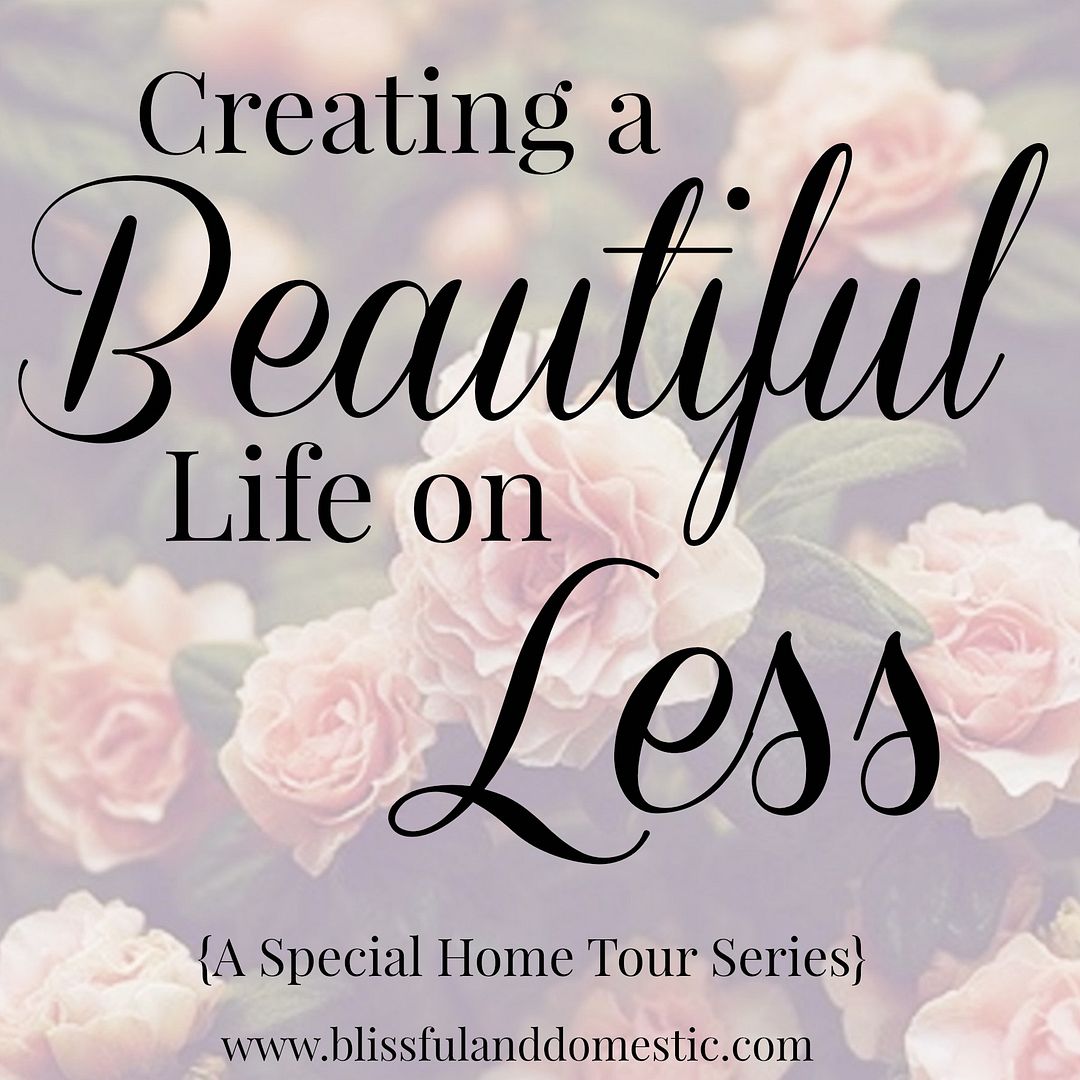 Today we have a home tour by Holly. She's a cute mama to four adorable littles. She also happens to be my sisinlaw. I am so excited to have her here on the blog today!
She is here to share her tips and tricks for creating beautiful on less.

Let's get to it...
-----------------------------
Hi! My name is Holly and I am Danielle's sister-in-law (we married twin brothers, cool right?)! No, our husbands are not identical! (We get asked that all the time.) My husband and I live in a small town with our 4 kids and we have a small farm in our backyard! We love our country lifestyle and I love decorating our home with homemade items and finding all sorts of ways to never waste and reuse all kinds of things. I am excited that Danielle asked me to be a part of her home tours!

This is our entry when you come in our home. The large painting was done by my grandmother before she passed away and I so cherish it! The frame for it was made by my husband out of some old barn wood from a friends barn they tore down. We kept the original red paint on it because it looked so cool! My husband hung it so high because he is very paranoid that something will happen to it! Haha... But it gave me a spot for photos of the kids so that's okay :) Oh, and the shoe tree we bought at The Container Store (everyone asks me about this) and it is one of the best things we've ever bought!
This is the view from our entryway. It opens into a great room that we have divided up into our dining room and living room. The gray trellis wall along the whole back was lovingly hand painted by my sister when we first moved in (I was pregnant and she's very artistic). She was a trooper, it took her a few days to complete it! We get so many compliments on this wall, I love it!
As for this wall, I am working on this area still! I have some ideas but need some money to complete it, so for now it is occupied by this TV stand that was originally made by my husband shortly after we were married and painted red. He made it out of MDF board, which is great for painting and only cost us $20 at the time. But after we moved here, I decided to give it a more rustic look by repainting it an antique white and I cut up a pallet for the boards on top. I loved the color of the pallet already so I just sealed it with an orange oil sealer. The couch under the window we got for $30 from a yard sale and the china hutch my husband made as a wedding present to me. (He's very talented but he will never say so!)
This is my mantle that I am obsessed with! In Las Vegas (where we moved from) you rarely see fireplaces/mantles so I have really loved decorating this for each season! Plus, it's really the first thing people see when they walk in so I want it to always look nice and festive! My sister painted the horse portrait for me and I painted the frame turquoise. I crackle painted the mirror (used to be some weird ugly print) and that is a permanent fixture on the mantle. The topiary I decided to make myself because they are ridiculously priced (in my opinion) and easy to make. And the frame with the kids picture I painted with chalkboard paint so I can change up the pattern if I choose.
This piano area was one of the first areas I focused on when we moved in. I had a sit-down with the kiddos and they helped me come up with the rules for our house (I may have helped them a bit, they came up with some interesting ones!). I cut up another pallet and used stencils to paint the letters on. I then distressed it with a palm sander and sealed it with the orange oil sealer again. The piano I painted with homemade chalk paint using baking soda. The hubs told me it looked like it might glow in the dark before I put the antiquing glaze on! Haha... I decorated the black keys with patterned washi tape. It's so much funner to play a colorful piano! Trust me!
This is my oldest daughter's room that she will share with her sister once the baby is sleeping better. I taped off the chevron pattern when we first moved in. I love this wall! And it only took a quart of paint with some left over since it is basically half a wall. Also, if you have textured/orange peel walls like us, I learned a helpful tip! To get a straight line, smear caulking over the tape edges before painting and you will get super clean edges!
This is our master bedroom that we share with our little princess for now! I made the headboard out of an old door I bought at a yard sale. I painted it and added table legs bought from Home Depot. It is for sure one of my favorite yard sale finds! I love having homemade things in our room that mean something to us. The frame on my husbands nightstand was the first Father's Day gift our oldest gave him. The painting on the upper left was painted by a friend as a wedding present. The pot on the shelf was made by my husband's oldest sister and the candle next to it given to us by my dad. And my hubby's tie organizer was another Father's Day present from the kids a couple years ago.
--------------------------------------
Have a fantastic day lovelies!
XO Danielle






Don't forget to subscribe to my YouTube Channel!