This is a Sponsored post written by me on behalf of Listerine.
All opinions are 100% mine.
Do you ever just see something and have complete nostalgia for it? Listerine bottles do that for me. Weird right? A mouth rinse that somehow makes me feel a little bit sentimental, but it does.
Let me explain...
Growing up, my Mom and I would go back East to visit family every year. My grandparents lived in a three story house, with one bathroom. I know right! One bathroom with three stories.... builders did things differently back then :) The bathroom had blueish greenish tile and always smelled linen fresh. I am not sure what my grandmother used to clean, but it always reminded me of clothes fresh from the laundry. On the counter of that bathroom was always a blue Listerine bottle. It was my grandfather's and he used it every morning and every night. I guess he got the memo that rinsing when the sun comes up and when it goes down is beneficial for your chompers, because that man died with all of his teeth teeth still intact. He had a beautiful smile. I always cherished those visits back to Palisades Park, NJ. I cherish the memories of sneaking Listerine, in the bathroom, because I wanted to rinse just like my grandfather. So anytime I see a Listerine bottle, I immediately think of my red cheeked grandfather. He was the best.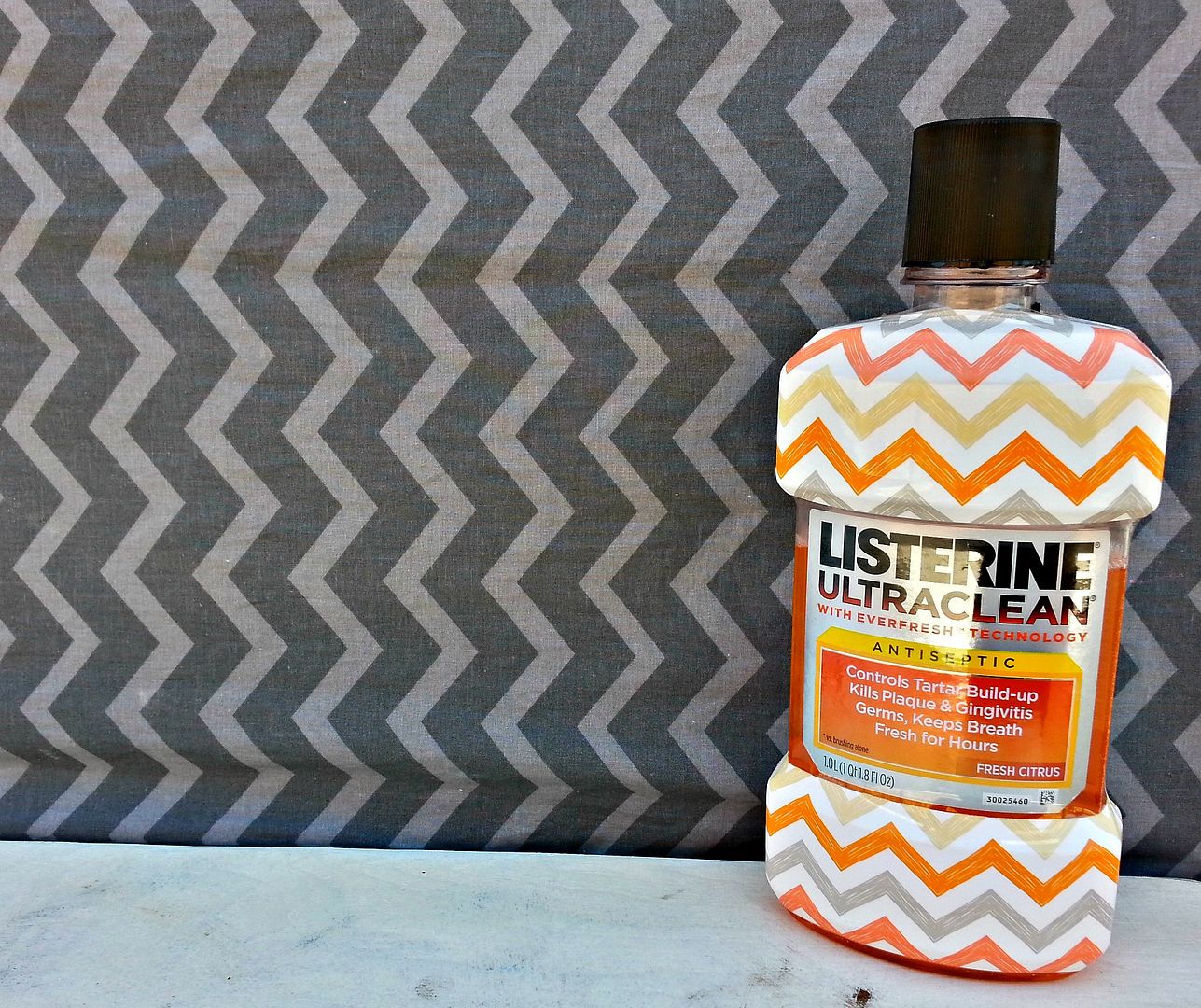 Now that I have munchkins of my own, I want to set a good example for them. I want them to have strong teeth and be healthy, just like my grandfather was a good example for me. I was thrilled when I learned that I could partner up with Listerine and share my love about how Listerine is the
#1 Dentist recommended brand
. The boy gets to swish every time he goes to the dentist and orthodontist. It also comes in four different flavors, which this mama loves. I have children
(and a husband)
with delicate taste buds. One cannot stand mint, so the
Fresh Citrus
is for her, where the other one loves the
Cool Mint
. Oh and the hubs.... well his favorite is
Arctic Mint
. Oh the joys of being a mother and wife. It can be hard to please everyone, but us Moms sure do try:)
Listerine is coming out with an exclusive Chevron patterned bottle that will be sold exclusively at Target stores. This bottle is full of charisma and spunk! This bottle is insta decor for us no nonsense mommas. It is functional, but looks cute too! Oh and did I mention it is Chevron? Love it! In fact when my son saw this bottle he said
"Mom it's in your favorite pattern"
. That boy knows what's up! The Chevron make it easy to leave out on the counter, especially since I have a "keep it simple" rule for our bathrooms. We keep it simple in there since, with multiple people using the bathroom, it can become a hot mess real fast. Keeping it simple allows things to be wiped down and cleaned up in a flash.
Keeping our Listerine out on the counter is also a helpful reminder to make sure we're using it. The boy especially needs the reminder, since he is sporting braces right now. He needs the extra help! A clean mouth is a happy mouth I always say!
The Chevron bottles will be sold for a limited time at Target Stores. Grab your coupons ladies and snag yourself a chevron Listerine bottle this week!
Save Now with Target Cartwheel
This is a great way to get exclusive Target coupons!
Oh and please tell me if anyone else has any toiletries that makes them nostalgic? C'mon I can't be the only one:)
XO Danielle






Don't forget to subscribe to my YouTube Channel!