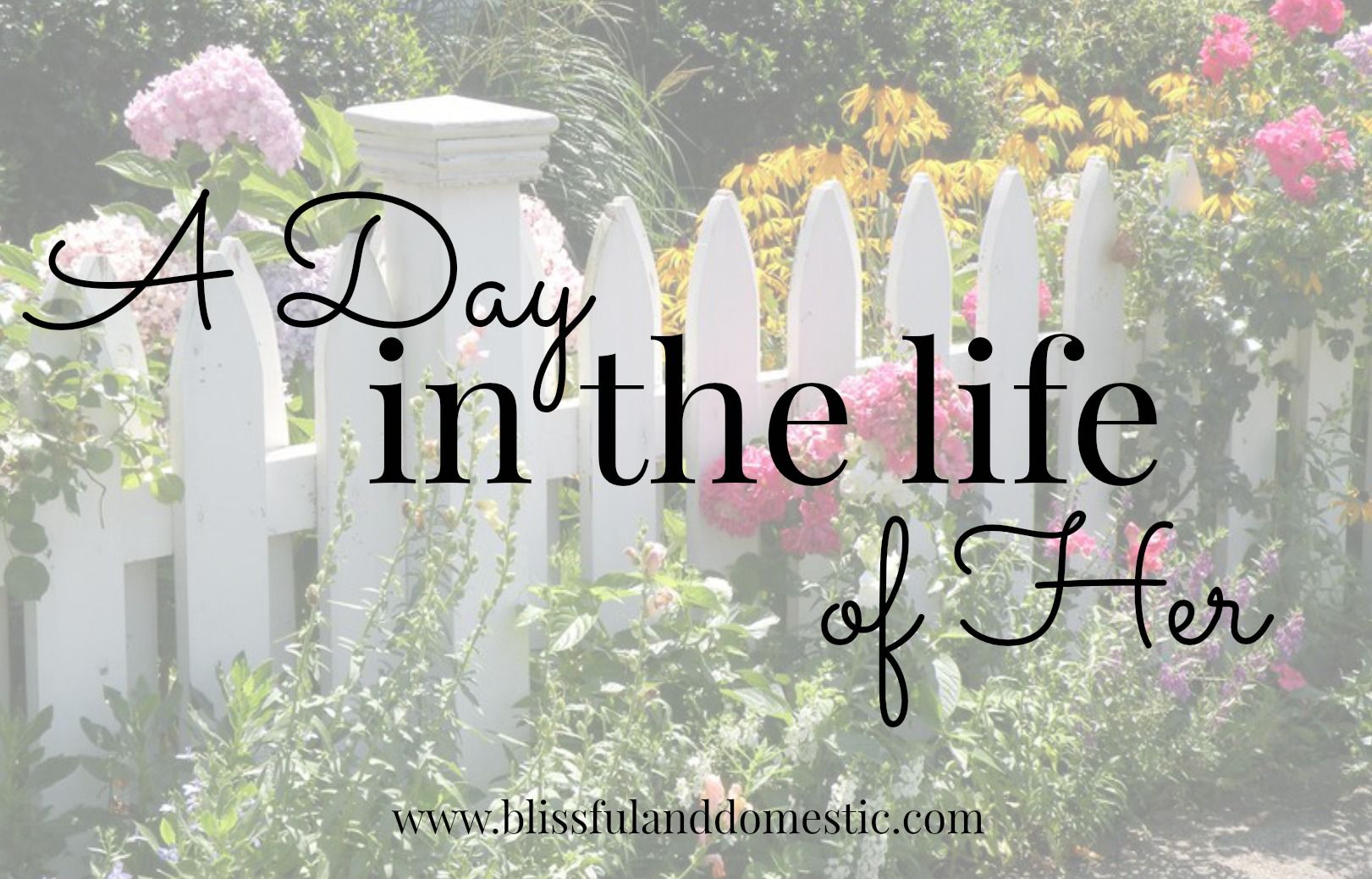 Good Morning Lovelies! Today you are invited to spend a day in the life of her.
You know that gal who you might think has it all together. The mama who seems to do it all. Well guess what? She doesn't. Let's fight those lies. This new series is an effort to get rid of the "super mom" image that we all make for ourselves in our heads. It is a time to inspire one another even more. We do not have to always have it together to be good moms, wives, and women in sisterhood! I have invited some wonderful women to share their story with us and to be real with y'all. They will share their struggles, their victories, their frustrations, their joys, and everything in between. It may not be glamorous, but it is real and real is absolutely beautiful
Come walk a bit in the shoes of another....
------------------------------




(a recent visit to the Gateway Arch. I LOVE St.Louis!)
Hello, I'm Amber. I'm a stay at home mom to my 4 year old son Ayrton. Along with my husband Aaron we call St. Louis home. I grew up in a small town of 200 people in Southern Illinois, so I find I'm a nice mix of country and city. I was excited that Danielle gave me a chance to share my day with all of you. So here goes:
6:02: Good morning. Aaron has a meeting at 7 so he's already up getting ready to leave for work. I get up and make our bed. Our house is on the market so any little cleaning thing I can do saves time when we have a showing. Nothing is worse than rushing to clean up, leaving the house, and wondering if there were any dirty clothes or underwear left laying someplace.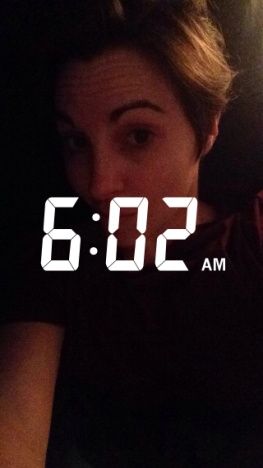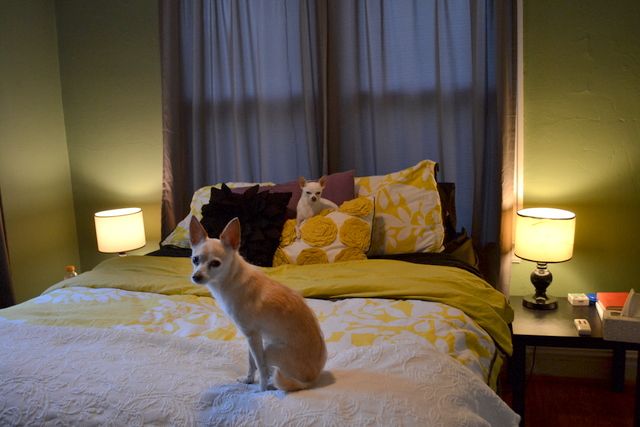 (Our dogs Phoebe and Speck inspect my work)
6:15 I unload the dishwasher. I try to run it at the end of the day and since I cook a lot I like having an empty one to fill up at the start of the day. I also sweep the floors. We have two cats and two dogs and I fight a never ending war with pet hair. After I do that, I check my email and Facebook and have a cup of coffee. I talk to Aaron about our day while he has his breakfast.
(you said to show you the good and the bad)
7:00 I was able to get dinner in the crock pot and pack Ayrton's lunch before he wakes up. Ayrton is not a morning person and it takes him awhile to really wake up. I try to get some snuggles from him while he's like this. I have some bread that's day old so I'll make us French toast for breakfast.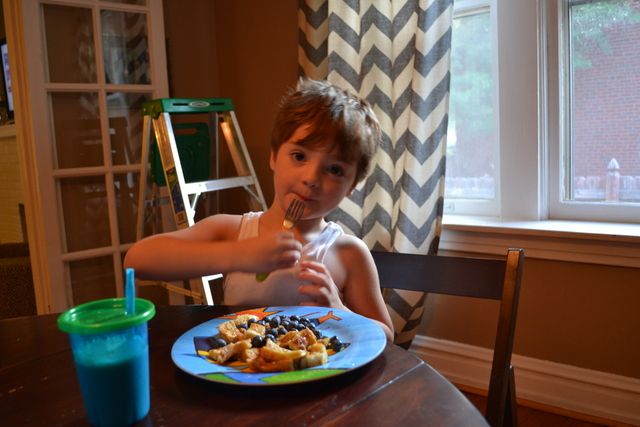 8:00 Breakfast is done. Ayrton is dressed and playing with his cars. I've made Ayrton's bed and picked up his room. Now I'll get dressed and ready. I love dry shampoo since most mornings I don't have time to shower; I also have short hair so no easy ponytails for me. I love these turban style headbands I found at Forever 21 for $3.80. My makeup is a BB cream, mascara, bronzer and blush.
9:00 I drop off Ayrton at Parent's Day Out at our church. When I had Ayrton I was the first of my friends to have a baby and I really didn't have any close mom friends. PDO as we called it was a great way for me to meet other moms and it also gave Ayrton a chance to play with other kids his age. He goes twice a week and I try to do all my errands on those days, so the rest of the week we can have fun.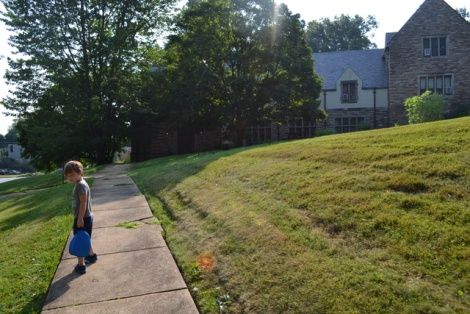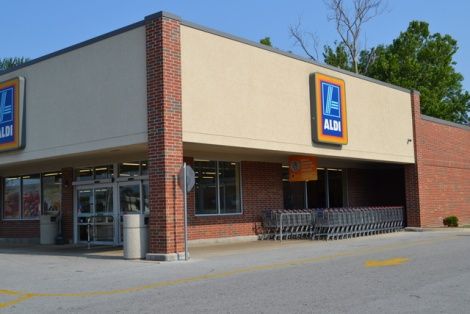 9:10 I make a run to Aldi for produce for the week. I looked at the sale bill for the weekly specials. This week they had watermelons for $2.99 which is almost half price of the other grocery stores in the area. I pick up some other fresh produce and a couple dozen eggs while I'm there. I'm lucky the Aldi is less than five minutes away from our house.
9:45 I'm back at home and I'm going to can some pickles. My mom always canned when I was little and I'm starting to try my hand at it. I spend a LOT of time in the kitchen cooking, so while I cook I enjoy watching things on my iPad. Right now I'm watching John Adams again on Amazon Prime. We watched it several years ago and I'm really enjoying watching it again. These cucumbers came from the Soulard Farmers Market; it's been around since 1779!
11:00 Well, things are not going as I planned. Over half the jars didn't seal the first time. I take off these lids and try a different brand. Another jar of them spilt into the sink. I'm sweaty and the house smells like vinegar but I'm going to keep trying. (I also hope no one wants to see the house today)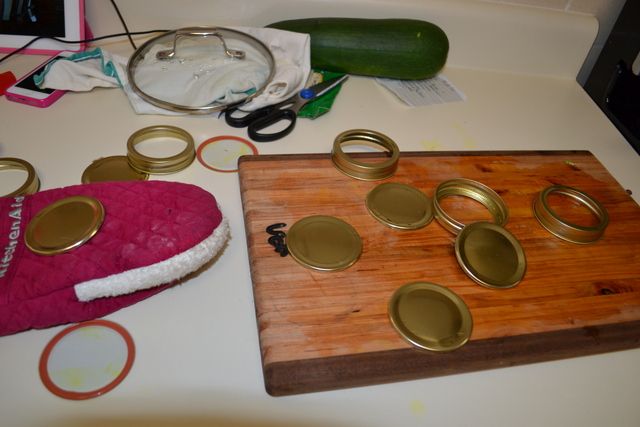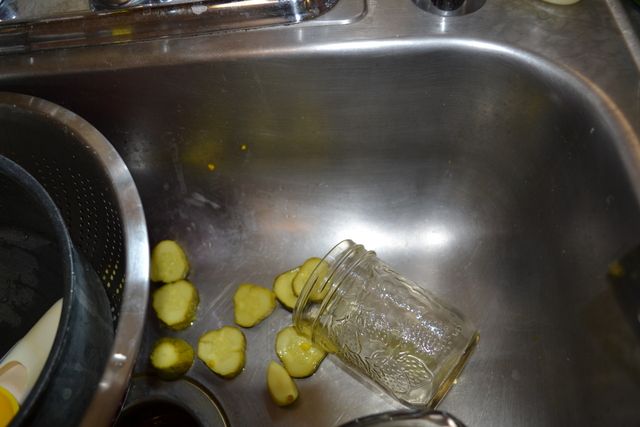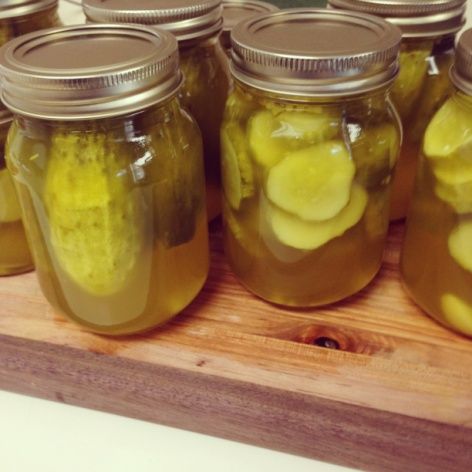 11:25 I'm hearing pops so I think I finally got these pickles done. I then remember the pile of laundry I haven't started yet. I quickly sort and throw in the first load.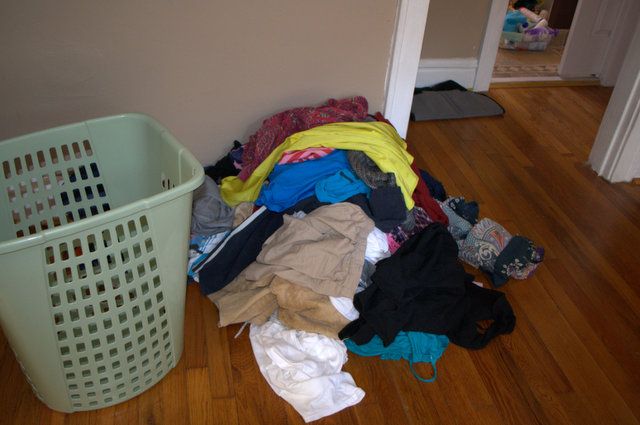 12:00 I join my friends Heavin and Jenna for a workout (even though I smell like a pickle). The gym we go to (Complete Fitness Results) offers an express 30 minute workout at noon. I really enjoy spending time with my friends and the workout is great too. I need extra motivation and going with friends really helps. This is us with one of our trainers Mike Klaus.

(my shirt says "always wear your invisible crown" I love it!)
12:30 I'm done at the gym, I eat a snack in the car while I head to The Point to drop off some donations. The kids at my parent's church collected food during Bible School so I was happy to drop it off. I was a social worker before I decided to stay at home and two years ago I joined a group looking to start a drop in center for young adults ages 18-24. We've recently opened and offer meals, education and job support along with just having a safe place to be. It's staffed 100% by volunteers and I'm so happy to give a few hours a week to help out.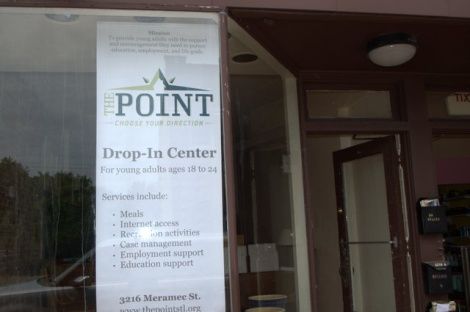 1:55 I pick Ayrton up from Parent's Day Out, I always ask Ayrton what fun thing we should do when we get home. So we play cars and a little Batman. About
2:45 we have nap time. I read him a couple of books before and today he goes right to sleep. It's a small mommy win for me. I mix up a carrot zucchini cake and while it's baking I jump into the shower. (Phew! I no longer smell like a pickle) I then start tackling laundry. I'm not very good at the folding and putting away, so I have about 5 baskets I need to catch up on. I make some tea and turn on the TV and watch just a little more John Adams. There is also some dusting I need to do. We have a really small house so thankfully, cleaning it doesn't take a lot of time. I also give my mom a call while it's quiet. I grew up in a very close knit family. My mom and her siblings all live along the same road within a mile of each other, so we are very close to each other. I love these strong family bonds.
5:00 Ayrton is up from his nap and playing, so I start dinner. I put Pork Carnitas in the crock pot this morning. It's so easy and so good! I shred the pork and chop up some onions, cilantro and cheese. I also make an orange cream cheese frosting to ice my cake. I'm trying a Greek yogurt based cream cheese I saw at Aldi this morning.
5:30 Aaron is home early so we have dinner early tonight. We decide the weather is so nice we will go the city pool after dinner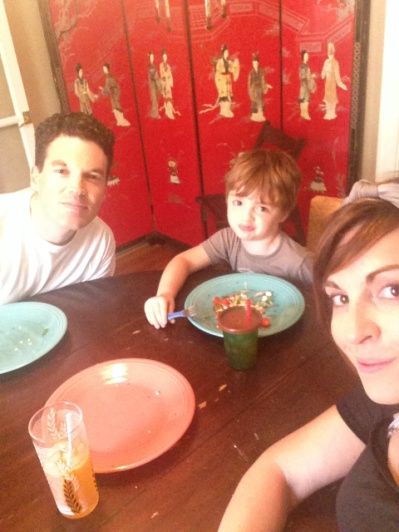 6:30 We get to the pool and see some friends from Church there. Ayrton has a great time playing with the girls, while I get to visit with their mom. We usually only stay about an hour or so in the evenings, it's just a great way to cool off and let Ayrton burn off some extra energy.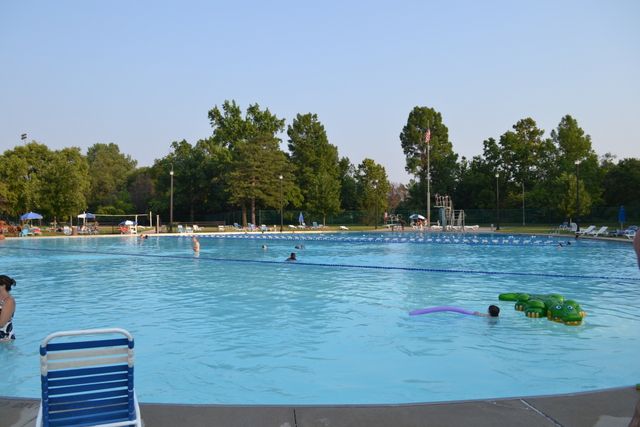 7:45 We are home from the pool I give Ayrton a bath and we have some dessert before we put him to bed. I'm pretty relaxed about bed time. Sometimes we get to bed at 8, but some nights like tonight it's later.
8:45 I read Ayrton a couple of books. Before he goes to bed I like to talk about what we did today and what we would like to do tomorrow. We are blessed that in St.Louis there are so many free activities. The zoo, art museum, history museum and lots of parks are all free to the public. We are never at a loss for something to do.
9:00 I load the dishwasher and clean up the kitchen from dinner. Aaron is watching golf, so I grab my laptop and sit outside on the porch for a few minutes. I scope out Pintrest and my Facebook for awhile.
9:45 I look at all the folded laundry that I didn't get put away and promise myself I'll do it in the morning ;) and then lay on the couch. I've recently convinced Aaron that Sherlock is amazing so we watch a little of it together. (lots of repeats in my life right now)
10:30 Aaron heads to bed and he has the talent of falling asleep before his head hits the pillow. Not so much for me. I usually read awhile before I'm able to drift off.
11:00 I'm still awake and thinking that I didn't take any pictures after 8:30 but who wants to see me and my laundry laying on the couch? I decide no one and turn off the light.
XO Amber
---------------------------
Thank you so much Amber for sharing your day with us. There is so much beauty in every moment. Whether it is a failed attempt at canning (oh boy can I relate to that. The second try is always better. I love hearing that ping ping!) or a fun outing with family. We can find beauty in the ordinary. You can check out Amber on
Pinterest
!
Find more
A Day in The Life of Her
HERE
If you would like to be a part of the "A Day in The Life of Her" series,
shoot me an email. I'd love to have you!
blissful_and_domestic@yahoo.com
XO Danielle






Don't forget to subscribe to my YouTube Channel!