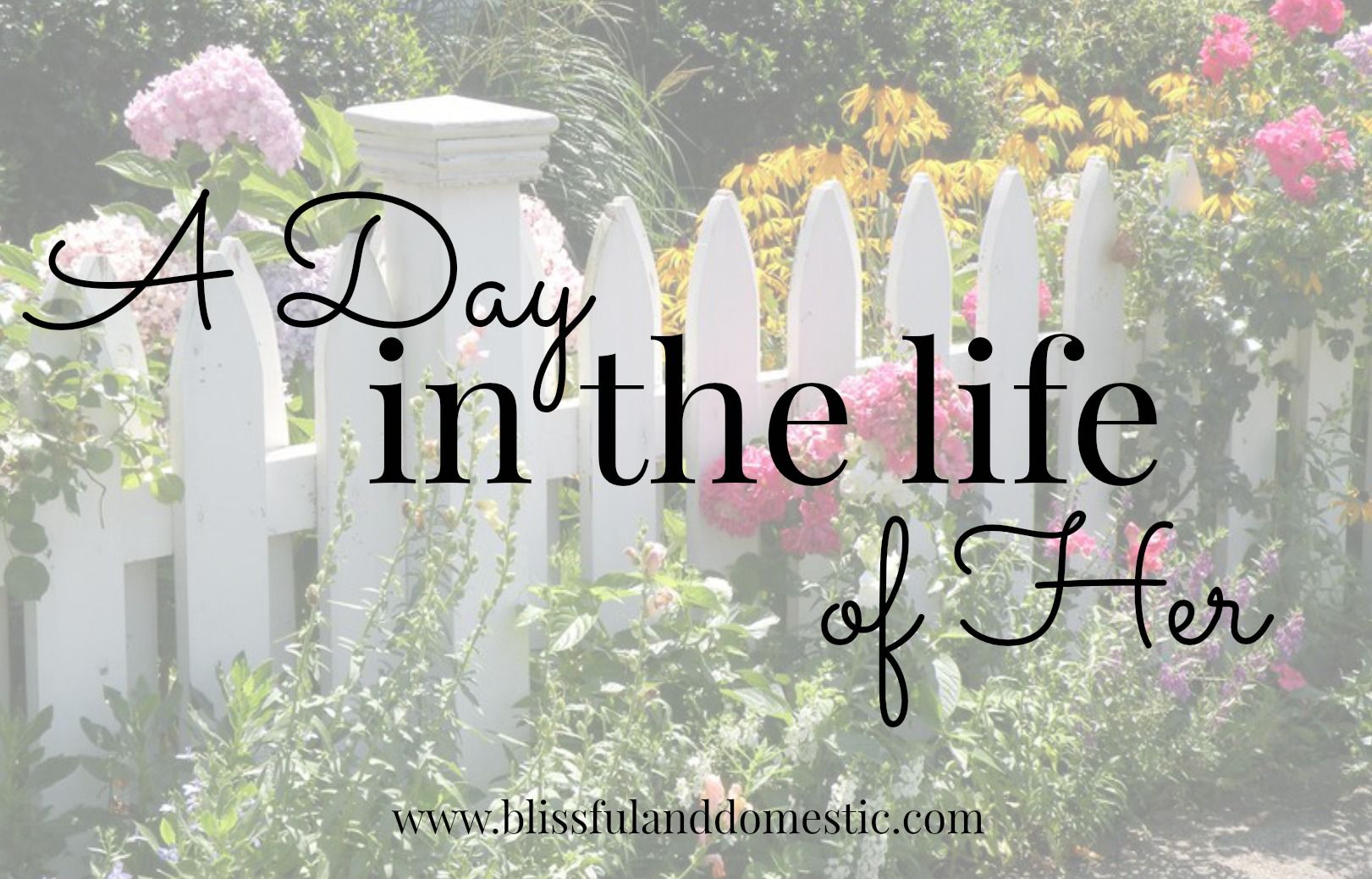 Good Morning Lovelies! Today you are invited to spend a day in the life of her.
You know that gal who you might think has it all together. The mama who seems to do it all. Well guess what? She doesn't. Let's fight those lies. This new series is an effort to get rid of the "super mom" image that we all make for ourselves in our heads. It is a

time to inspire one another even more. We do not have to always have it together to be good moms, wives, and women in sisterhood!
I have invited some wonderful women to share their story with us and to be real with y'all. They will share their struggles, their victories, their frustrations, their joys, and everything in between. It may not be glamorous, but it is real and real is absolutely beautiful.
Come walk a bit in the shoes of another....
------------------------------
Hello I'm Karen. I'm a stay at home mom and
blogger
. Welcome to a little snippet of my life.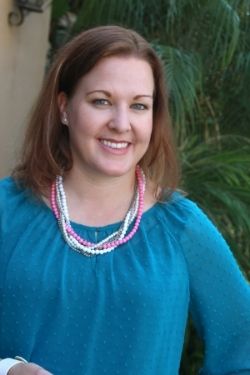 I start my next day at night after I put my kids to bed. This might sound strange, but it's just how my mind works. I look at my calendar to see the next day's events, pack my bags, maybe pack some lunches or snacks and think through things I need for that day. Today started around 8pm. Dishes are done (miraculously – I often find myself doing them much later in the evening), I put a load of laundry in, and I set off to my "me time." Yay! Finally! Tonight I am feeling extra motivated. I have set off to tackle my office and the big pile of an organized mess I have going on in there. Did I mention I am an organizer on the side? You'd never know it by viewing some parts of my house right now like this: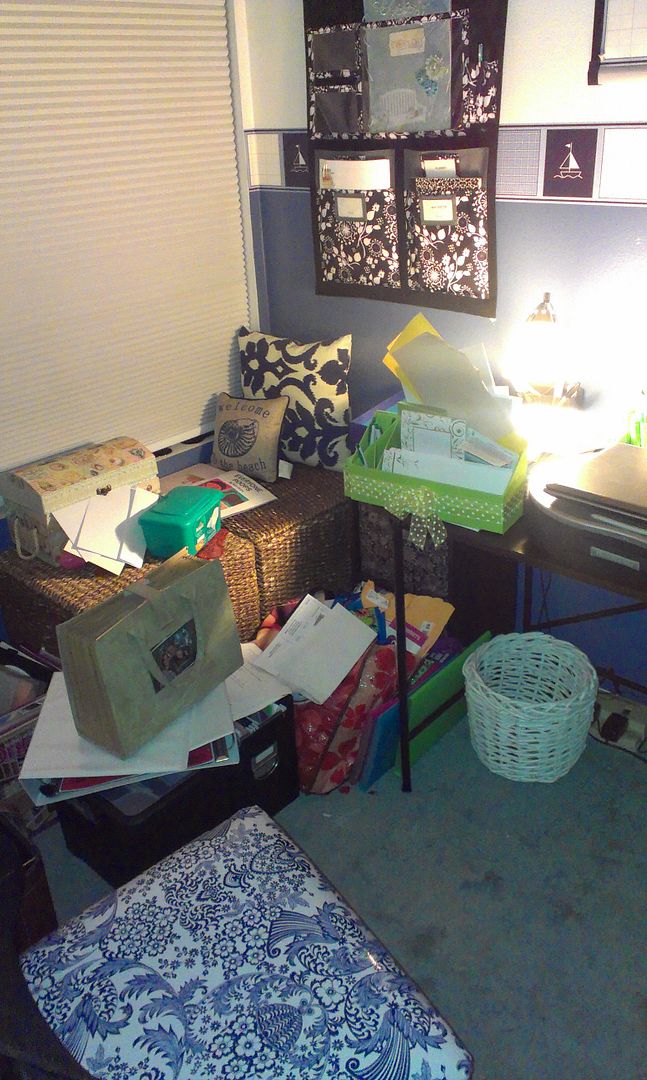 I think it's extremely important that we all be vulnerable with the shortcomings of our life, even in things we are usually good at. It can be embarrassing to admit, but the simple truth is if you are enjoying life with your family, you will inevitably have moments of catching up to do in one way or another. I get a little distracted when picking up the office. My husband has been working on photo organizing and editing. I find the kids digital cameras and give them to him to download and backup the pictures. I cannot find the usb cord, so I start going through a cabinet in the hallway where I think they are. I start organizing that. I like to call this household ADD – starting to do one thing and getting distracted by all the other things that need doing. I also find a few items in the cabinet that I've been meaning to sell, but just have not gotten around to yet. What was my task again? Oh yeah, organize my office! My husband says he has a usb he can use sometime –so back on task I go. I get some water, put pj's on and dive in to picking up my office. I find cute pictures like this – my daughter asked me to draw our family (note my amazing artistry on top by me lol!) and she drew her people below. Love it! I am going to ignore the mess on her desk for now – I almost got distracted by another project!
Ok, so I'm going through paperwork, mixed in with a tiny bit of e-mail checking, listening to music and checking in on Facebook. I really try to limit myself from scrolling down my newsfeed too much. I am inspired by some wonderful happenings in my friends' lives I see on the newsfeed today. Oh and there's a tasty recipe I should try . . .Ok, focus!! Back to going through my paperwork, my big pile, ordering 2 gifts online, and finally going to bed . . . at 11:30pm. I do a final sweep of the house, check on the kids, the dog, my parents cat who is staying with us, and finish the night off reading some pages in "Crazy Love" by Francis Chan. Only a few pages were read as I fell asleep!
It's Morning! It always comes too quickly! I wake up, have breakfast, shower, kids are working on some learning activities (which I usually try to set up the night before), I clean up my desk/paperwork a little bit, pack snacks and bag for day (I did not do this last night because I have some extra time this morning), and off we go to cooking class. This is a wonderful class our parks and recreation offers. On our way to class my kids noticed this beautiful rainbow cloud! We had to stop and admire it. In this class the kids learn to cook something and dine on it for lunch while I get to sit in the air conditioned lobby and do as I wish. Today I organize some coupons, look for a coupon for wipes which we are low on, and talk with friend. Today they made chocolate tacos! Yum! Not exactly as healthy as some of the other items they have made in the past, but their chocolatey faces and smiles were heart warming. After class we hit the park, meet new mom friend, and then run the errand to get wipes (coupons expired July 2013! Oops! I am catching up from a long hiatus from couponing but this was embarrassing), walk to neighbors to get package, prep an afternoon snack, load some coupons on grocery store card, check e-mail, check blog, write blog post, get repacked for karate/park. Try to drink enough water. Feeling run down. Help daughter play with her My Little Pony Cards. Notice I am not typing in full sentences anymore!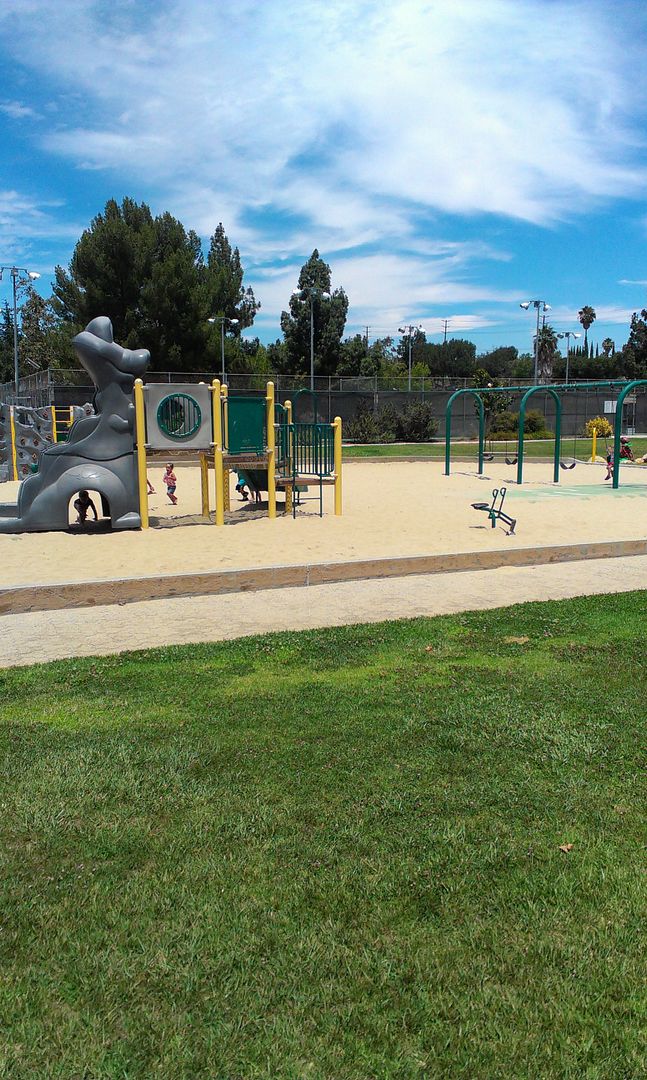 Now it's time for my son's karate class. Afterwards we play at the park a bit. It's so hard to get the kids to leave when we need to! It's that tension between loving every single minute of them playing joyfully and thinking I've really got to get dinner started! We get home, I try to start dinner, get phone call that took much longer than expected, and I put vegan ham in oven. I'm making a swiss chard and chickpea soup with the vegan ham for hubby and I, while I fix a separate meal for the kids. I try to get us all eating the same, but some nights I end up fixing some kid friendly options as well. I always offer them what we are having – but the soup was actually quite spicy for the kids, so 2 meals it is! I give my daughter bath, fix rest of dinner, help son with learning computer program and I could not figure it out, husband comes home, he helps him, still cooking dinner, my son gets a shower somewhere in this time frame, clean up a little, finally get to finish loading coupons on grocery card, respond to a text and some e-mails, look at some old pictures with kids, get them ready for bed, read story, pick up a little, read magazines and immediately recycle them (I hate clutter!), looking at pictures with husband who is downloading the pics from the kids digital cameras – quite hilarious and amazing pictures (digital cameras are seriously one of the best gifts for kids!), fill the dishwasher and run it (still a ton of dirty dishes in the sink!), put lunch bags out, sit down to write this post and decide to finish editing it to make it sound better rather than a list of run on sentences, but then again that's how the day feels sometimes so I decide to leave some of it the way it is! I decide to leave the house a bit messy because I am just too tired and need sleep. Tonight's bedtime routine for me starts early at 10:00pm. I'm hoping my allergy meds kick in – I've felt post nasal drip all day. Ugh. Please don't be a cold coming on. Good Night! Here's my good night selfie, (it's not the best picture but we're being real here and I'm really worn out!) and some other views from my day. I've been really trying to enjoy the little things more and not care too much about everything I wanted to accomplish, yet didn't get the chance to. As I reflect on the day, I had some pretty amazing conversations with my kids, hugged them extra, saw some beautiful things, and somehow even was able to get my desk looking fairly clean (gotta love the pink poodle near my desk)!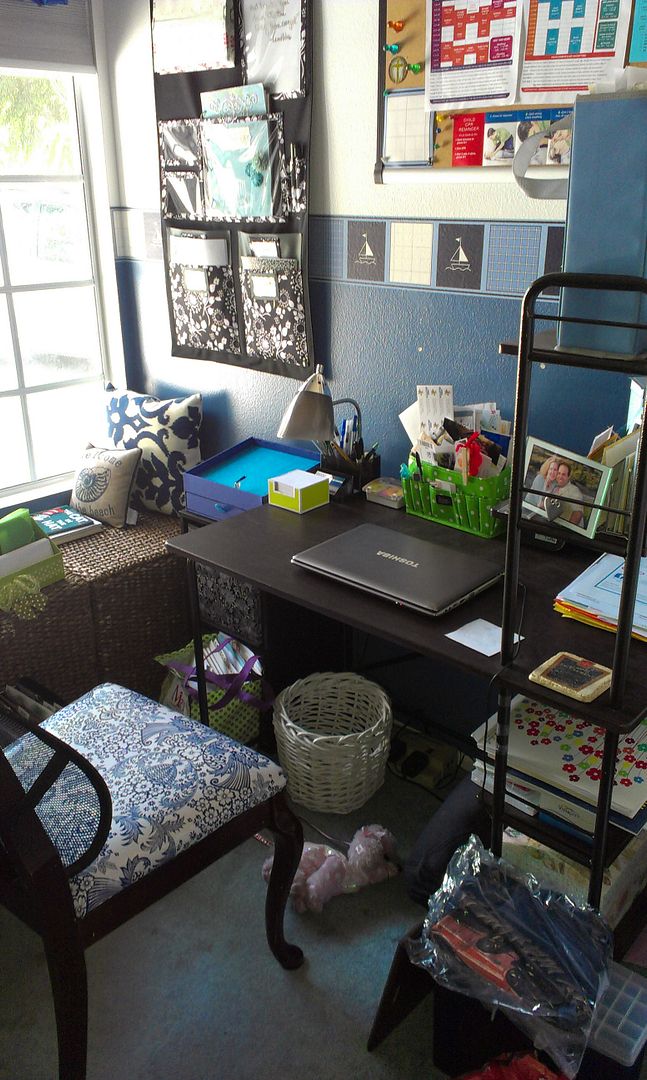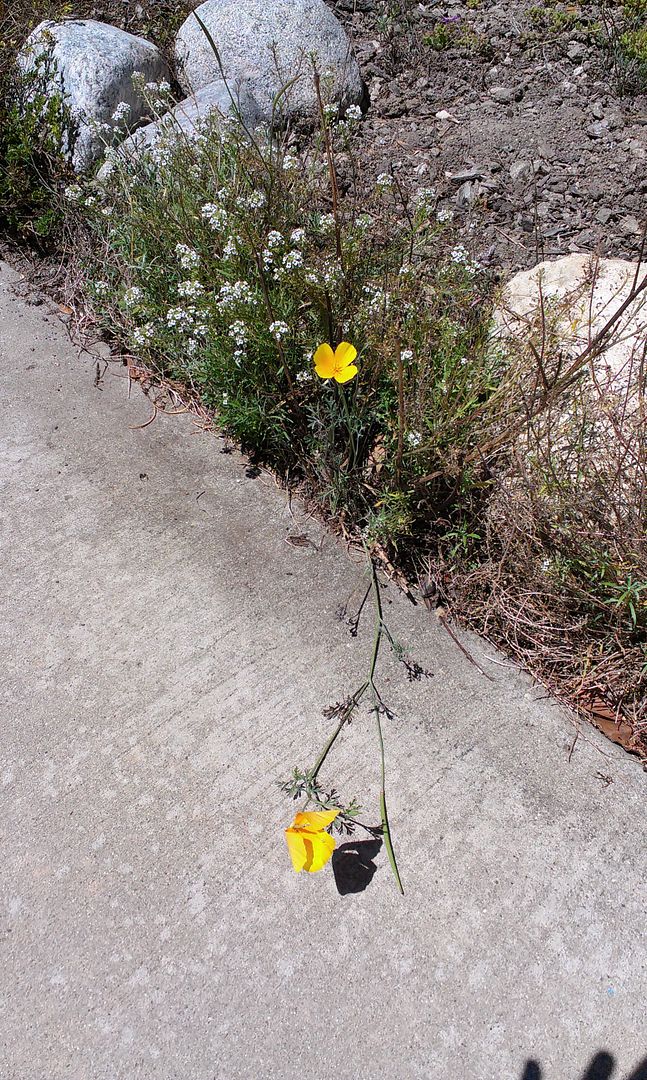 -Karen G.
-----------------------------
Thank you so much Karen for sharing your day with us today. It is good to know I am not the only one that gets ADD when organizing. I start one project and then sometimes get super distracted and forget what my original task was. Oh the life of Moms :) You can find Karen on her blog
here
. Oh and on
Pinterest
too!
Find more
A Day in The Life of Her
HERE
If you would like to be a part of the
"A Day in The Life of Her"
series,
shoot me an email. I'd love to have you!
blissful_and_domestic@yahoo.com
XO Danielle







Don't forget to subscribe to my YouTube Channel!