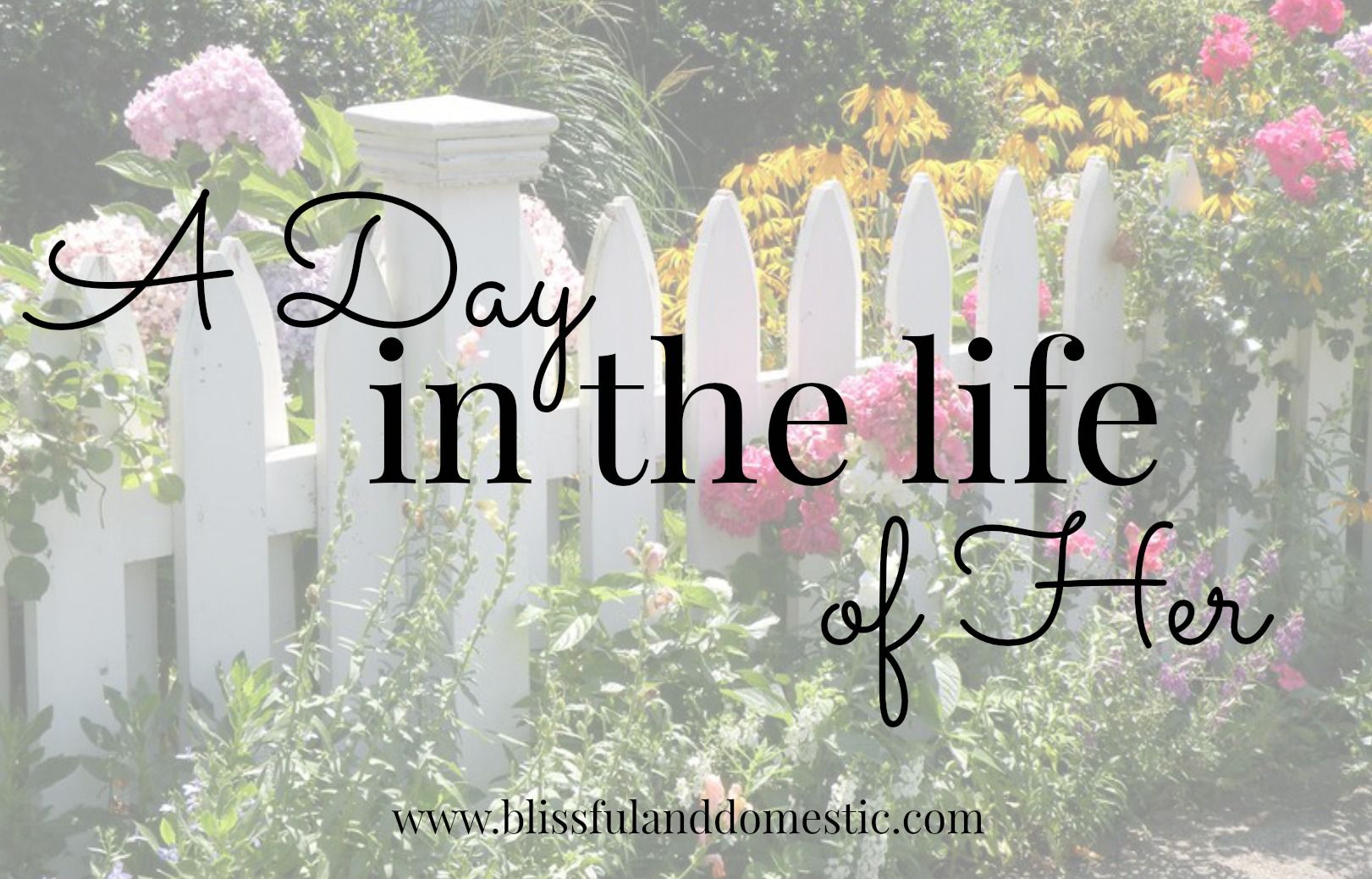 Good Morning Lovelies! Today you are invited to spend a day in the life of her.
You know that gal who you might think has it all together. The mama who seems to do it all. Well guess what? She doesn't. Let's fight those lies. This new series is an effort to get rid of the "super mom" image that we all make for ourselves in our heads. It is a

time to inspire one another even more. We do not have to always have it together to be good moms, wives, and women in sisterhood!
I have invited some wonderful women to share their story with us and to be real with y'all. They will share their struggles, their victories, their frustrations, their joys, and everything in between. It may not be glamorous, but it is real and real is absolutely beautiful
Come walk a bit in the shoes of another....
------------------------------
Good morning, all! It is a pleasure and honor to be sharing a snippet of my family's adventuring with you. My name is Kim, and I am a mother of four little ones: twins Margaret and Elisabeth (just under 4 years old), Gregory (just celebrated his 2
nd
birthday), and Joseph (5 months old). If you do the math correctly, that's 4 children under the age of 4! I write about our crazy (mis)adventures at
la Joie Inattendue
.
My husband Greg and I raise our brood at a historic boarding school in the countryside of southern Pennsylvania. He teaches English and Latin, coaches two sports, and supervises a dorm. I used to teach full-time too, but now I am navigating the stay-at-home gig. The daily routine in the summer is certainly different than during the school year, but my husband is far from being completely off from work at this time of year. Currently he is working towards his Master's degree through an online program, so many of his days are spent writing papers in front of a computer. This is in between working summer sports camps, and prepping for the upcoming school year. Yet despite having so many responsibilities, he can set his own schedule with a little more flexibility than during the regular school year, which means we do see more of him than during the rest of the year.
Mornings are early at our house, but this particular day was painfully early. I had just snuggled the baby back to sleep at 5:00AM when I hear little Gregory in his crib crying "Bus!" in between sobs. This boy loves his toy cars. He has named them his "Vrooms", and he sleeps with them at night. The missing bus is one of his favorites. I go into his room, hand him the bus that had slipped through the slats of the crib and fallen onto the floor, and pick him up to snuggle in my bed. I was hoping that he would fall asleep again, for at least another hour.
He was calm and quiet, and I felt myself dozing off. Until 5:40, when the husband wakes up and gathers his things for an early morning swim. Sigh.
I do manage to doze off briefly nestled in between the baby and the toddler until 6:30. By this time Gregory is pulling my hand and saying "'Mon!" (Translation: Come on!) He is pointing to his mouth, which means he has to eat…now!
Gregory and I enjoy breakfast together while I bounce Joseph on my leg and wait for the coffee to finish brewing. I am most definitely both a coffee addict and a coffee snob. Living by faith and good coffee, that's how we roll!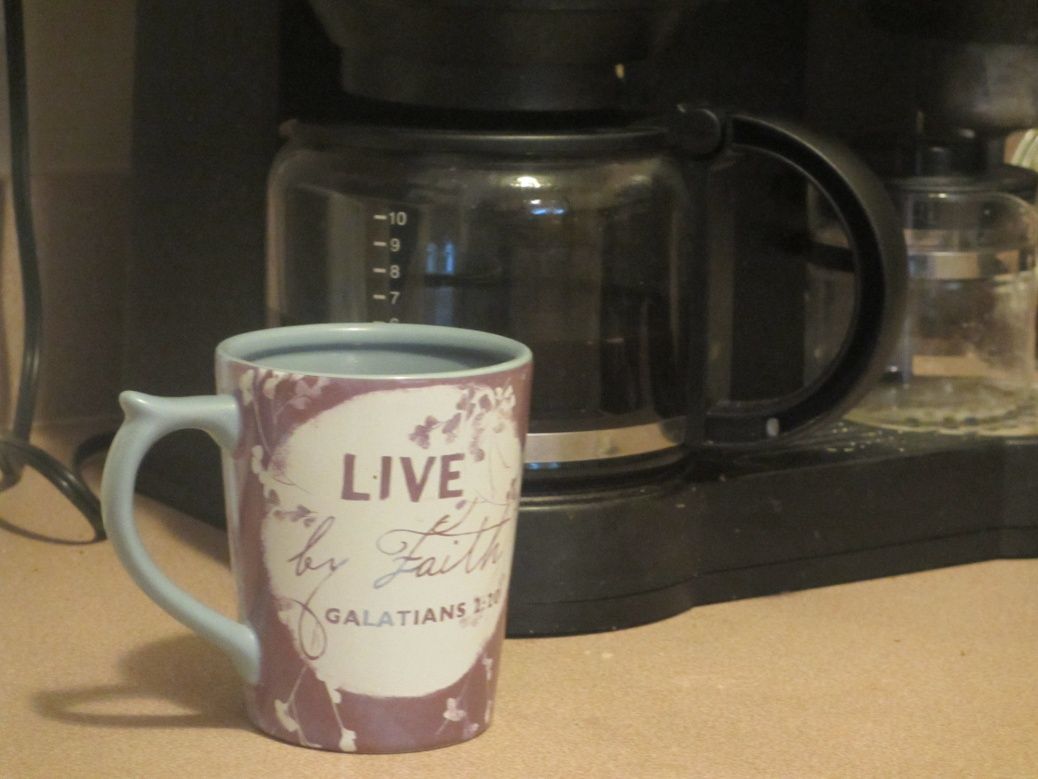 Even though I wish it were not so early, I do appreciate any one-on-one time with one of my children. Admittedly, they don't get that too often. Gregory is sweetly eating his "Cha-cho's" (Cheerio's) and naming some of the objects on the table with a darling baby accent and a hint of a lisp. Such a cutie!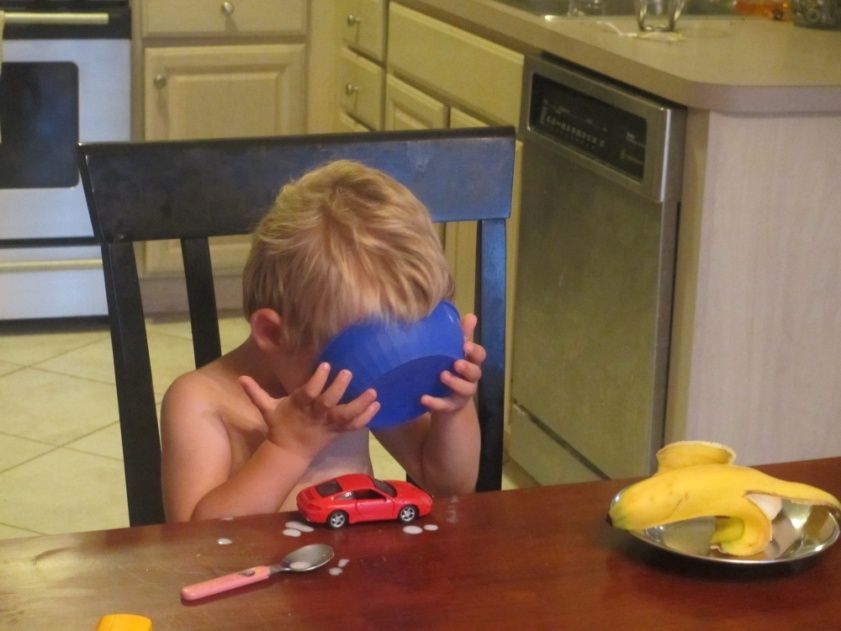 By 8:00 the twins are up, and one of them had a pee accident in her bed. I make a mental note to change her sheets (potty training twins is not for amateurs).
By 8:15 Joseph is already ready for his morning snooze. It always amazes me how some babies can sleep through anything. Joseph is comfortably resting in his swing while Gregory is imitating a dinosaur by roaring and running back and forth from the kitchen to the living room. The girls are loudly demanding orange juice, and pointing out that Gregory is a "si-yee" (i.e. silly) boy. Did I mention the day started out earlier than usual? I am already beginning to feel frazzled.
(Somewhere in all this chaos one of the kids managed to sneak a baby jaguar stuffed animal into Joseph's swing.)
Fortunately my husband returns from his swim at about 8:25 and provides a very welcome distraction. The kids are SO excited to see him. I sneak upstairs to change the bed sheets and load them in the washer. I try to throw in a load of laundry each day, preferably in the morning. That way I do not have an overwhelming pile of clothes to wash on a specific "laundry day", and if I can manage to start a load in the morning, I have the rest of the day to make sure it gets in the dryer and eventually folded. But as the pile of unfolded laundry in the playroom suggests, it's a rare day when all the laundry is done.
I come back down to the kitchen and observe this:
They are watching German children's songs on YouTube. This is what you get for having two language teachers as parents!
Since the baby is napping, and the hubby seems to have things under control with the other three children, I take advantage of the time to go to his school's track for a short workout. Sometimes I will go to the track with the kids in tow and let them run around on the grass while I do my laps, but getting a chance to exercise by myself doesn't happen all that often. I am very grateful for this opportunity.
When I get home again, things still seem to be relatively under control. By 11:00 I jump in the shower, transfer the bed sheets to the dryer, and get lunch going. Egg noodles with some leftover chicken and peas from last night will have to do.
One of the nice things about twins is that they learn to play and share together at an early age. Gregory is only 22 months younger than his sisters, so the three kids are usually playing all together. They have their spats, but it is still a joy to watch them interact. Today they are playing with Gregory's "vrooms", which also happen to be my husband's old Hot Wheels collection.
Note that Elisabeth is still in her pajama's.
By 1:30 Gregory is ready for a nap. Joseph has already fallen asleep for his afternoon snooze. The girls have kind of outgrown naps, but a little down time in the afternoon seems to benefit them, and I usually let them watch TV.
While they are occupied, I start to prep for dinner. Anything I can prep without children in the kitchen makes the actual cooking process that much quicker, because as we all know, the late afternoon can be a tricky time of day. Everyone (myself included) is prone to crankiness as hunger and general tiredness set in, all the while I am trying to get the most significant meal of the day on the table. Breakfast and lunch I can improvise, but dinner usually requires prior planning and a little more effort. Things can get ugly pretty quickly if I don't have an idea for dinner by 4:30.
A day earlier, I had asked my husband to do me a favor and pick some vegetables from the community garden. He came home with leeks. What am I supposed to do with leeks?! Today I decided I would try a recipe for potato leek soup (and ignore the fact that it is a hot summer day). I feel extra ambitious and look up an easy recipe for homemade bread.
Cleaning leeks is a bit of a tedious project, and while the bread recipe I found is not difficult to follow, it does require a lot of time and steps, so I am beginning to feel stuck in the kitchen. I have to remind myself that the community garden provides us with organic vegetables, saves us money, and gives the kids understanding of where our food is from. Nevertheless, this meal is turning out to be a lot of work and I probably won't make it a regular item for the weekly meal plan.
When Joseph wakes up from his afternoon nap at 3:00, he is a big mess: not only has he spit up all over himself but he also has pooped through his clothes. After I ever-so-gently remove his clothes, managing to keep the soiled clothes from touching his hair, I have one happy baby: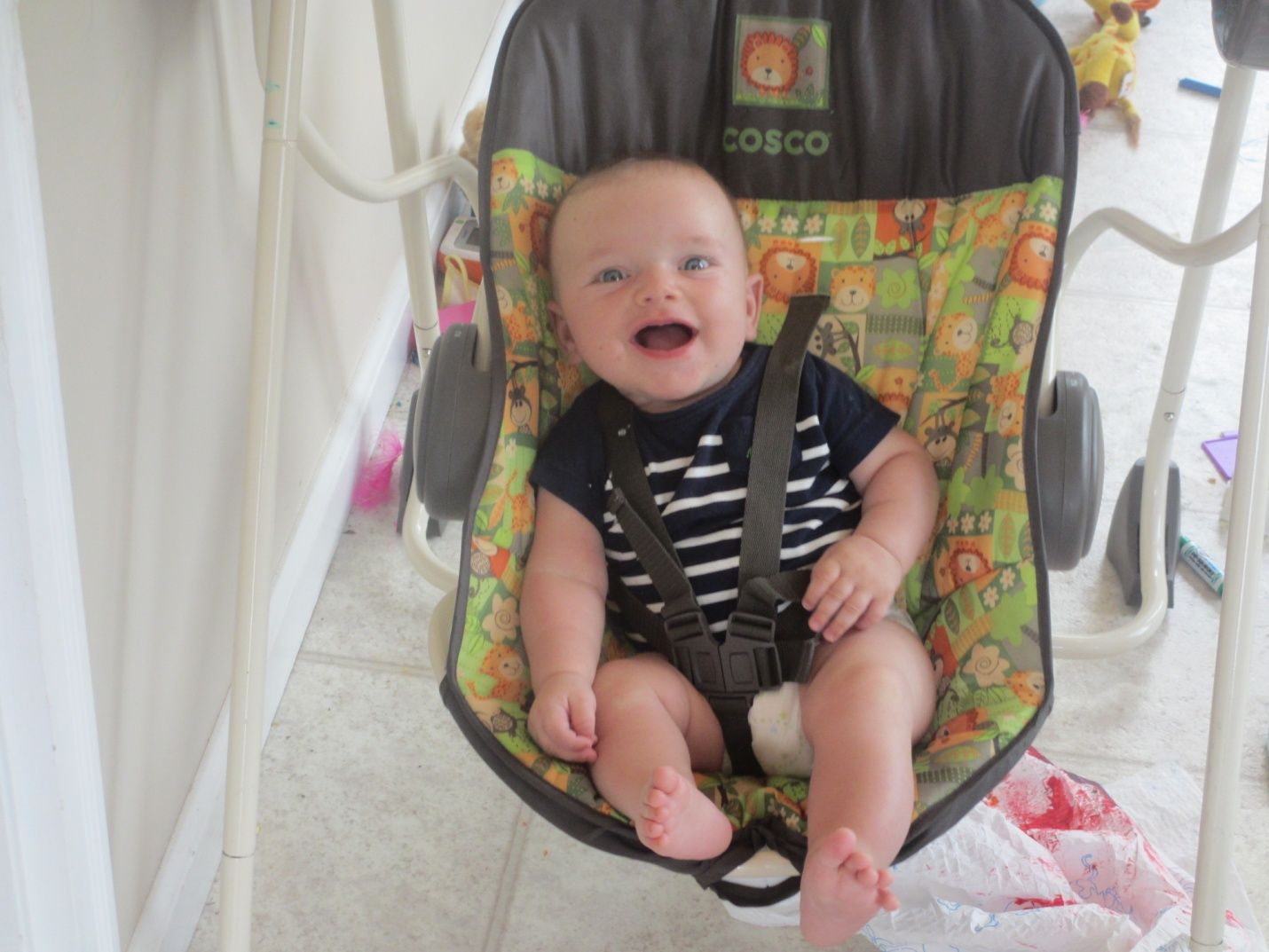 Then I realize I should give you a more accurate view:
With so much "pu-yaying" (translation: playing) going on with the three mobile children, there are toys everywhere. And since I have been tending to the leeks and the bread, this is the way this room is going to stay for today.
I do try to keep the kids outside as much as I can so that we don't become completely buried in toys. After the girls have reached their TV watching quota, they run outside to play on the swing set my husband built (it's pretty awesome!).
Margaret is a very strong girl. You can see her pulling herself up on a rope swing, and Elisabeth is….still in her pajama's.
At 4:10 Gregory is awake from his nap. Commence the crazy dinner dash with all four children awake, growing ever more impatient and hungry! Any distraction for the kids while I cook is a welcome one. I suggest turning on the sprinkler, and with expressive delight, they head outside.
The sprinkler is a $6 special from Dollar General. I admit it looks pathetic, but they don't seem to mind. Young children have such uninhibited joy. I can't help but smile.
And I ignore what they left behind:
I do try to teach them to clean up after themselves, but it takes a lot of patient instruction and encouragement. I am not going to make them come in and do it right now. Dinner, dinner, dinner!
I am eager to see how my bread turned out, but am disheartened when I pull it from the oven. It looks like a stiff and crusty version of the homemade play-dough I attempted to make once.
Fortunately it actually turns out to be very tasty. The soup is pretty tasty too, but I already know the kids are not going to be too enthusiastic to try the thick greenish-gray liquid. Once we are all seated, they do try the soup, and Gregory even asks for seconds...that boy eats anything… but since it is competing with the homemade bread, there is a lot of negotiating during this meal. I try not to let it frustrate me too much, however, because I know that adults would probably choose homemade bread over soup too.
By 6:30 we start the clean-up and bedtime process. I realize that the bed with the wet sheets from this morning is still not made. Greg and I switch off between monitoring bath time, putting some of the clean laundry away, making the bed, and tending to a very fussy Joseph. The older kids seem to be particularly whiny too. Some nights are easier than others, but this will not be one of them. It seems as though everyone is simultaneously crashing! It is nights like these where I just put my head down and shuffle each child through each step of the bedtime routine.
Somehow Greg and I manage to tuck everyone in and turn out the lights by 8:15.
Sometimes the process can drag out to 9:00, which is completely energy zapping. Tonight was a short but intense whirlwind. Nevertheless, I feel like this guy: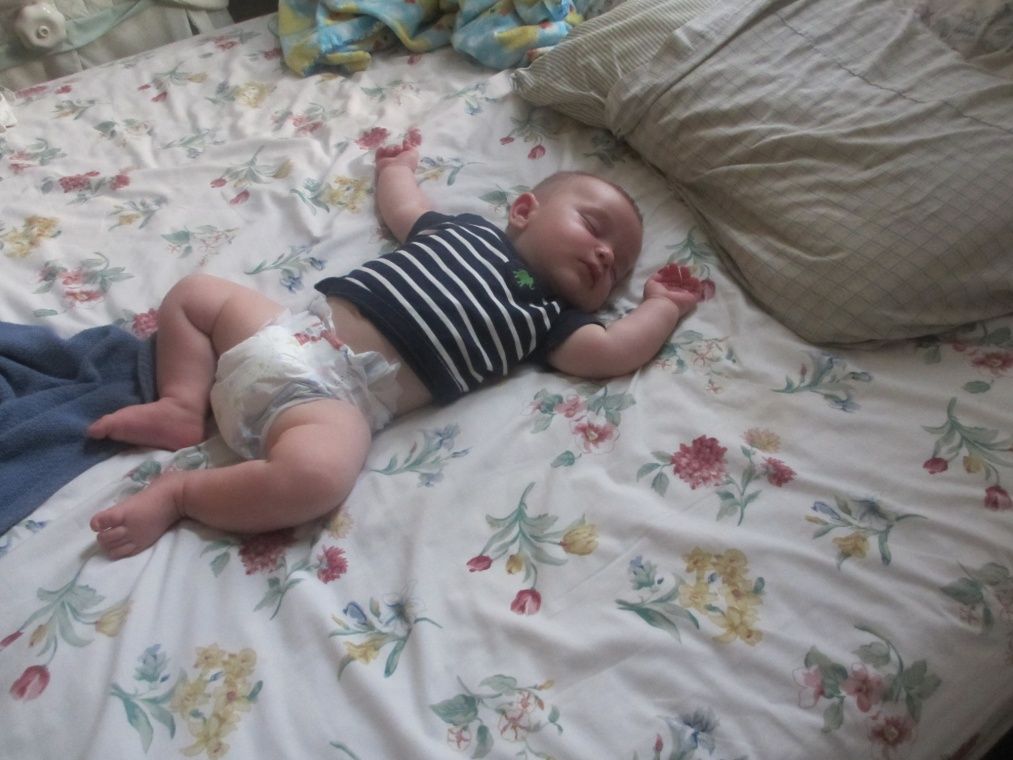 There is no real typical day in our house, as our family's needs are constantly changing with so much growth and developmental stages happening, so it is hard to assess how the day went. The morning (albeit early) was pretty low-key (especially with the chance to get some time to myself at the track), but the afternoon and evening were quite busy. I often feel as though I am flying by the seat of my pants, and by the end of the day there are usually toys still out, unsorted mail, and laundry piles to fold. But there are also four snuggly children sleeping in all their peaceful beauty, their faces soft and relaxed.

If you had told me that I would have 4 children in under 4 years, and that I would resign from my dream job to stay at home, I would have laughed and then hid in the closet. I used to be terrified to hold a baby, let alone have one myself. But this is the path where God has led me and my husband, and growing in my role as a stay-at-home-parent has been the most rewarding job of my teaching career. I know being a stay-at-home-parent is not always possible for many families, but I am incredibly grateful for the opportunity to try. You know that Bible verse that states God is able to accomplish far more than all we ask or imagine (Ephesians 3:20)? Yeah, this is way more than I have ever asked or imagined. And you know what else? it is just where I need to be.
Life is good.
And the coffee is pre-set for the next morning
Thanks for reading.
XO Kim
-----------------------------
Thank you Kim for sharing your day with us and for keeping it real. You're the best! You can find Kim on her blog!
Find more A Day in The Life of Her HERE

If you would like to be a part of the "A Day in The Life of Her" series,
shoot me an email. I'd love to have you!

blissful_and_domestic@yahoo.com

XO Danielle
Don't forget to subscribe to my YouTube Channel!