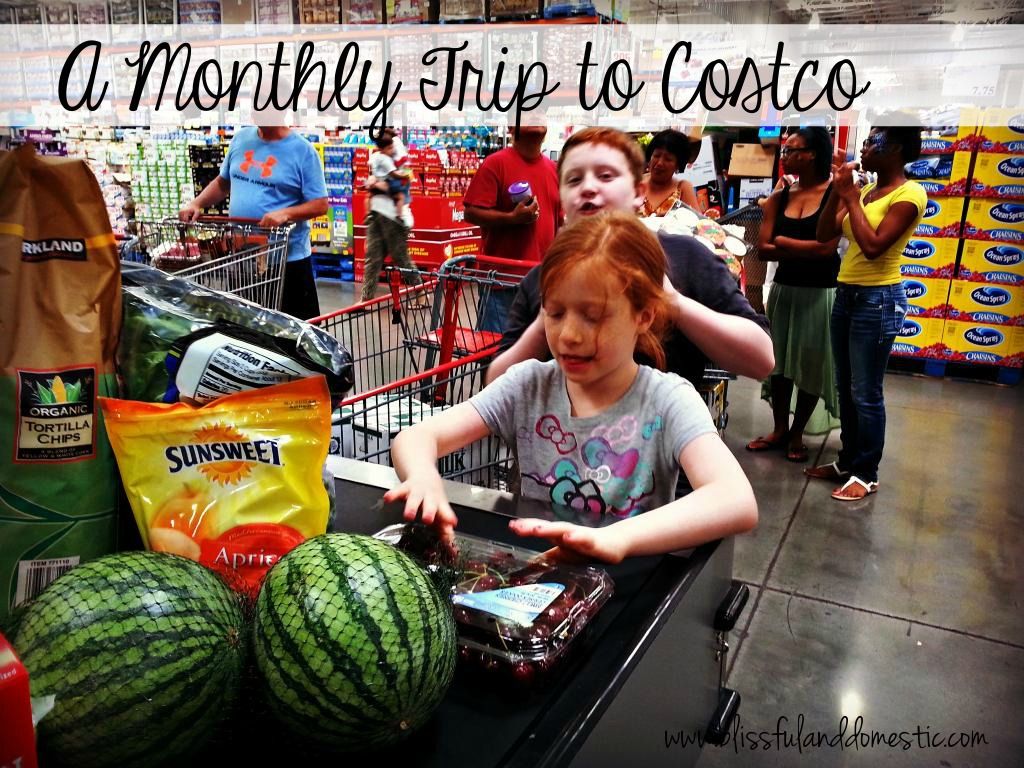 *If you do not agree with my purchases, that is fine by me, but please be kind in the comments. I am simply sharing what works for my family.
Before I get into today's post, I wanted to thank you all for your encouraging comments this week on
Monday's post
. They have meant so much to me. Quite a few of you talked about not letting someone else steal your joy and that touched my heart. It was such a great reminder to me to not let it get to me and to just keep on. Thank you so much everyone. You are amazing and I am blessed to have you as readers. I know we live in different parts of the world, have different beliefs, and backgrounds, but I am thankful we can come together to encourage and uplift one another. You guys and gals are awesome!
Onto today's post...
This past weekend, the kids and I ventured out for our monthly
Costco trip
. This time I brought the red heads, so I would have a few helping hands. They were fast with loading the conveyor belt, hence the blurred faces in the picture. They couldn't stand still for a photo op
(let's be honest, they rarely stand still)
:)
This month we didn't need to buy a bunch of pantry staples, since I stocked up a lot last month, when I took advantage of some great sales. This month we bought the following from Costco:

Grocery Items...


1 bag of tortilla chips
1 two pack of Cheddar shredded cheese
1 bag of Mozzarella shredded cheese
Go-Gurt
Yoplait yogurts
string cheese
2 bunches of bananas
two small watermelons
2 boxes of granola bars
American Singles (cheese slices)
whipping cream
cherry tomatoes
cherries
1 bag of spinach
1 box of butter lettuce
-yum!-
dried apricots
2 cases of milk (4 milk jugs total)
1 bag of pretzel rolls
Total $133.56
Now I will share a little bit on how we will stretch these items throughout the month.
Tortilla Chips- These are such a great buy! This huge bag of chips is under $4. These last us all month long. We love to have nachos for dinner or lunch, using these chips. The hubbs also loves to snack on chips and salsa throughout the month. These make a quick, inexpensive snack and meal addition for the whole family.
Shredded Cheese- I was completely out of Shredded Cheese, so this was a must for my shopping trip this month. I have debated between buying the blocks and shredding them myself, but it is cheaper and less time consuming to buy the pre-shredded cheese. I buy the Cheddar shredded cheese in the two packs from Costco. One pack will go into my fridge to use throughout the month and the other one will go into my freezer. These two packs cost around $15, but will last me two months. That means I only pay $7.50/ month for cheese. That is quite a deal! With the mozzarella cheese, it comes in a big single bag. I separate it into 4 cup portions and freeze them. I usually get four 4 cup portioned bags.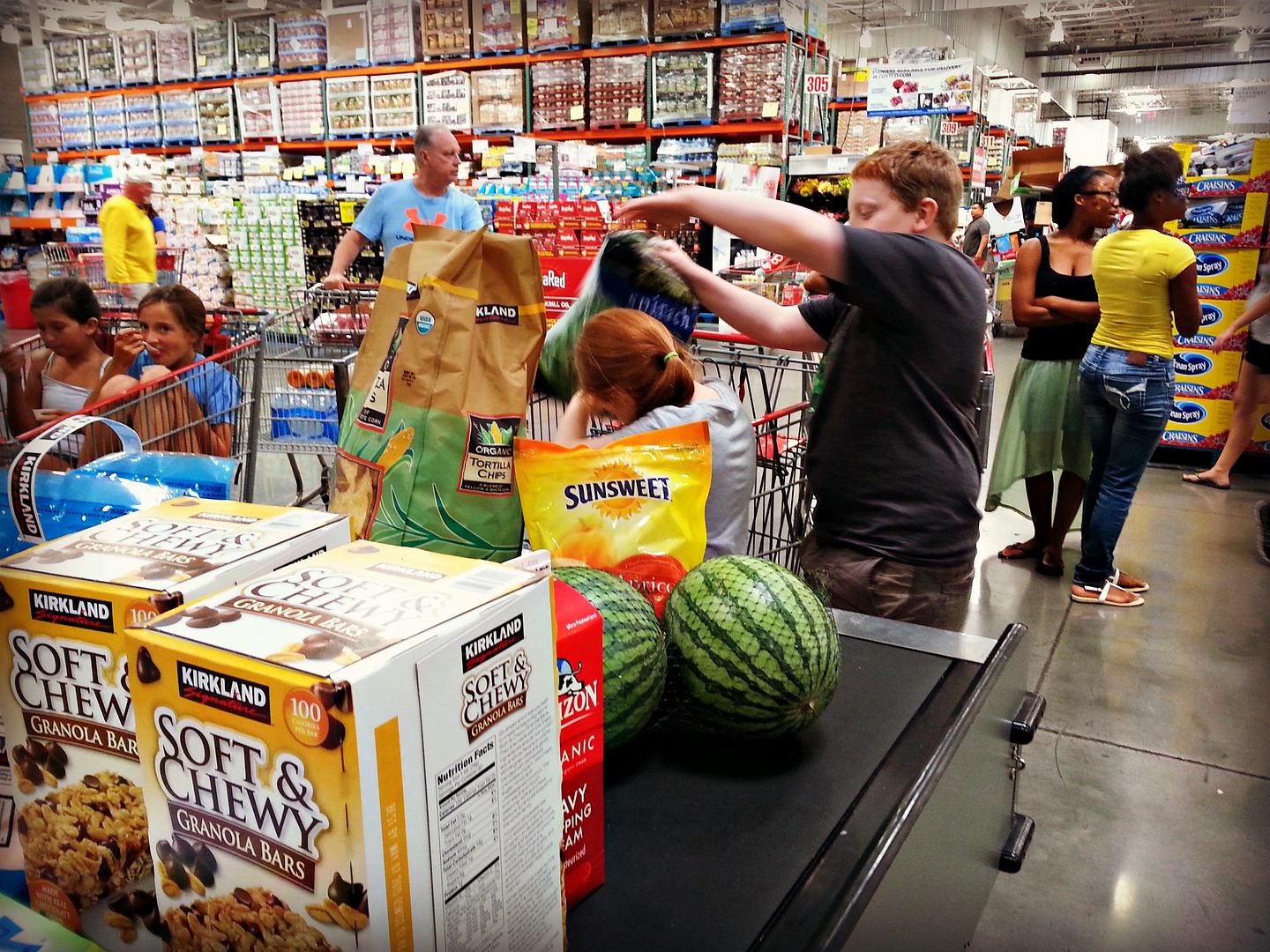 Yogurt- Now onto the yogurts. If you are not a fan of Go-Gurts, that is ok with me, don't buy them. I however love them and they are made with no preservatives or high fructose corn syrup (it says so on the box ::insert smiley face::). My kids love these for a snack! I buy the Yoplait yogurts as well, since they are a family favorite. Both of these boxes of yogurts will last us the entire month. We usually go through the Yoplait yogurts first and then move onto the Go-Gurts.
String Cheese- String cheese is a must in our house. I buy it in the mega pack from Costco, so then we have a month supply. The cheese usually only last for about three weeks. The last week of the month, we go without string cheese.
Fruit and Veggies- I always like getting fruit and vegetables at Costco. Their produce is always great quality and if you ever buy something, get it home, and it was not the greatest quality, you can bring it back. I've only had to do this once. Cherries were only $2.99/lb this past weekend. I was very excited they were finally under $3. We have been devouring those bad boys:) This is a great alternative if you do not have a Bountiful Baskets near you or are not able to order.

American Cheese Singles- I don't always buy these, but money is a bit tight this month, so I got these as an alternative to our normal sliced cheese. This box was on sale for under $7 and will last for 3 months in our fridge. I always look at the price and how far it will stretch. This was a great buy. This means we pay $2.33/month for sliced cheese. Whatever brand of cheese you buy, see how far it will stretch for your family. Figuring out the math always works for me in knowing if it really is a good deal or not.
Dried Apricots- Yum is all I have to say! We all love these as a yummy snack. Hubby eats these by the handful and they are a crowd pleaser all around. I buy all of our dried fruit at Costco. So much cheaper!
2 cases of Milk- Two cases of milk will give me four milk jugs. I bought each case of milk for $5.85. That makes each jug $2.92. This is amazing, since milk prices continue to rise way above $3.00. Any penny saved is great in my book! I put all four milk jugs in my freezer, since I still had 1 1/2 milk jugs still in my fridge from last month.
1 Bag of Pretzel Rolls- Have you tried these? They are amazing and are something I do not know how to make. I buy one bag each month as a special treat. I divide it into two bags when we get home. One bag is left on the counter to add to meals and the other is put in the freezer for later. This enables us to eat all the rolls before they go bad. Nothing stinks more than buying bread and having it go bad. That royally bites!
Granola Bars- I love to make these homemade, but sometimes it is hard to keep up with the demand in my house. Hubby can eat these 6 at a time. I have no clue where he puts it. He eats like a horse. Heaven help me when Keagan is going through his teenage growth spurts. I have no clue how I will feed him, if he eats like his dad. This month I bought two boxes of granola bars. One box goes into our food storage for next month and the other one goes in our pantry to eat this month. Each box was $8.99, making each bar only 14 cents. Not too bad!
So there you have it....the break down to our Costco trip this month. So far I do not have a big shopping trip planned this month. My Mom and Dad let me raid their fridge and freezer last week (they were getting rid of a few things and donated them to us), plus I hit some awesome sales last month, so our food pantry is quite stocked. I'll probably plan the rest of my shopping trip later in the month when supplies dwindle. I'll be sure to share afterwards:)
What sales are you hitting this week? How do you stock up and shop smart at Costco?


XO Danielle






Don't forget to subscribe to my YouTube Channel!