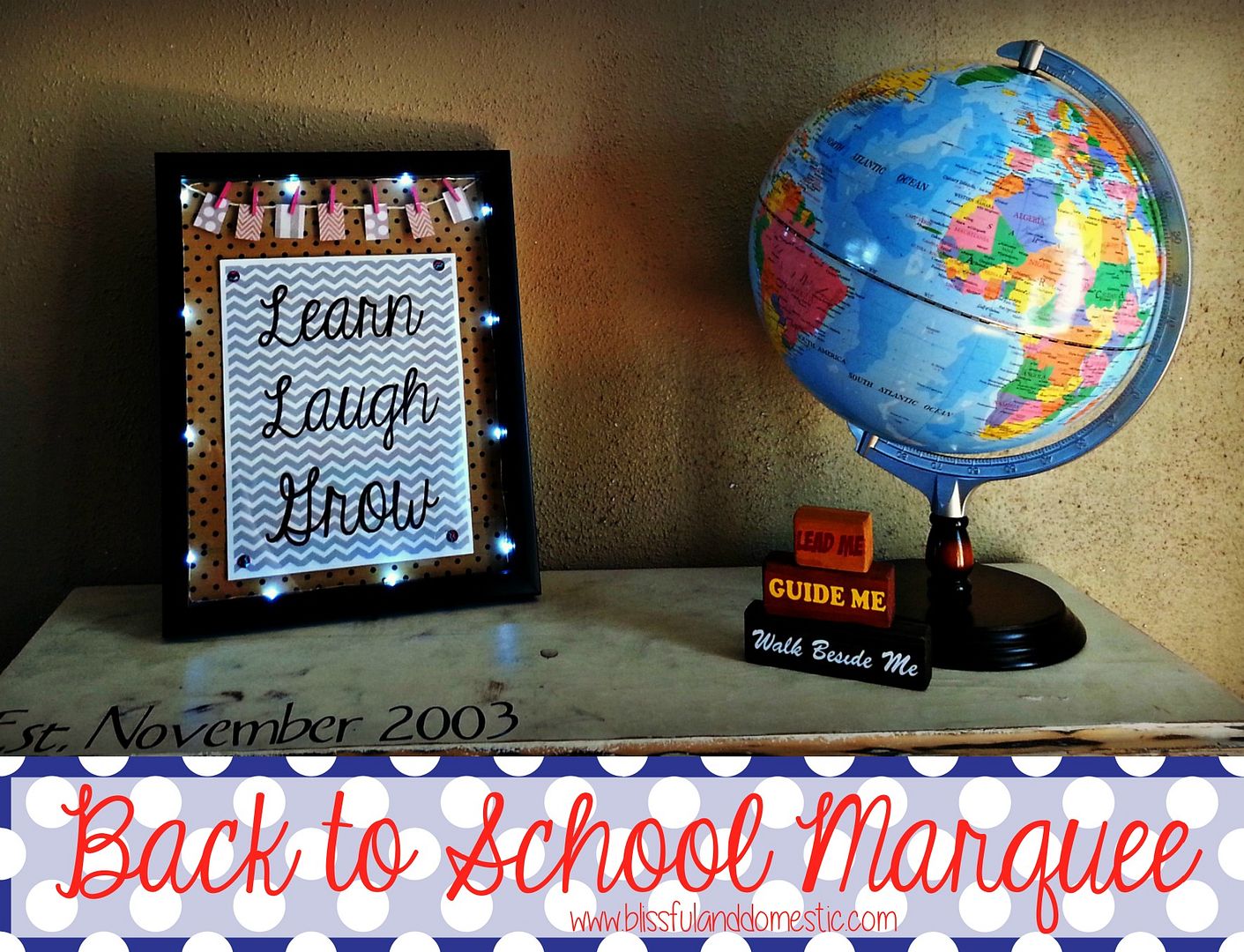 A few weeks ago, I got a package in the mail from
Jo-Ann Fabric and Craft Store
. It was a follow up to the Big Bling I was a part of last month when I
decked out my fridge
. The package had three items and a gift card in it. I was told to use all three things in the box, plus whatever goodies I could find at the store to create a back to school craft.
Usually challenges like these are pretty simple for me, but this time they threw me for a loop. The box had mini clothespins and some chevron stickers. Easy peasy right? Well the third item was the one that completely stumped me. When I opened up the box I found a LED light string. What the heck!? How was I going to make a back to school craft with that. As my deadline approached
(my deadline is tomorrow)
and I still had no craft idea on the horizon, I began to worry. What if I missed my deadline? How embarrassing! I told my hubby of my concerns and guess what happened? He had a spark of brilliance! Without a blink of an eye, he said
"Why not make a shadow box with a little light in it and words to be your theme for school...Mom's like stuff like that right?".
OMG! I couldn't believe he had come up with that fantastic idea. I was ecstatic! That man of mine is a keeper!
So here I am today, ready to tell you how to make a back to school marquee of your own. This was super easy to make and I even have the free printable for you as well. Your welcome:)
Hubby and I decided on the words
"Learn, Laugh, and Grow"
. We felt like these three words would be beneficial for our kids to focus on this year in school. I love having a sweet theme to be our starting point for a new school year. Sit down as a family and come up with your own theme. It will be such a sweet reminder for your littles, as they enter a new school year. It will be a great reminder for us mamas too!
You can download my 8x10 print
HERE
for making your own marquee. I ordered mine from Costco. Their 8x10 prints are under $2 and can be picked up the same day. I ordered mine in the morning and was able to pick it up a few hours later.
Ready to make your own marquee?
Let's get to it...
Items needed
8x10 print
12 x 12 scrapbook paper x2
paper scraps for bunting
twine
mini clothespins
chevron "bling" stickers
3D foam squares
LED light string
scotch tape
shadow box - 11x14
Most of these goodies are apart of
The Big Bling
line at
Jo-Ann Fabric and Craft Store
. I am loving this new line.
* a lot of my paper scraps were left over from when I pimped out my planner. I love it when I can use craft leftovers on projects:) Just like checking in your pantry for cooking, you can check in your craft stash before creating. I do this and it always saves me money and time!
I started out with my 12 x 12 scrapbook paper. These are on sale this week at Jo-ann Fabric and Craft Store. I am in love with the polka-dots. I cut my paper to fit the template within the shadow box. I had to overlap my two papers to make it long enough for my 11 x 14 frame.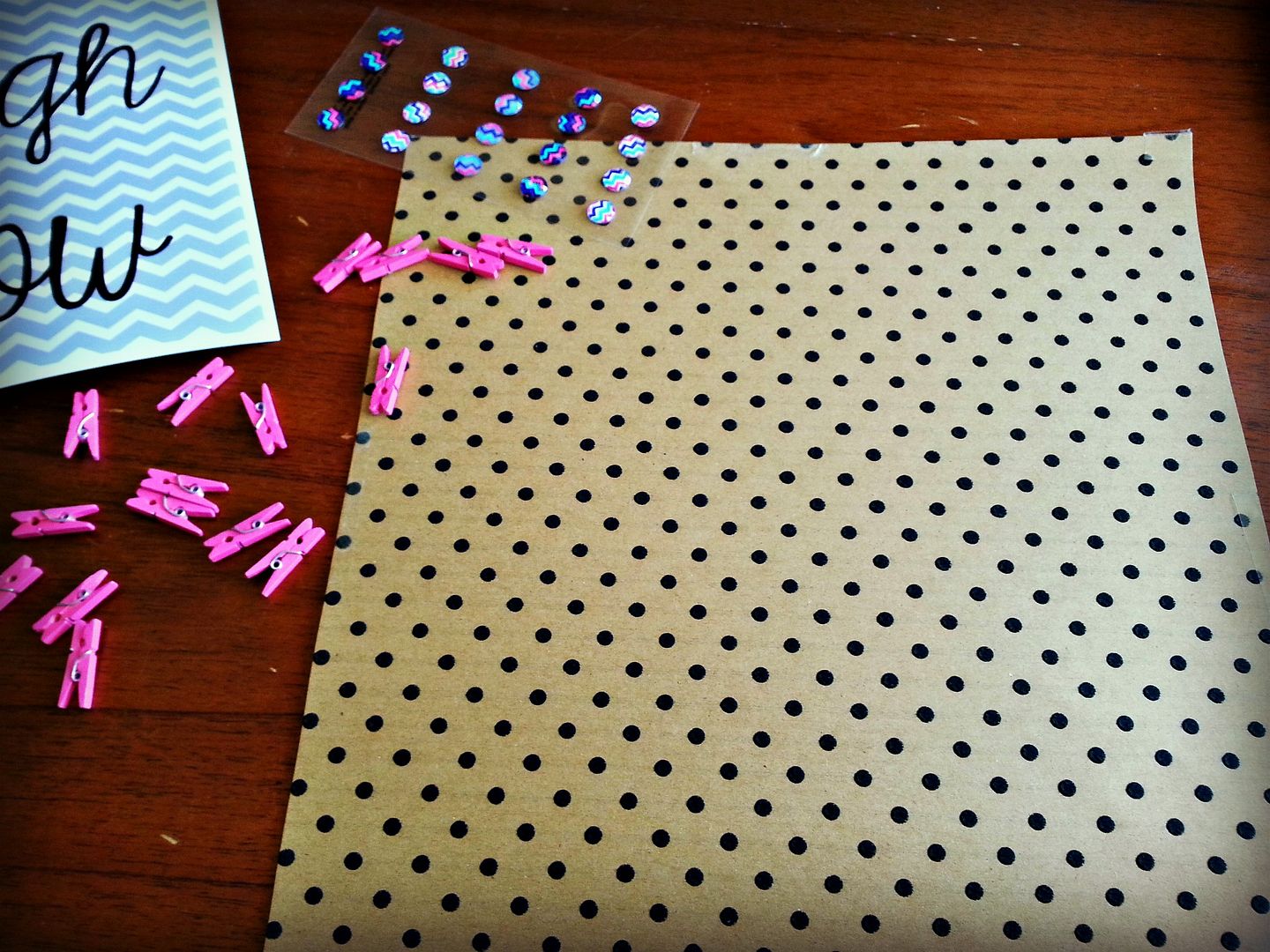 I used scotch tape instead of glue on this project. It was less messy and helped me when I was figuring out how I wanted everything to look. It also is great that I will be able to change this out next year for whatever new theme we come up with:)
I then placed 3D foam squares onto the back of my 8x10 print. I did three rows, so my picture would be secured within the frame.
Don't remove the packing off of your foam squares until you are sure of the placement of your 8x10 print. Once you are sure where you want it placed, then remove to packing so your picture can stick in place.
Use paper scraps to create your bunting. I had leftover scraps, that I cut down to size. I secured them with mini clothespins and twine. I added a bit of tape to the back of some of my clothespins, so they would stay in place.
Now it is time to add your LED lights. These things are so nifty. They come on a string with a little battery pack. I started at the bottom left corner and worked my way around. Secure as you go with a little pieces of tape.
Leave enough at the end, so your battery pack can be taped to the back of the frame.
Next add your insert and then add the backing to the frame. I secured my battery pack to the back of the frame with tape.
Turn on your frame and enjoy! My kids love turning this on at night. They said it feels like Christmas:) Now if I only I could have them convinced that starting school is like Christmas. Haha!






Don't forget to subscribe to my YouTube Channel!