This is a Guest Post
No pounding, stuffing, rolling, or dipping with this Chicken Cordon Bleu recipe!
This one is "the easy way". Now, did that get your attention? With this recipe, you have all the wonderful flavors of the "hard to prepare" recipe with the ease of quick preparation. Absolutely true! I like that, don't you? Chicken Cordon Bleu - the easy way, simply involves the layering of the ingredients. (That's my kind of recipe!) Keep the ingredients on hand and you can have company over for a delightful meal on short notice. It takes only 35 minutes to cook, so when the first guest arrives, I pop the dish in the oven and start with appetizers. This gives just enough time for the dish to be ready. When I have served this meal, my guests have always asked for the recipe so I know you'll enjoy this , too! It is fancy enough for company, yet, simple enough for everyday.
Ingredients.....
6 chicken breasts - cut to be fairly uniform in size - pat dry 6 pieces of thin sliced ham ( I use turkey ham, too) approx 1/16 inch thick 1 box chicken flavored stuffing mix 1 can cream of chicken soup ( when out of this, I've used cream of mushroom) 2 tablespoons Dijon Mustard 6 slices of Swiss Cheese chopped, fresh parsley
Directions:
Make the chicken flavored stuffing according to directions on the box. In a greased 9 x 13 pan, place chicken breasts- Place a slice of ham on top of each chicken breast.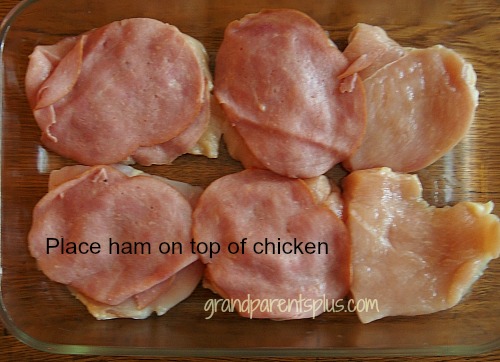 Mix Dijon Mustard with the soup in the can- (no extra dirty dishes required) Spread soup mixture on top of breasts-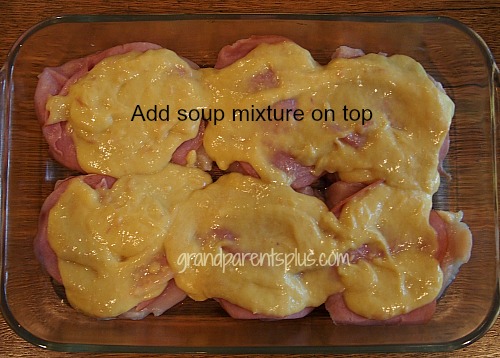 Sprinkle stuffing on top and bake at 400 degrees for 35 minutes. Plus extra 3-5 minutes with cheese on top.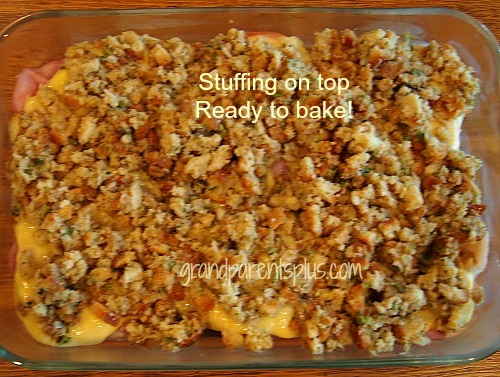 Hint: Do not mix thighs and breasts as they get done at different times. This amount of time is for chicken breasts only. Remove from oven. Place slices of swiss cheese over each chicken breast and bake for 3-5 minutes until melted.
Serves 6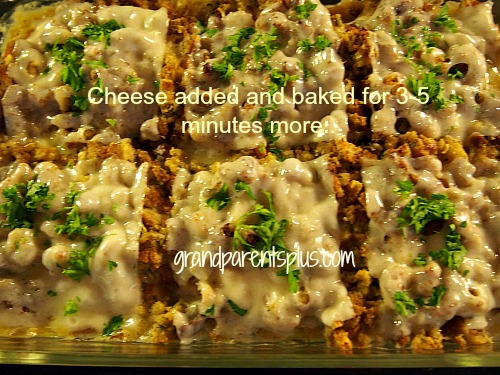 Chicken Cordon Bleu is ready to serve! Add a colorful vegetable, salad, and you've got a lovely dinner that is so good! Sprinkle fresh parsley on top of each chicken breast for color! See the different layers?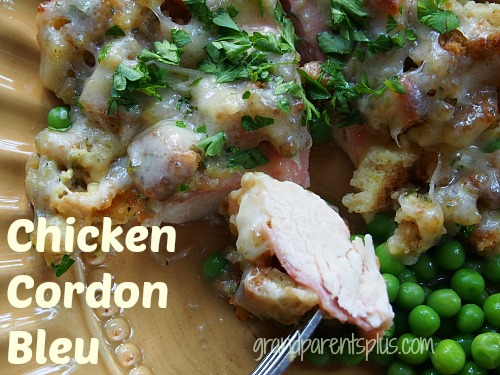 Now, wasn't that easy?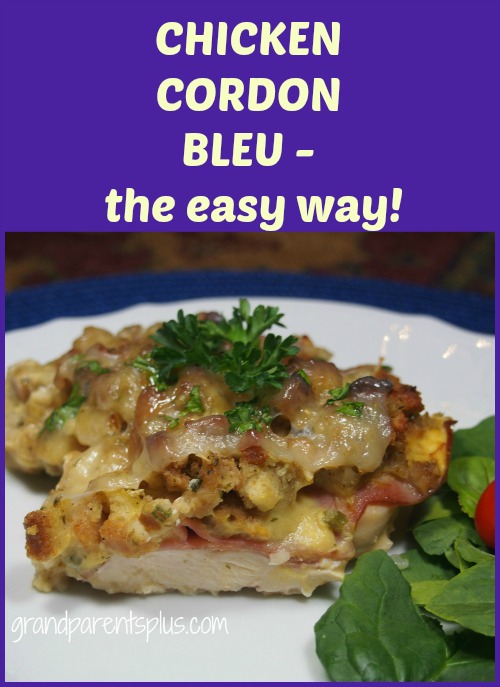 Our family really enjoys this recipe! Hope you do, too!
-Phyllis - Check me out on
my blog
!
Phyllis at www.grandparentsplus.com is a former teacher, children's pastor, and now a grandmother of 7. On her site she features recipes, decor, crafts and more! With her varied interests and creativity, Phyllis does life with a "plus".
She is actively involved with her grandkids in having a special "camp" called Oma and Opa Camp each year where she plans lots of fun activities. Check out her site!
-----------
Thanks so much Phyllis! It looks so yummy!
XO Danielle
Don't forget to subscribe to my YouTube Channel!