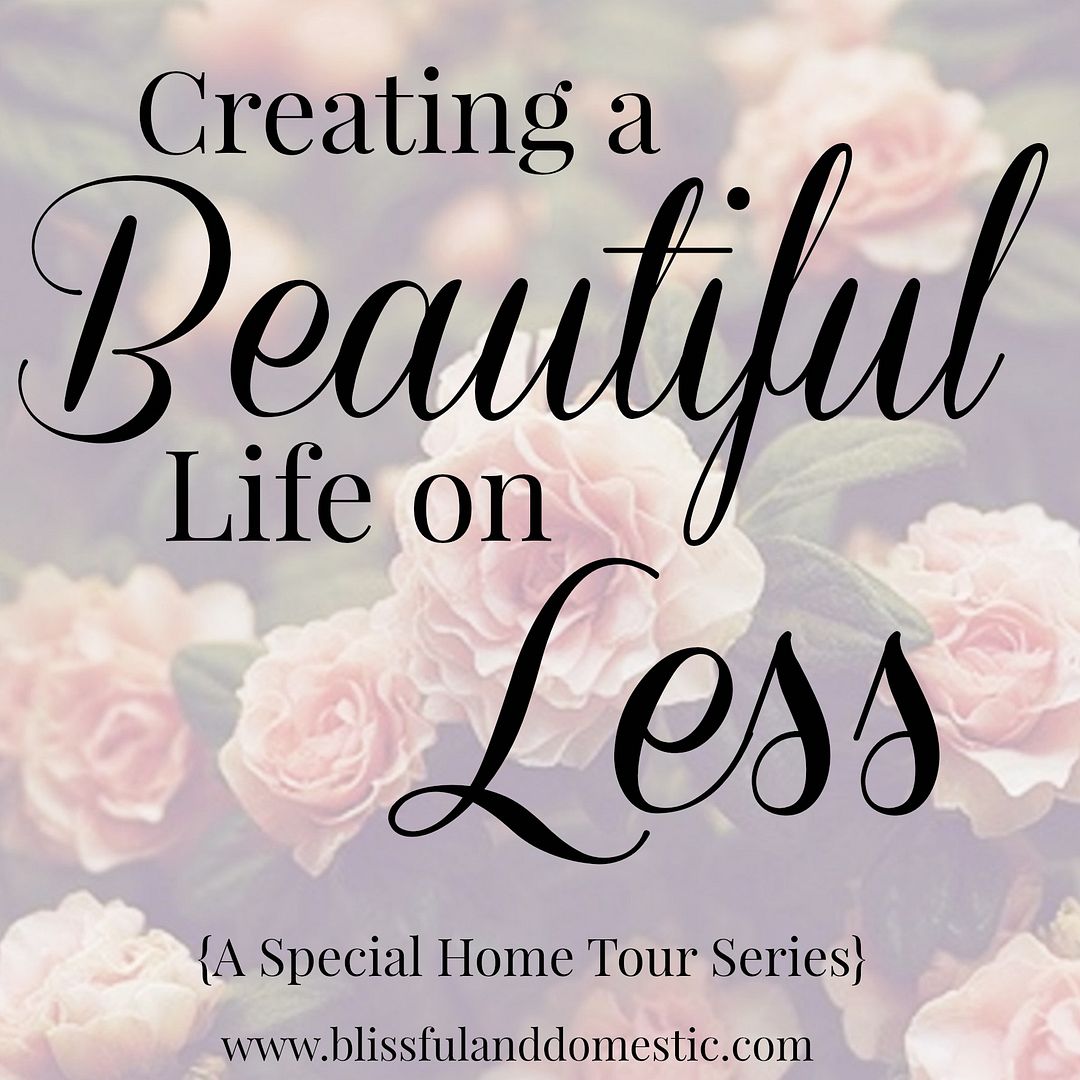 Today we welcome Erin to the blog. She is a cute mama, to an toddler baby girl, who is here to share her tips and tricks for creating beautiful on less.

Let's get to it...
-----------------------------
So I guess I should start in the beginning. We have recently moved to a rural town called Caliente, NV which is 2.5hrs outside of Las Vegas because my husband started work for the State at the Youth Center for juvenile delinquents. Its approximate population is 1200 people, there are no stop lights, more parks then stores, it takes less then 20mins to walk around the entire town, and almost every hour a train goes through town. And get this... the closest Target is 1.5 hours away and the closet Walmart is 1hour away! Crazy right!?
My family owned a couple properties in town that were my grandparents so we decided to place a manufactured home on one of them. After what felt like forever we finally got the property prepped and ready for the home. We did a lot of research on houses and decided to get a prefabricated model and save some money on customizing one. We found a couple houses in Fort Mojave, AZ and decided to take a little road trip with my parents (because they know more then we did) to look at some. Well we found our home there! It didn't have any upgrades, everything inside was base package. In fact the salesman said the company mass produced this house so save money making them. But knowing that we wouldn't be able to get that much sqft for that price we were happy in knowing we can replace everything inside in due time. It was the last model they had of it so he sold it to us furnished! I don't mind telling you the figures because it was a steal! Our house is 2016sqft 4bed 2bath 2living spaces and we got it furnished, with brand new appliances, and all transporting fees for $69,000! I know right!? We couldn't believe it either. Huge blessing. With all other fees, permits, lot prep, and property we were able to get our house for just over $100,000.
So I guess that's my 1st frugal tip: In house hunting, layout and size trumps upgrades that are easier to remodel later.
Ok, now to the decorating... we've only been here a little over 2 months so I still have a huge list of "To dos" (including landscape!) but here it is so far.
I love my porch! It is so nice to sit outside in the evening and just enjoy the beautiful weather up here. The BBQ was a gift from my in laws neighbors. They were so sweet for thinking about us! I found all the patio furniture on a yard sale site for under $100. And my lovely sister gave us a ton of plastic play equipment and picnic table because her children have out grown them.
2nd frugal tip: Yard sales, Gifts, and Hand me downs are AMAZING. You don't need to buy new to have nice.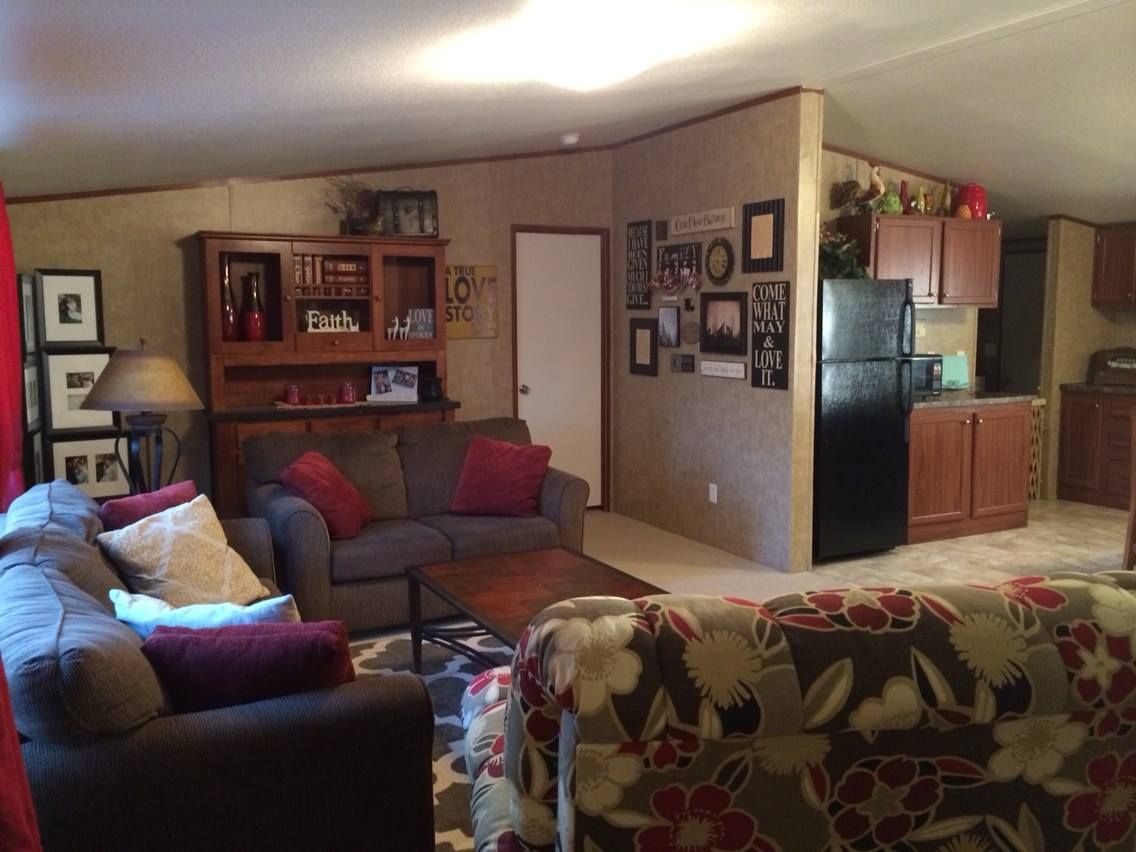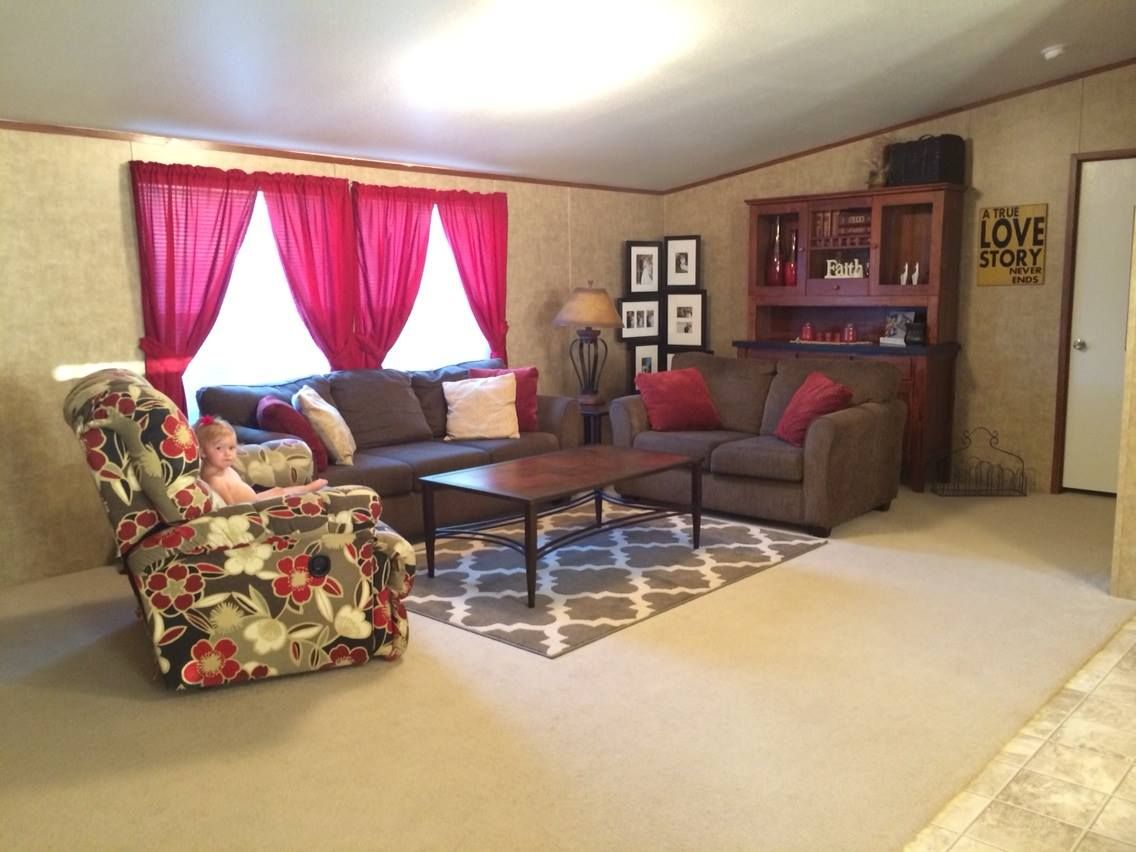 I love our open floor plan and I like even more that it is easy to keep my toddlers mess out of site just in case we have unexpected visitors stop by (which happens a lot when you're new in a small town) When you walk in all you can see is the Living room, Dining room, and Kitchen. All the end tables, coffee table, and entry table came with the home and I love how beautiful and heavy the pieces are and they tie in the brown and black furniture pieces we already had. The huge Lazy boy was a compromise I had with my husband. He wanted a big recliner but I didn't want and ugly eye sore. So I choose a pretty floral print to have it made in and while looking around in lazy boy I decided it wasn't fair for him to get one and I didn't, but we didn't have room or budget for two chairs so we got a recliner and a half to share. The couch was newly purchased to furnish my grandfathers new home but before he was able to move in he became sick and soon after passed away. We inherited the couch and my in laws bought us the matching love seat for Christmas. The hutch was bought at a yard sale for $20 and some of the edge pieces were chipping off so I removed it and painted it black to tie in with the rest of the furniture. The vintage book board games were a gift off our wedding registry and the tall photo collage frame was as well. I made most of the wood and vinyl signs. And the lamps, vases, and some other pieces came with the home. The big mirror was a splurge from ikea for $99 and the art on either side also came with the house.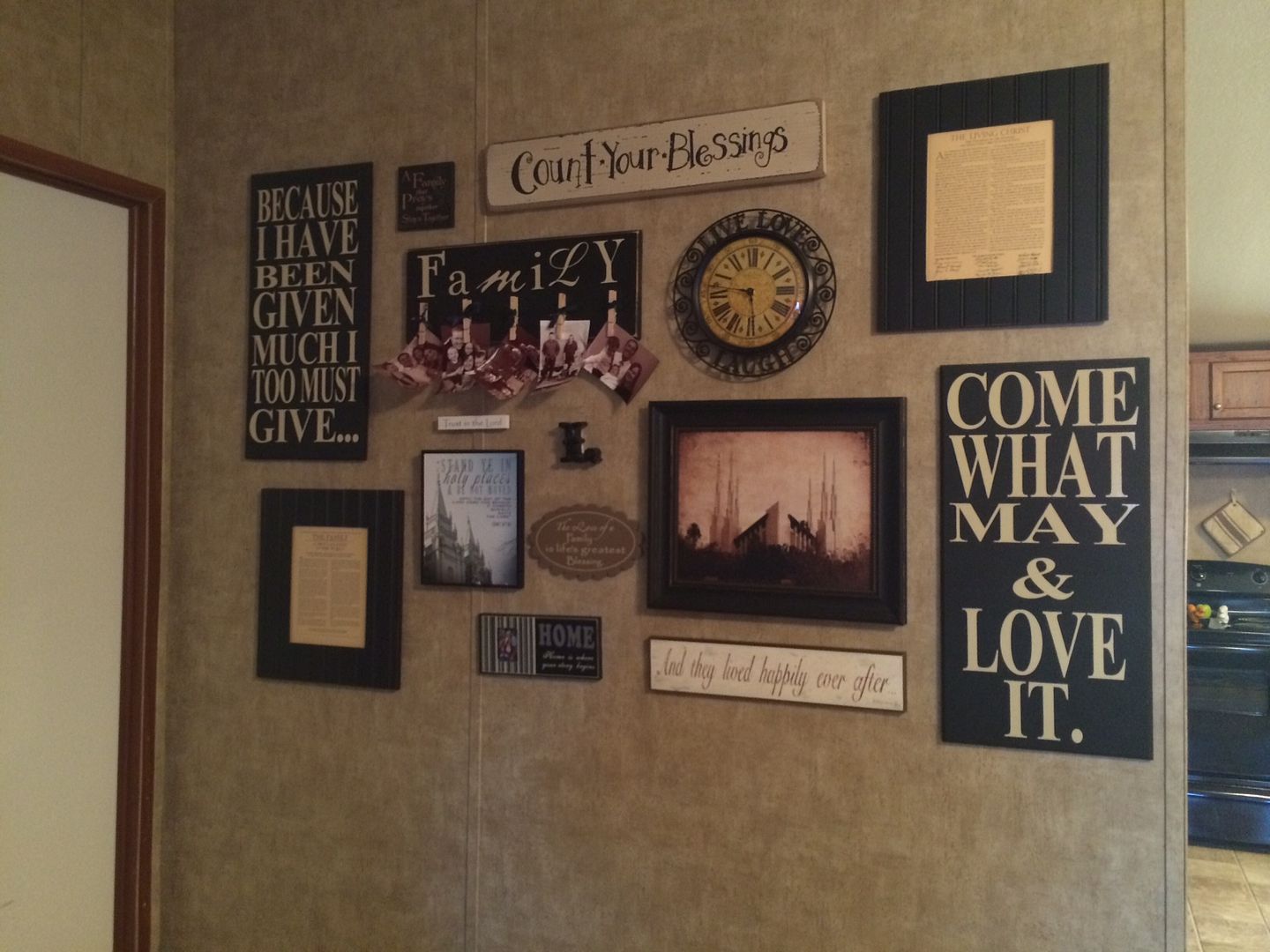 3rd frugal tip: Just because something isn't perfect at a yard sale doesn't mean it won't be after a cheap face lift.
Kitchen: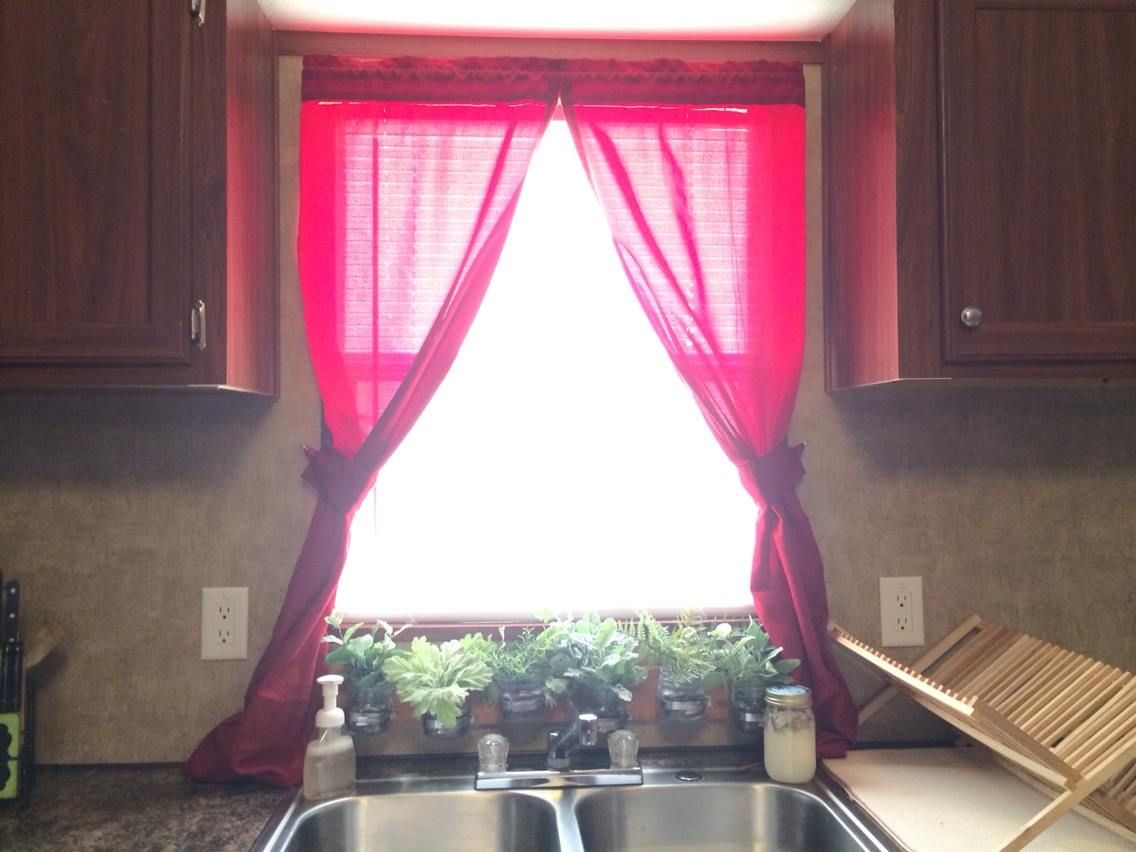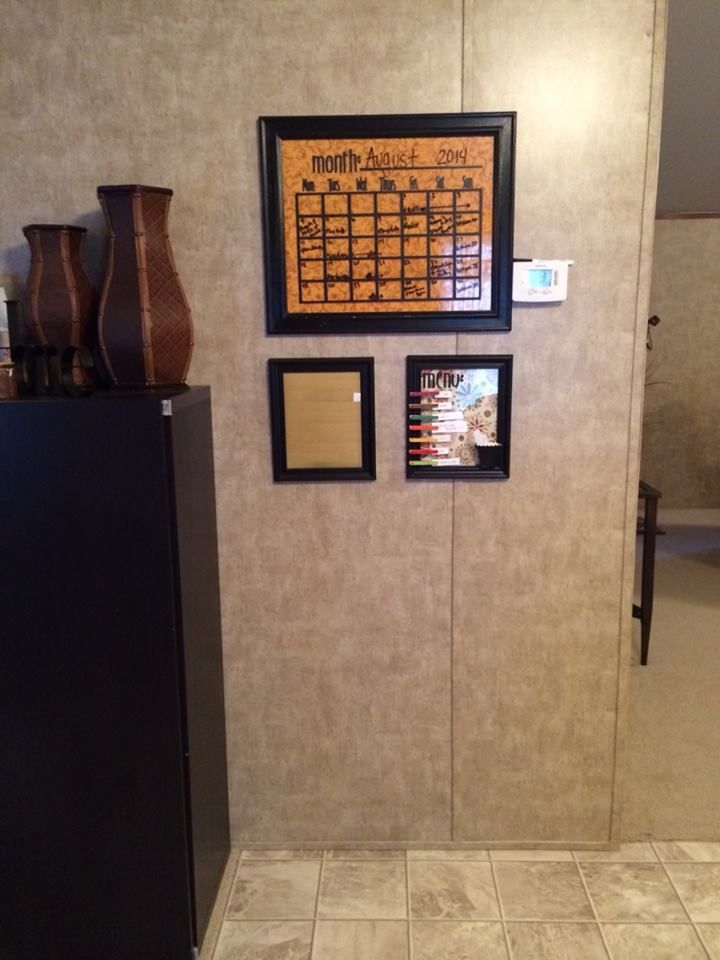 Most of the trinkets were found in my grandmothers home that I remember from my childhood, even the bread box was my great grandmothers. And others were found at Hobby Lobby in the clearance section or bought on sale. I usually NEVER buy full price there.
My herbs above my sink may look real but sadly are not. I found this cute idea on pintrest and copied it with real herbs and all went well for a couple weeks until the soil became moldy... there wasn't a place for the water to drain. So I replaced them with fake plants I found on clearance at Joanns. I've since learned that all I need to do is drill a whole with a drill bit for glass or fill the bottom with pebbles but I don't use fresh herbs often enough to change it back yet.
We moved from a home that had a very small kitchen and I didn't have much to fill all the cabinet space. While unpacking my daughter found a hide out under the island and brought pillows and blankets in there. She thinks its the funnest place to play so I let her keep that space for herself.
4th frugal tip: Don't buy full price items, Most stores have coupons via text, email, mail, or app.
Dinning Room: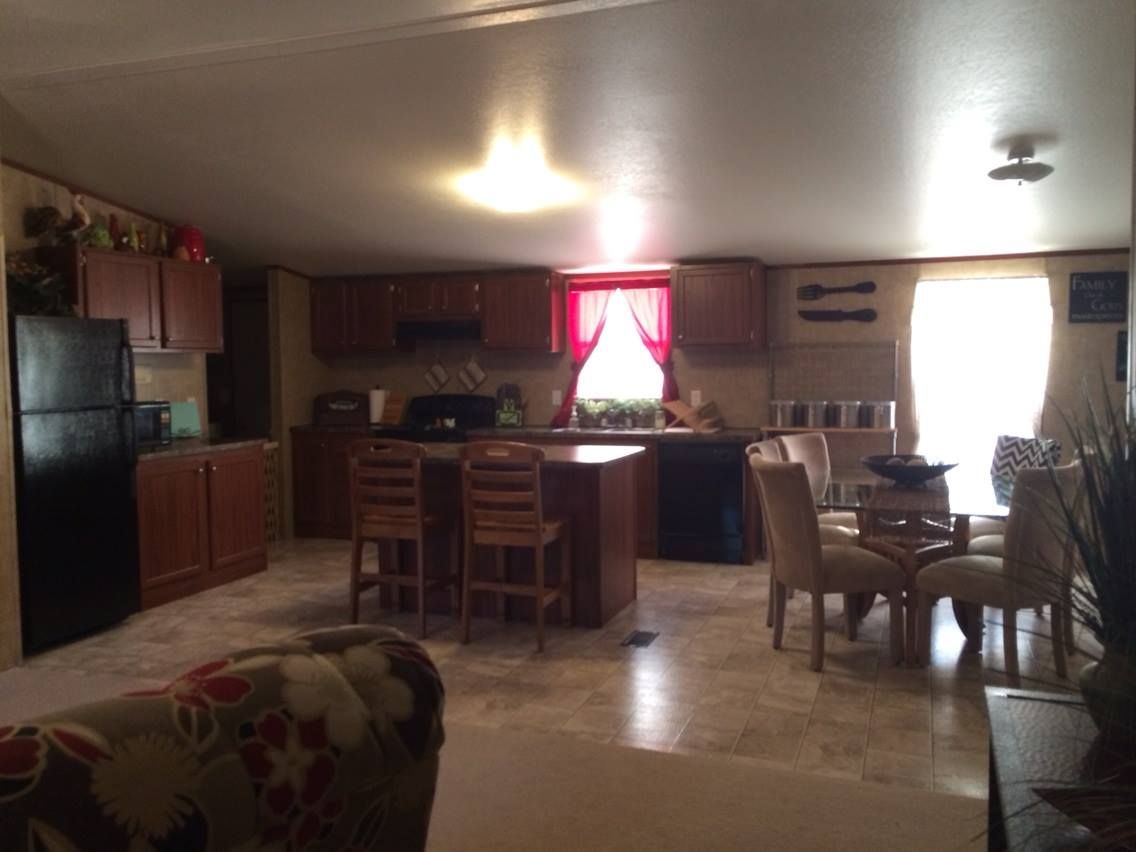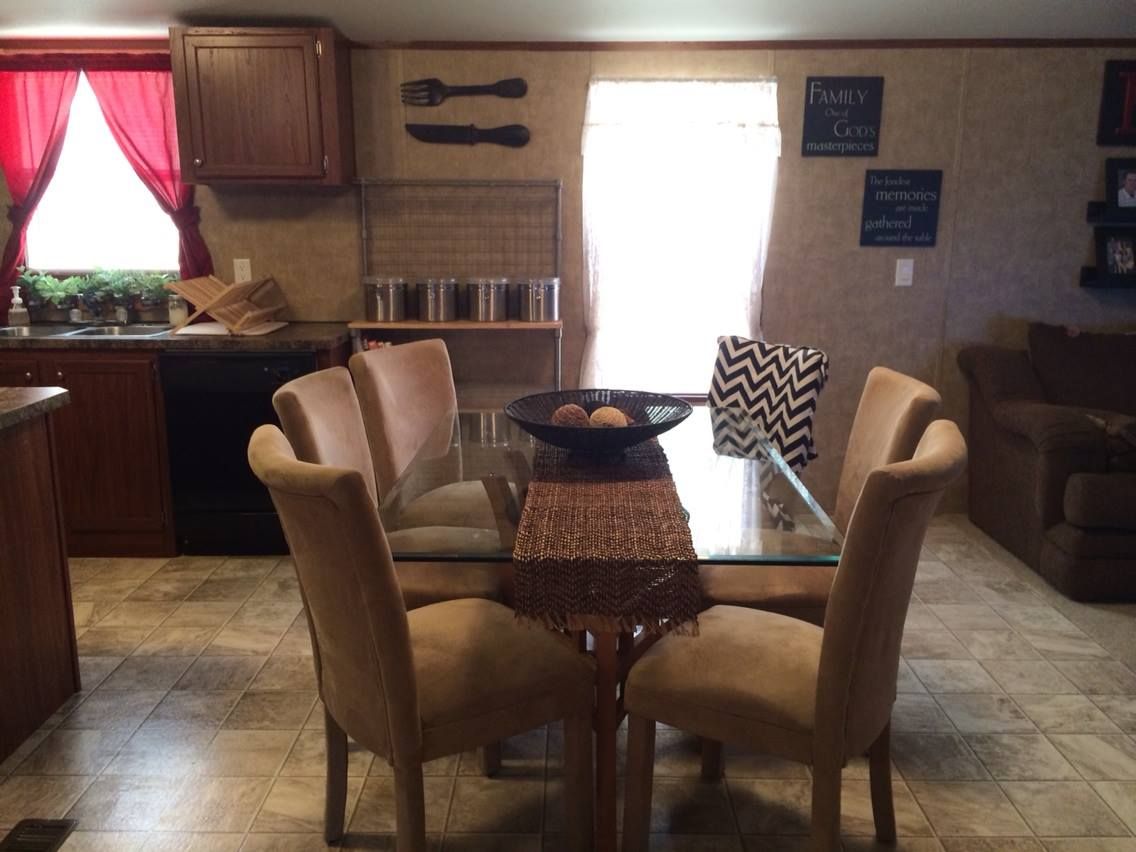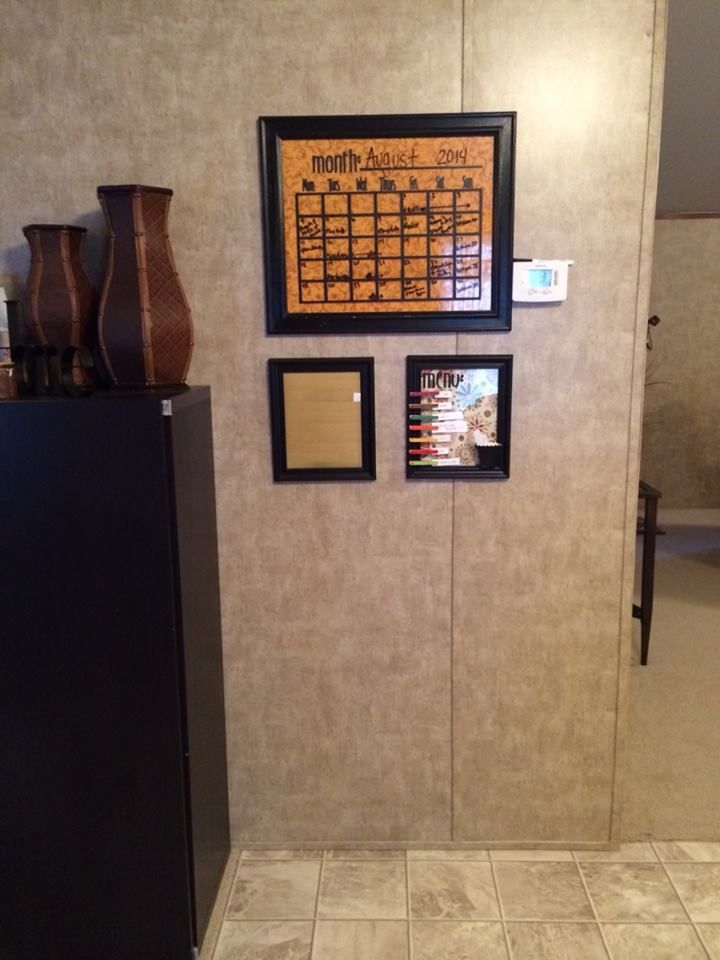 This dinning table has caused some tension in my marriage... It came with the house and fit the space better then our table from our old house (square bar height table and chairs) So I left it here til I found a cute farm house style table that I liked because I HATED this one. Our toddler kept running into the corners of the table and getting huge goose eggs, cloth chairs and a messy toddler didn't make sense to me, no matter how ofter or well I cleaned it you could always see smudges, and I just don't like the way it looks. Well my husband LOVES it. Why? I have no clue. But the glass top does have some benefits to it. While I'm sitting at the table it is so fun for my daughter to go underneath and make faces at me, its fun to doodle on with window crayons with her, and while we have game night at our house we can keep score right on the table. We've even drawn out brackets on it. So hubby wins and we've kept the table. Oh and we figured out placing the chairs around the corners prevents the little one from running into it.
The curtains were also taken from my grandmothers house. And on the other side of the room is our "family control center" I found the big frame at a yard sale and painted it black and just had the smaller two lying around. I cut the calendar out of vinyl with my cricut and originally had the menu board as a memo board. I recently saw a friend of mine do this cute menu board and decided to change my rarely used memo board into one. I didn't even cut out new vinyl. I just used an exacto knife and made the "mo" into "nu" and hot glued the clothes pins on.
5th frugal tip: Sometimes you grow to love the things you used to hate about your home. Look for the beauty and uses these things may have and save a couple bucks on not fixing or replacing them right away.
Family Room: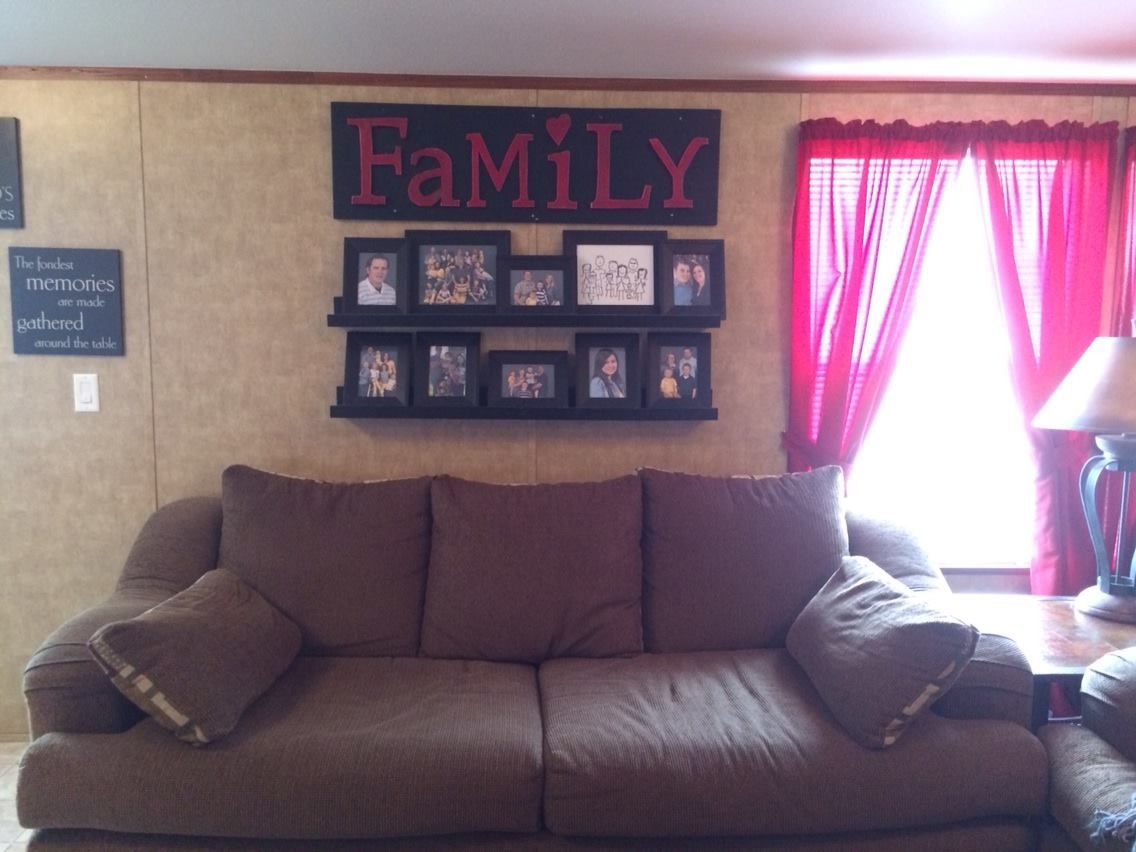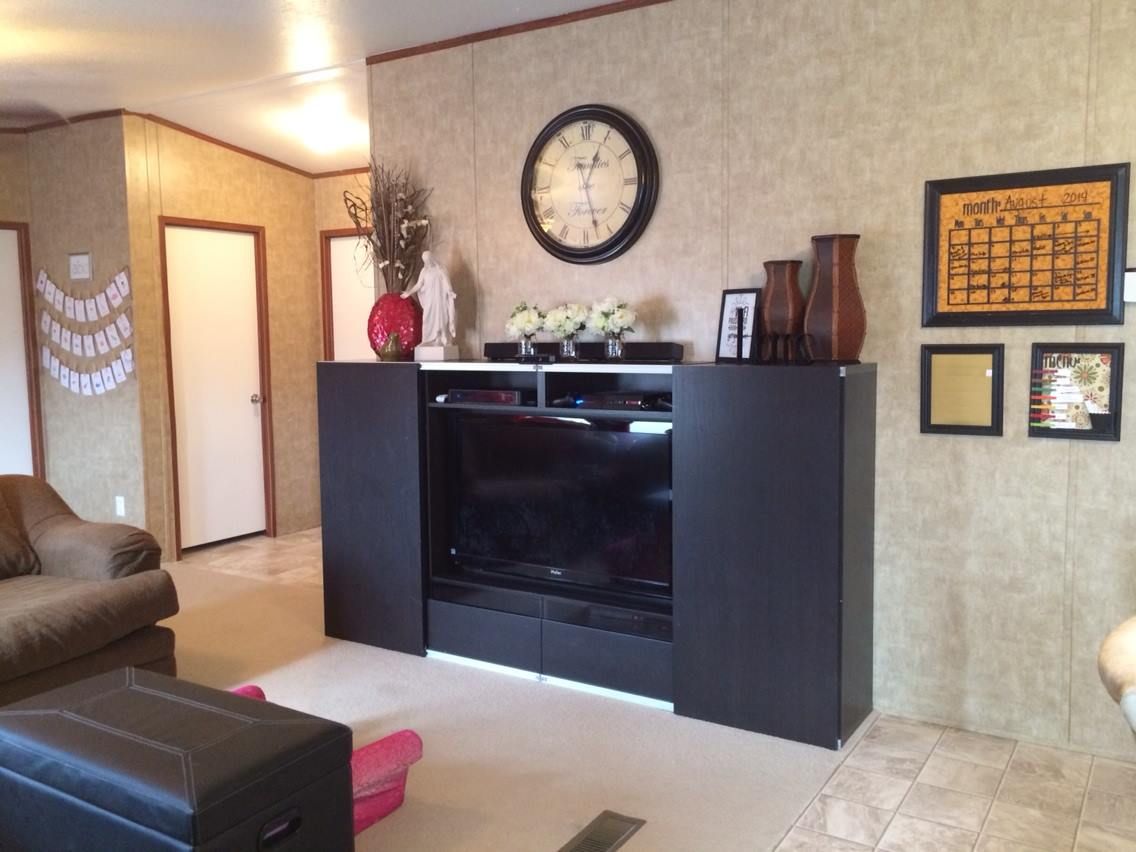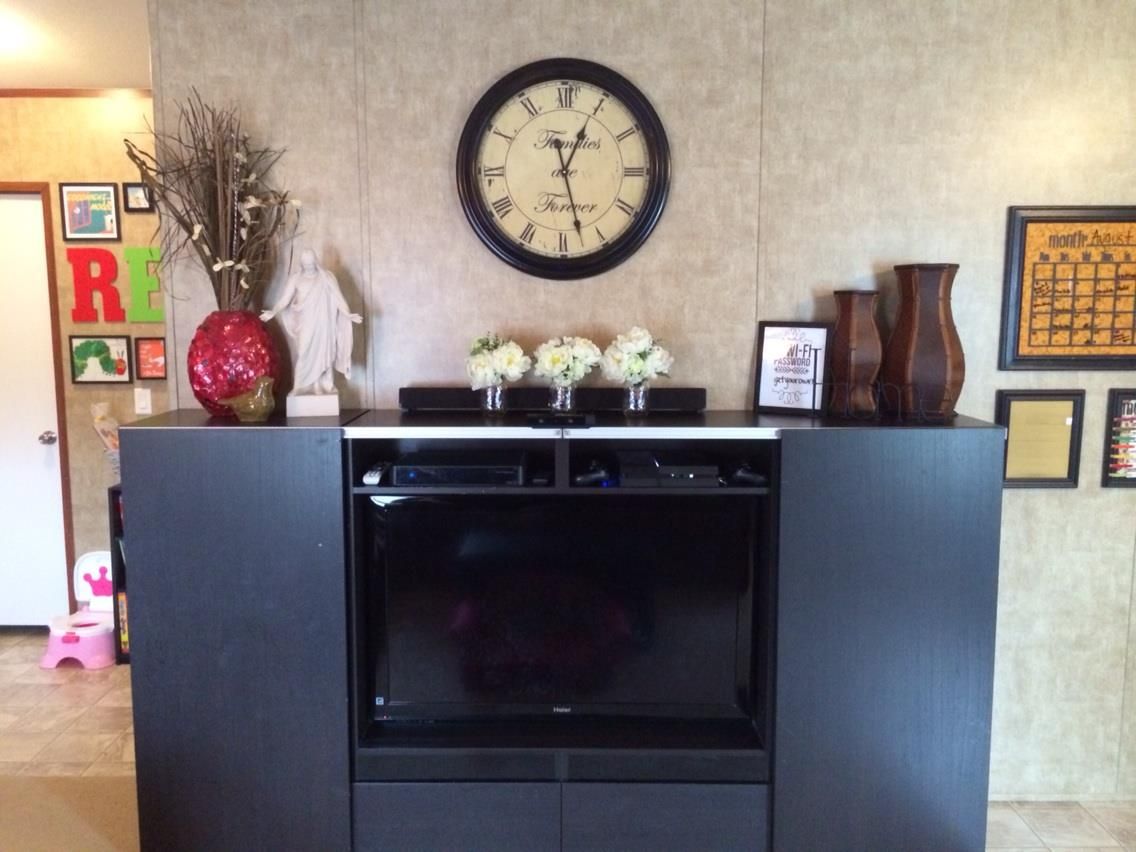 This couch and loveseat came with the house. I don't love the pattern on the cushions so I just flipped them over so I don't have to see them. The ottoman was bought cheap from a friend of mine that was moving, it now stores some of my daughters toys. It's very handy having a place to just open and throw toys in for quick clean ups and its a soft seat for extra seating or place for toddlers to jump on and off of. The Family sign was found at a thrift store and I repainted it, I made the photo ledges, I found the directions off of pintrest. The entertainment center is another splurge. While at ikea my husband fell in love with it and I really liked how functional it was. The doors on the side slide open and close to cover on one side all our dvds and on the other is a book self. Its nice to have these things closed so the little human can't get to them. The large clock was won at ladies night at Desert Books. And I just want to mention what Megan had said in her tutorial about decorating in threes. I totally agree! It is more esthetically pleasing to decorate in odd numbers and varying heights.
6th frugal tip: It isn't about being frugal... I think it's ok to splurge on some things you absolutely love. Just make sure you save and budget for them and they are items that you won't regret paying for.
Play Area: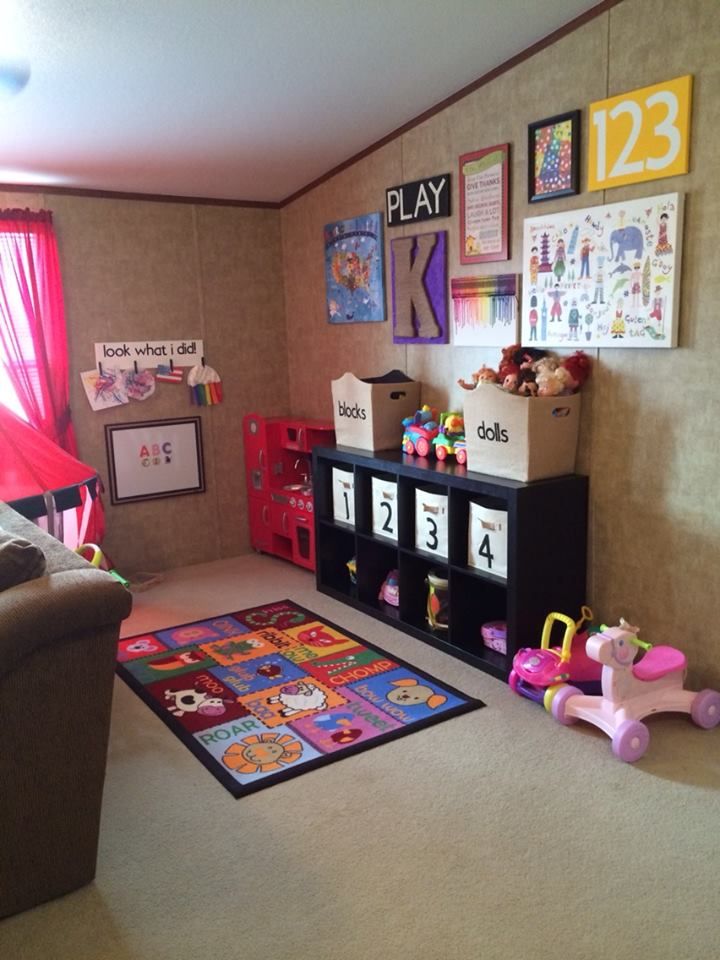 There's a lot of DIY going on in this small space so I'll start at the bottom and go up... the rug was a cheap find on USArugs, I had a 50% off coupon and had free shipping. The tent and storage shelfs are from ikea, the bins are from walmart and I painted the numbers on them with acrylic paint as well as the bins on top (pintrest how to use freezer paper stencils, it will change your life!). I found the little kitchen at savers for $15 (original price well over $100). I cut the vinyl out for the "look what I made" sign and hot glued clothes pins on it. The magnet white board was a clearance amazon item.
The wall above the toys was inspired by a clearance find at hobby lobby, the different language sign was $8 and I also found the House rules sign for $4 the same day in the 80%off section! I decided to use those colors and make some more signs to put up, I bought a two pack of canvas (with a coupon) and made the melted crayon art (instructions found on pinterest) and the "123" sign and play sign I cut out stencils with vinyl and my cricut with the same font as the bins to tie it all in. I found the wooden "K" at hobby lobby in clearance a while ago and wrapped it in twine. And the map canvas was found at target.
The "ABC" flash card wall was made from free printables found on pinterest. I printed them out and laminated them.
The "READ" area was also pinterest inspired. I printed off some of our favorite storybook covers and framed them in some frames I had laying around. I bought the letters from hobby lobby on sale and painted them colors that went with the book covers. And put out all the board books that I don't mind being played with on the bookself. (don't mind the potty... we're potty training)
7th frugal tip: Pinterest can be your best DIY friend! Unsure how to do something? Just look it up and don't be afraid to try it yourself.
Bathroom: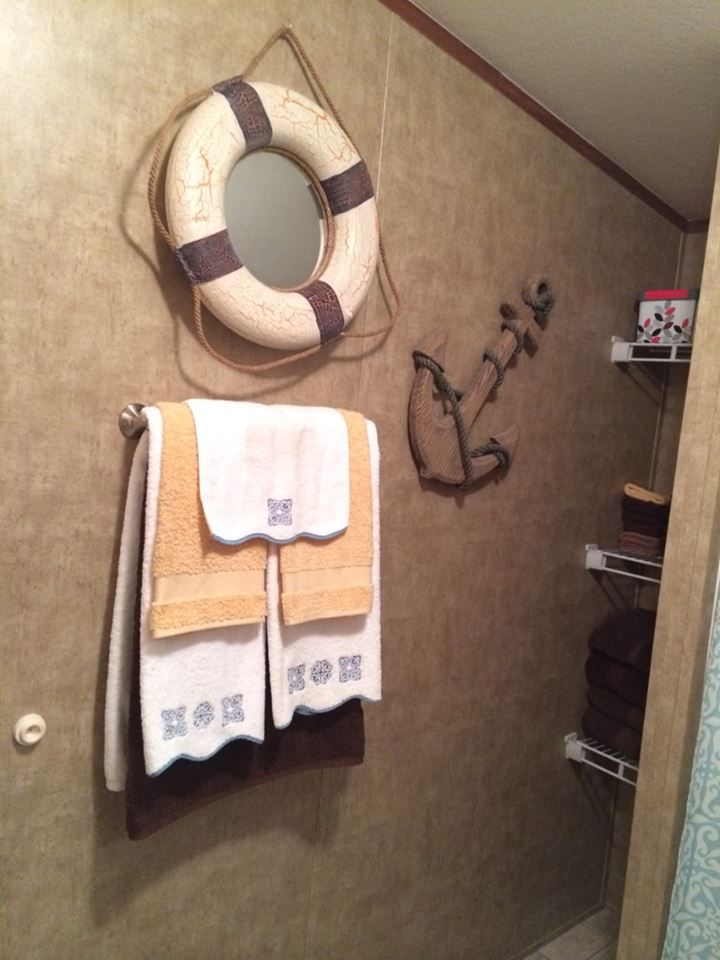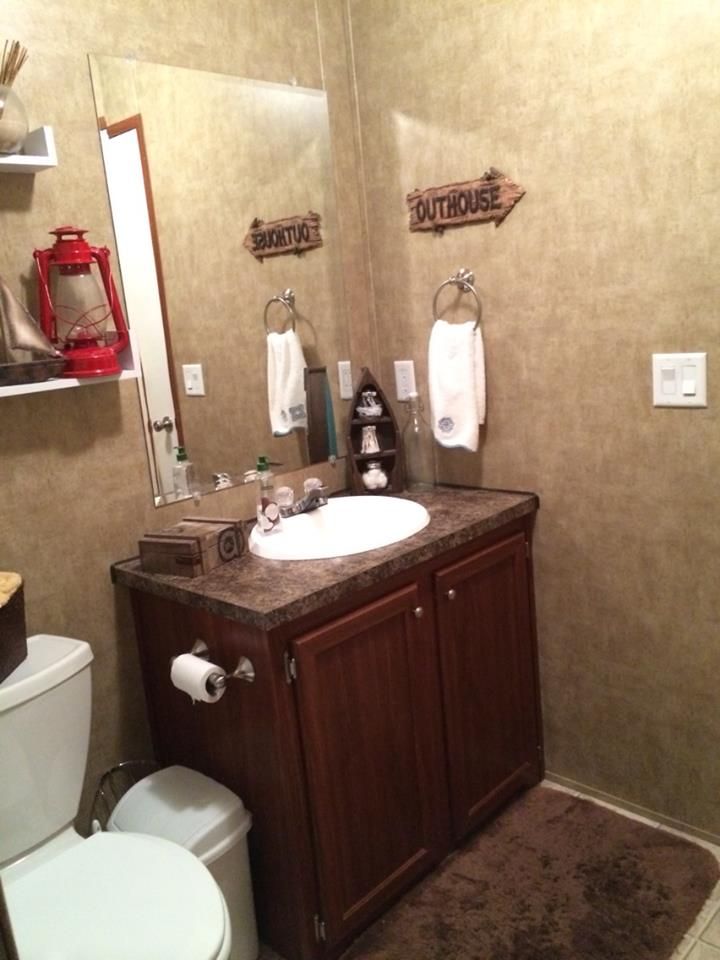 I didn't do to much DIY in here but I did buy everything on sale or with a coupon. It took me a little while to collect all these to go with the theme but it was well worth the time and energy to wait and not just buy it all at once for full price.
8th frugal tip: Patience! If what you want isn't on sale, just wait. It will be eventually.
Guest Room.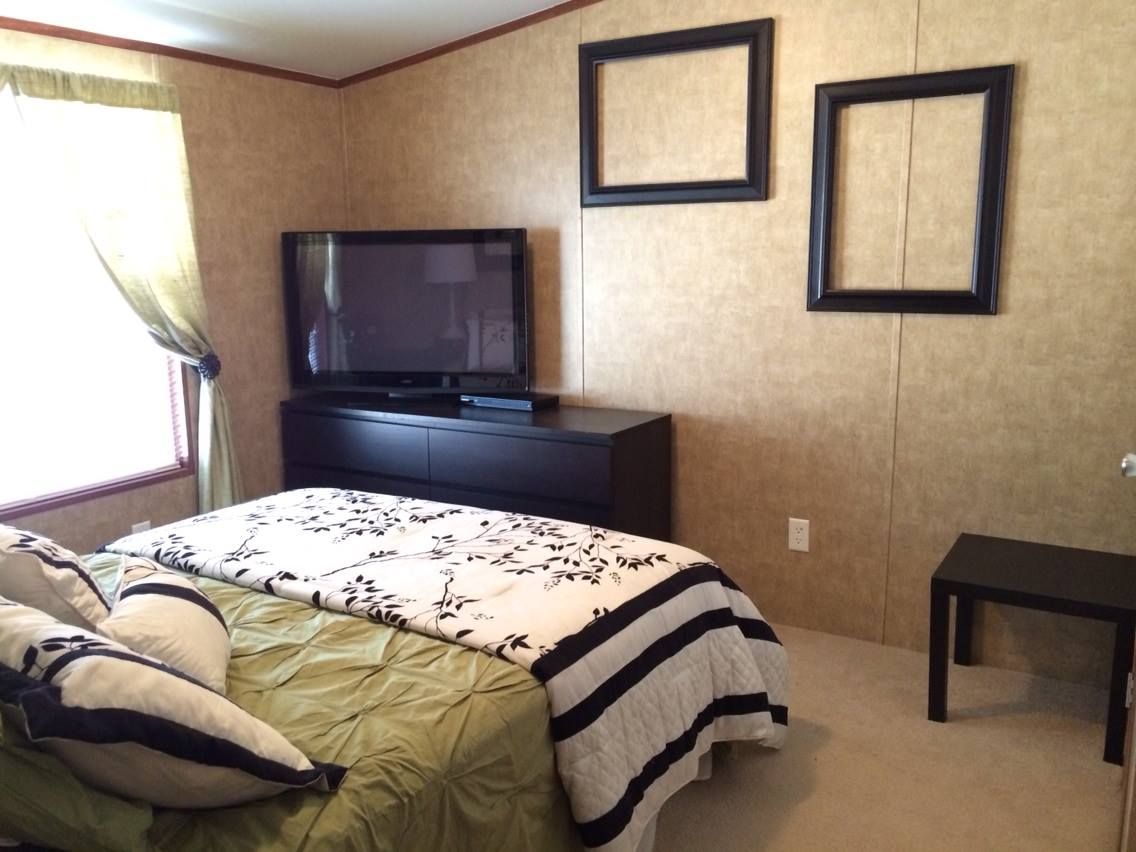 The furniture and décor in here used to be in our old master bedroom. The bed, end tables, and dresser are from ikea. I had two leftover large picture frames but didn't have anything to go in them so I hung them up empty (which I kinda really like). I found this mirror at a yard sale for $1 and tried to spray paint it black but the paint ended up cracking and looking ugly in the heat. So after I initially freaked out I decided to try and cover up my ugly mistake with fabric and it turned out better then if I just painted it. The lamps were my great grandmothers and were a vintage gold with broken lamp shades. They didn't go with my décor so I spray painted them white and bought new shade for them.
9th frugal tip: There is usually away to fix your DIY mess ups, just think outside the box.
Kennedy's Room: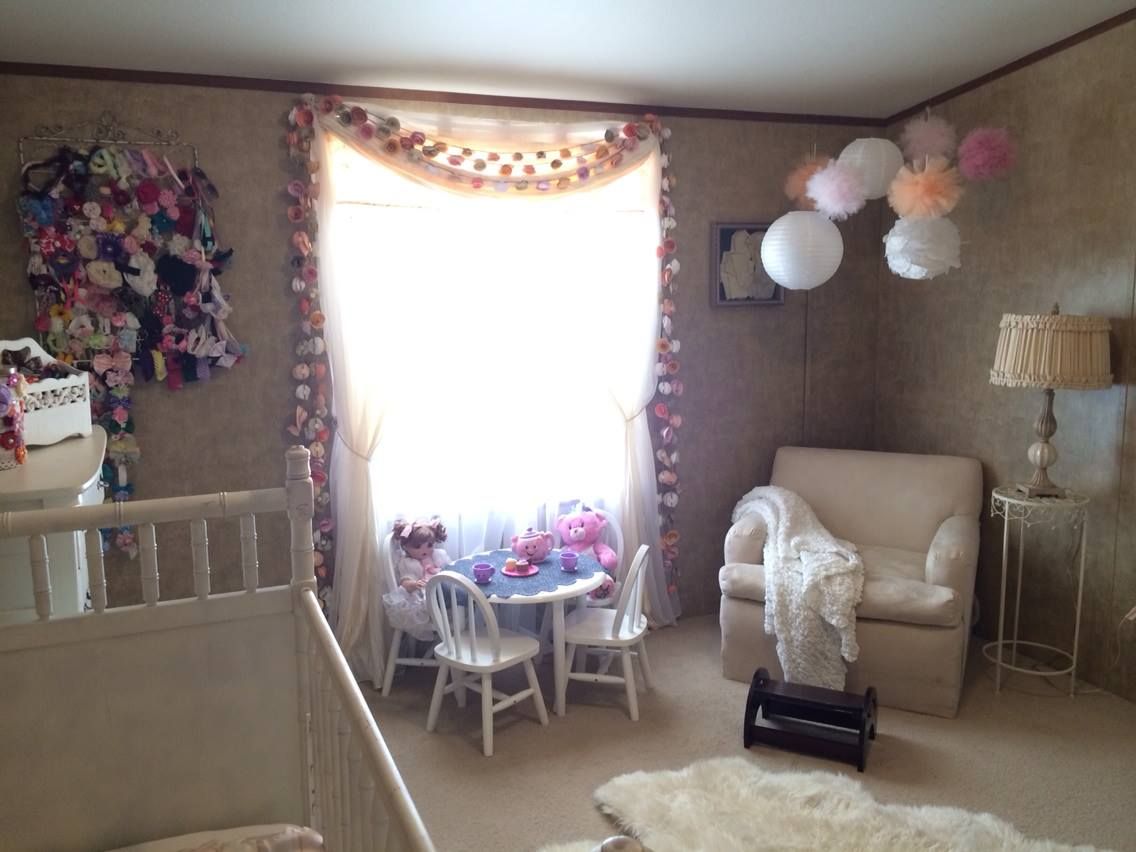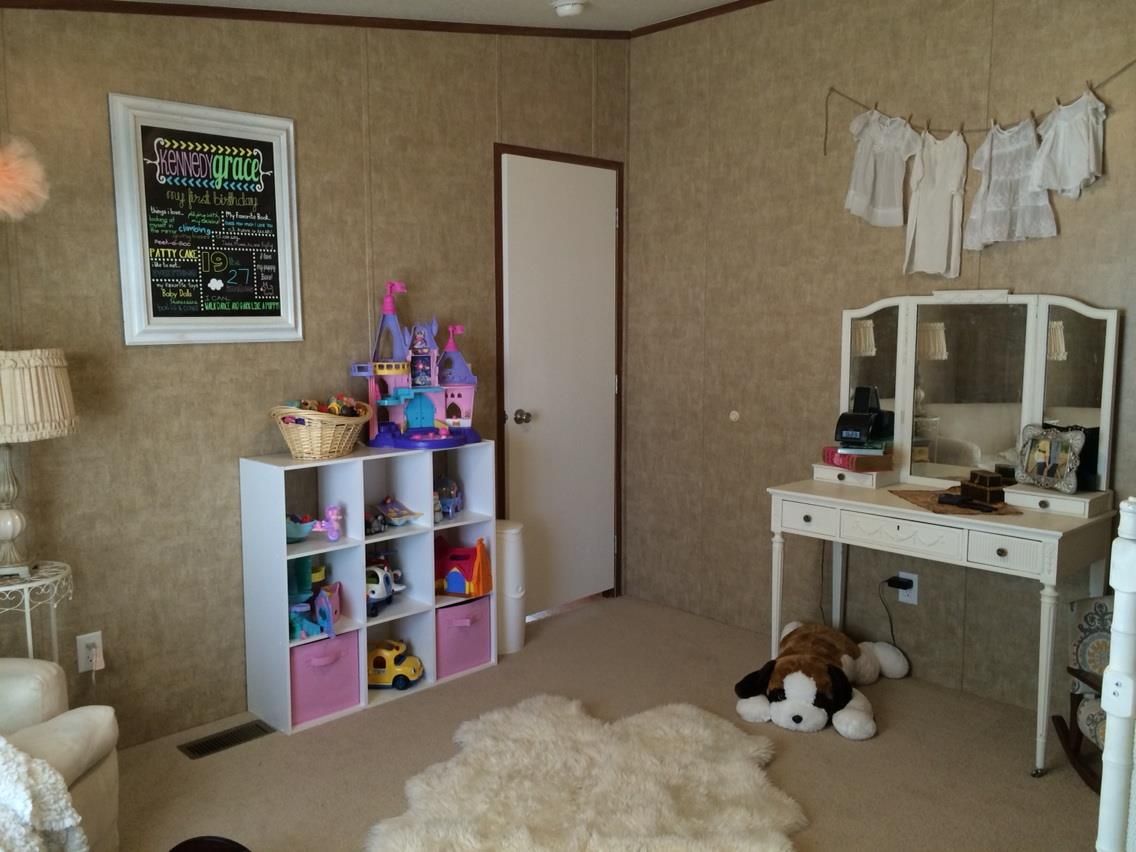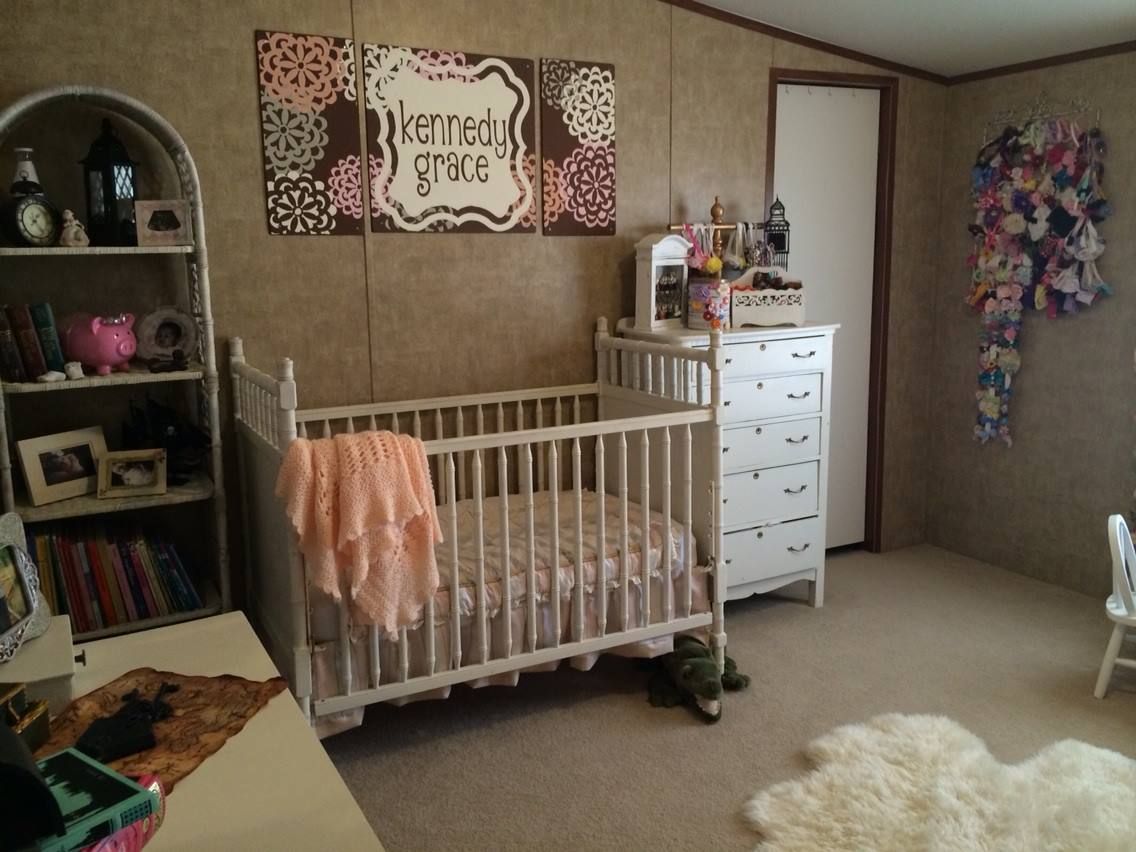 I loved the vintage nursery in peter pan that the Darling children shared. It inspired me to make my daughter a vintage nursery with a little peter pan theme. The dresser and vanity were my great grandmothers that I was able to refinish and the crib was mine when I was a baby. I reupholstered my great grandfathers chair. I hand painted the sign above her crib with some help from stencils I made with my cricut. All the flower garland, tulle puffs, and lanterns were actually decoration from my baby shower. The little table and chairs were bought off a facebook yard sale group. The shadow box above the chair is actually my great grandmothers vintage baby clothes. During my pregnancy I collected little pieces that I love that went with the theme. There's a treasure map, treasure chest, lock and key, a small pirates ship, mermaid and Indian trinkets, a lantern with Tinkerbell inside, peter pan books, clock,
a metal big ben tower, crocodile, and even a big St Bernard Nana dog.
11th frugal tip: refinishing inherited furniture will give it new life and save money on buying brand new.
Master Bedroom:
All this furniture came with the home (even the bedding, lamps, wall art, and chairs) and I fell in love with it. Our old room was very modern and I liked it but now our room feels more romantic. I made the vinyl saying above our bed with my cricut. I found the old wooden window frames at a local vintage thrift store. She original was asking for $20 a piece but I talked her down to $10 a piece if I bought them all.
12th frugal tip: You can always barter at local thrift stores and yard sales. It doesn't hurt to ask!
Thanks for checking my house out! There is still a lot to finish, but I'm happy with what I've done so far.
XO Erin
-----------------------------
Thank you so much for sharing your home with us today Erin. It is absolutely beautiful! You can stay connected with Erin on
Pinterest
(she's awesome!)
.
Find More Home Tours
HERE
XO Danielle






Don't forget to subscribe to my YouTube Channel!