This year, in math, we started a new routine. It has been working really well for us, so I thought I would share it on the blog. I also am keeping my promise to myself to journal more about our
homeschool journey
. I am excited to actually follow through with this promise. I've been taking more pictures and writing little notes to myself, when blog post ideas come up. Hopefully this will help all you homeschool Mamas or you mamas out there who are just curious what we do all day. Either way, today I am sharing our math routine and how it works for us...
Math is the first subject we do each day. I like to start with it because it is one of our longer subjects. We spend about 50 minutes on math every day.
We always start with a problem of the day. I purchased a word problem of the day pack from
Lakeshore Learning
in the Spring. I am happy we have been able to use it and incorporate it into our daily routine. The word problem pack was under $5. A good deal in my homeschool book!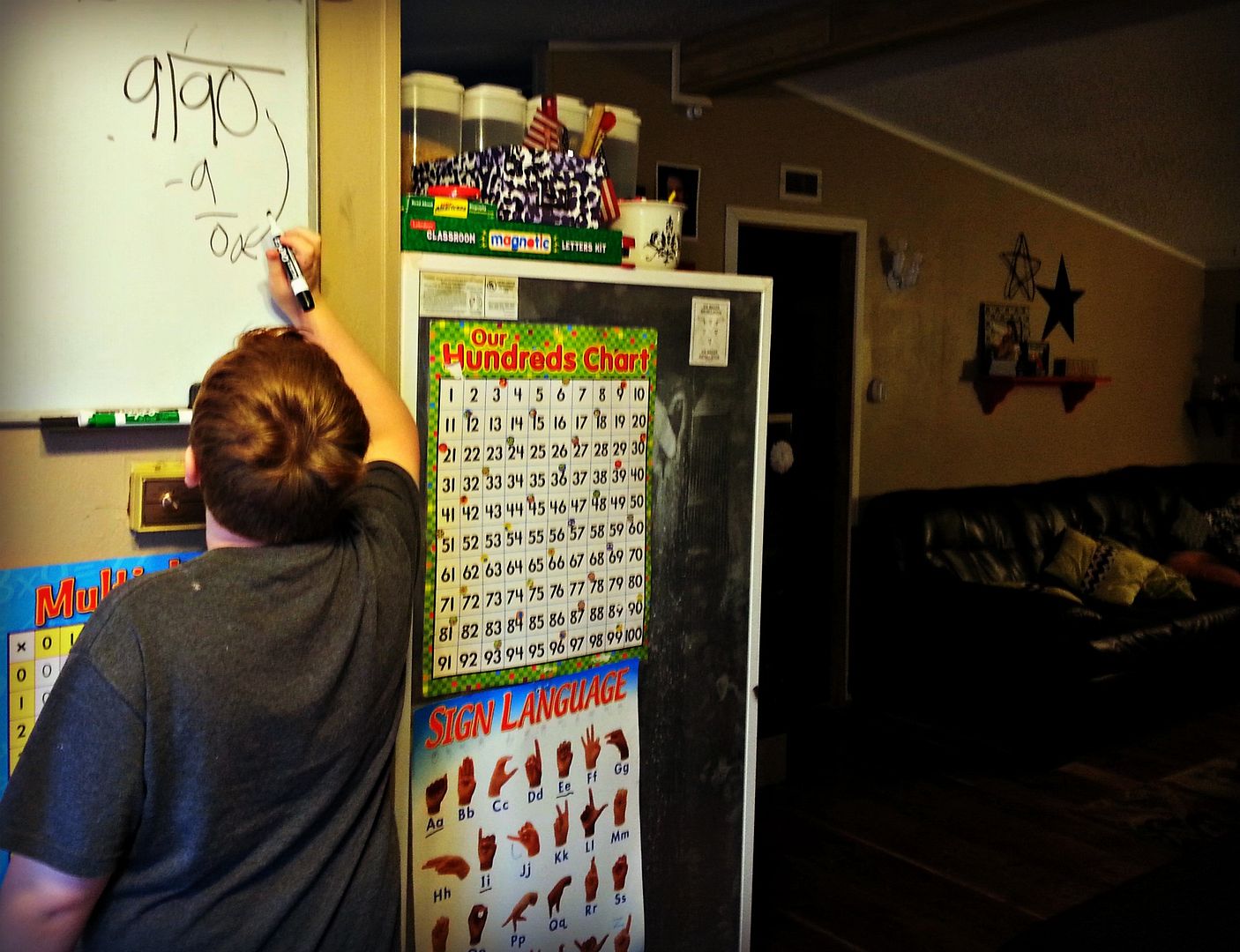 I write the problem on the board each morning and they solve it in their interactive math notebooks. The notebooks are new to us. We used something similar last year, but it wasn't as organized. When I saw the idea for interactive notebooks over at
Lights, Camera, 4th Grade
, I knew it was something I wanted to incorporate into our schooling. They've worked great for us! Each morning, when we learn a new skill, they record it into their notebook. They also record it in the table of contents. This is a great way for them to be able to learn note taking and to also be responsible for some of their learning. When they are working on something and they have a question, they will first go look in their table of contents and look at the different strategies and tips we have learned. They also put examples of each strategy in there as well. It has been a great help in math.
After the problem of the day has been solved and discussed, we move onto our multiplication math facts. We've been working on these for quite some time. We want our kids to not only be able to skip count each number to 12, but be able to recall all of the math facts as well (2x3=6 2x4=8). We've been learning tricks for memorizing each list of facts and recording them in our notebook. Each day they write down multiplication lists and we go over them and discuss them. We often fill in a blank multiplication chart, which helps with memorization as well.
Next we review and learn a new math concept. We also record this in our journal and do a lot of work together on the board. Once we have gone over everything on the white board and they feel pretty confident, they do some independent math problems. These problems are found in their
Spectrum Math Books Grade 4
. I have seen these books the cheapest on Rainbow Resource Center and Ebay. Ebay is where I got most of my Spectrum Workbooks for this school year. Since I have to buy two of everything, I look for the best bang for my buck. I found both math books on Ebay for $11.66 this included shipping. If you are not an Ebay user, then try
Rainbow Resource Center.
They offer a lot of homeschool books at a discounted price.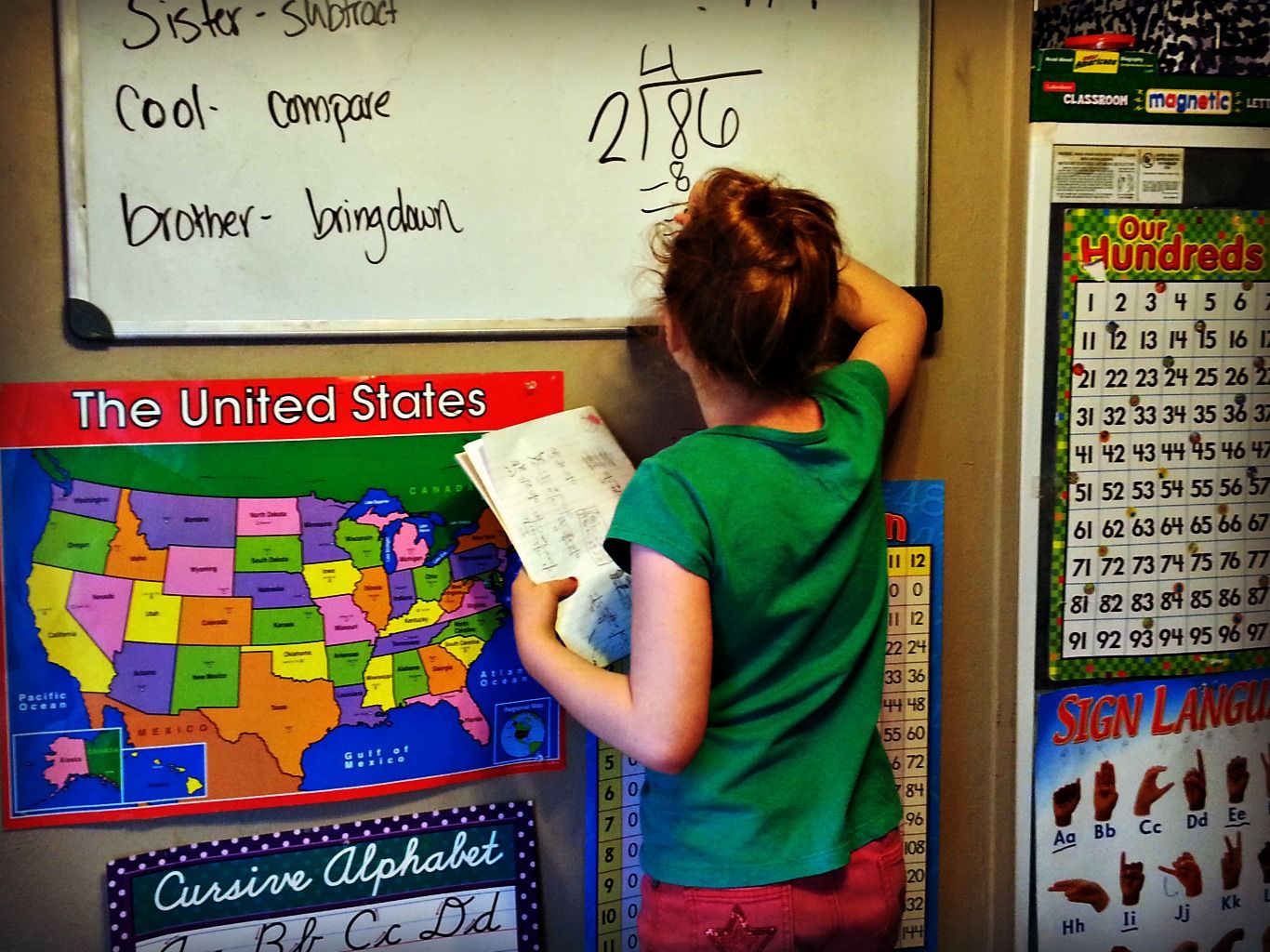 Taking at least 50 minutes a day for Math, allows us to really grasp these math concepts and techniques these littles are learning. There was once a time when I was scared to teach math. It was not always my favorite subject in school and I wasn't sure how it would be when we got to multiplication and division. I am happy to say I am growing a love for math in myself, just as they are. It is very neat to get to experience this love of learning and watch it grow in my children and in me as well.
What does your homeschool math routine look like? I'd love to hear about it and any other fun things you do to grow that love for math in your littles. Let's uplift and inspire each other today!
Find more homeschool posts
HERE
XO Danielle






Don't forget to subscribe to my YouTube Channel!