Good morning lovelies! I thought today I would share a bit about how I stay organized in regards to homeschool and how I save on buying those school supplies.
One of the first things I do to stay on track, is to keep everything in a planner. I have a school planner
(that I snagged for free last year. Woot! Woot!)
, where I have all of our subjects broken down daily. Some things we do everyday, while other subjects we only do once or twice a week. To keep this all squared away, I color code everything in my book. I love that Sharpie has so many color options. I went to
Office Max
and purchased one of their jumbo sharpie packs. After a year of third grade, I needed some replacements. I now have them in the basic colors and neon too! Who doesn't love a good neon pink Sharpie? I know I do! Now if only I could keep the little Miss away from them haha! I also stocked up on my Expo markers, Uni-ball Pens
(I am particular about my pens)
, and Sharpie Highlighters.
Office Max is having a huge sale right now, so I was able to get all of my back to school essentials for half price
(I love it when that happens! 50% savings is the best!)
Shopping the sales is the best way to save money for back to school. Their sale is going on from August 17-23. Oh and sign up for their reward program! They will send you emails, so you know when the sales are. I love signing up for
reward programs
, so I can take advantage when those sales come my way.
All of their Sharpie singles are only 25 cents this week
(while supplies last)
! Now is the time to stock up ladies and Office Max is a great place to do it! I try to stock up around now on the other items we'll need for school as well. Paper, dry erase markers, crayons, markers, paint, etc are all on the list. After a years worth of school nothing is better than new markers. I stock up during the sales, so then so we have school supplies throughout the year. This helps us save and not have to run out last minute and buy something at full price. Last minute purchases can always cause your bank account to cry a bit....well at least mine does :)
I have all of our subjects planned out for the year, except our unit studies in science and history. Our unit studies I plan as we go along
(I base these off of what the kids are interested in and what books we're reading)
. I keep track of everything in a color coded spread sheet. I know I know! I am a bit OCD, but having everything planned out this way keeps me be accountable. I take my children's education very seriously, so I want to make sure it is a fun experience all around. Doing a lot of work at the beginning of the year, allows me to be in the moment the rest of the year. I love homeschooling and I love learning and enjoying life, right along besides them. This allows me to do that :)
I also like to have everything accessible during school. Since our kitchen table doubles as our schooling space, I organize things into tubs. I decorated a white thrift store mug, with
a sharpie
, and use it to hold my Expo markers, pens, and Sharpies. I like having everything out and available to me while we are doing school. I store our markers and crayons in a tote. The tote also has room for our colored pencils, glue sticks, and scissors. I have at least two of each thing. This gives me peace of mind during the day. No one likes to hear fighting, while trying to teach a lesson. It sucks big time and can be very buggy. Having multiples of things makes me smile a bit more, while teaching.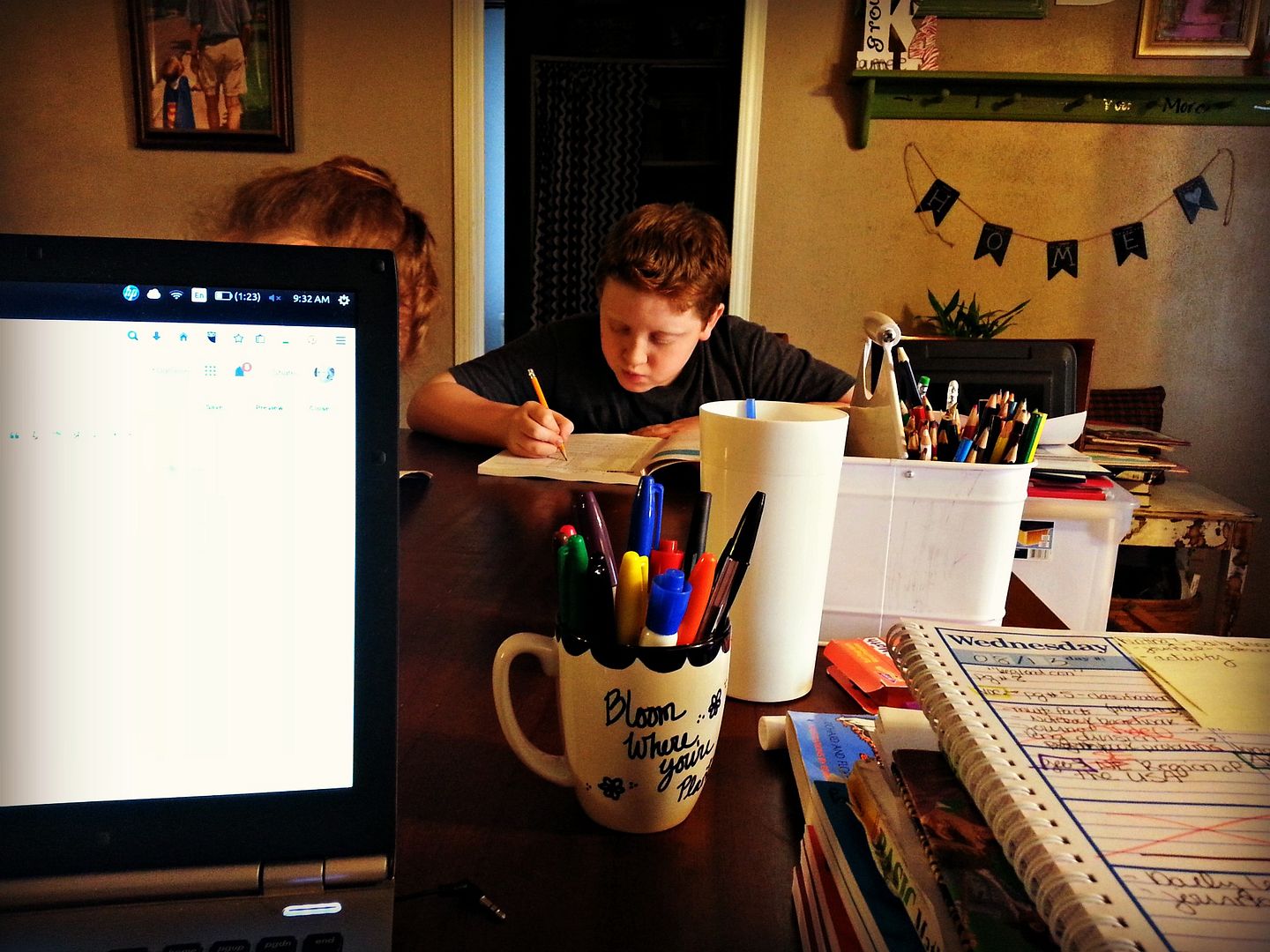 Another thing I do is write myself notes of the things I need to do each day. If while I am teaching, I think of something I need to get done, I write it down. If you don't write it down, a lot of times you can forget. I know this is the case with me, so I keep post-its on hand for quick reminders.
I also just spruced up an old dry erase magnet board. I wanted something to help keep me on track with all of our daily activities. We take full advantage of two homeschool groups in our area, our rec centers, and our libraries. Because of that, I like to keep things written down and organized, so we don't miss out on any fun.
I dug into my paint stash and repainted this
thrift store find
. I then sanded the wood to distress it. The last thing I did was hang it in my kitchen. Each Sunday night I write our activities, appointments, etc on the board, so everyone can see them. I love that it is dry erase, so I can continue to reuse it.
For me writing everything out and having a plan is the best way to stay organized. I hope today gave you a bit of a glimpse at the little things I do to keep things from being crazy over here in the Wagasky home.
Right now you can save $5 off your purchase of $20 or more on Select Newell Rubbermaid Products (Papermate, Expo Window Markers, Uni-Ball, and Mr. Sketch) #wootwoot
How are you gearing up for back to school?
XO Danielle






Don't forget to subscribe to my YouTube Channel!