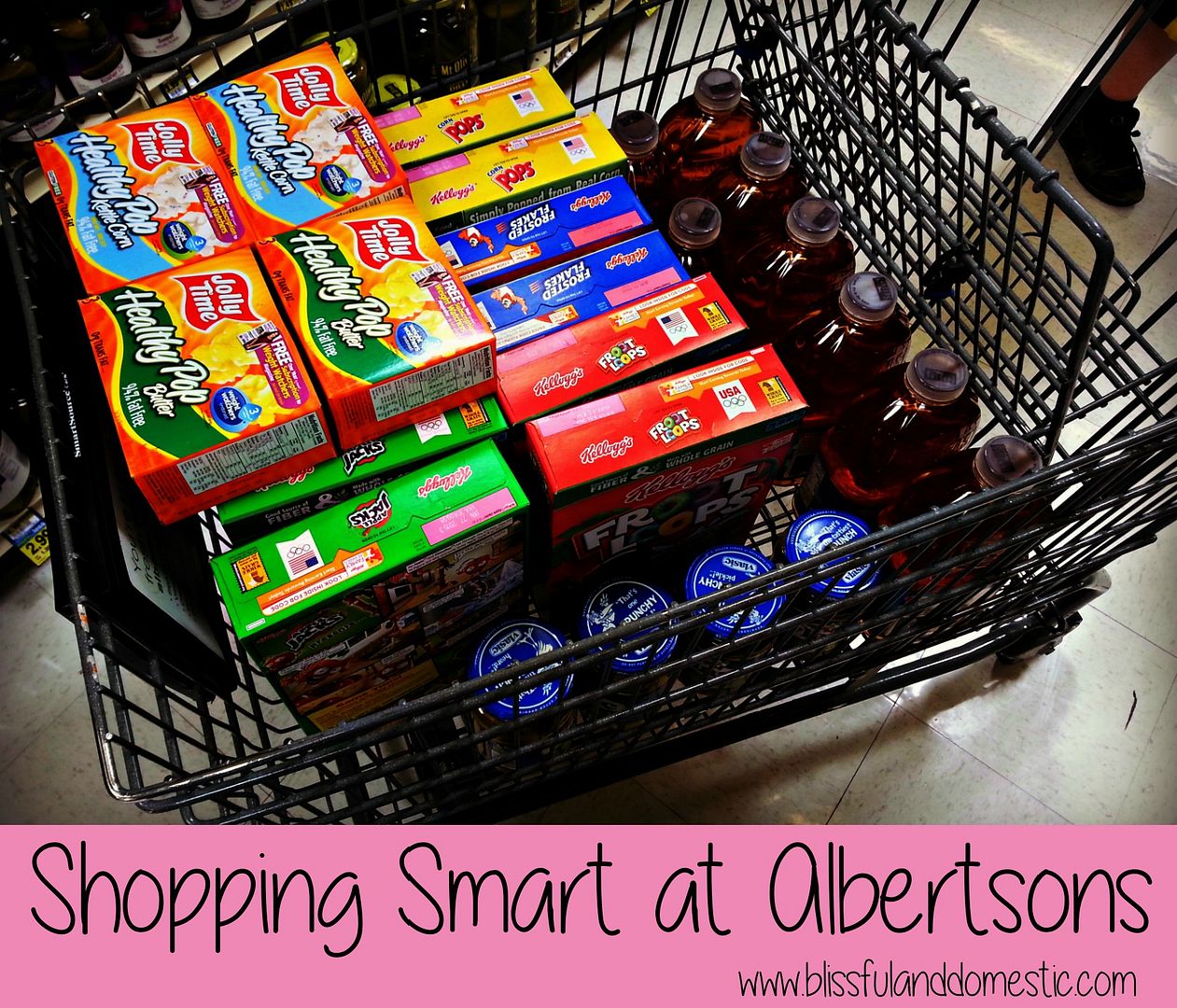 If you do not agree with my purchases, that is fine by me, but please be kind in the comments. I am simply sharing what works for my family.
Morning lovelies! This past weekend I was able to get the rest of my monthly shopping done. I plan on sharing it over a few posts. I ended up going to a few stores, to score some of the sales that were happening in my area. Today I am talking about
Albertsons
. I will share what I bought, how we make it work for us, and how we save money grocery shopping each month.
Let's get to it :)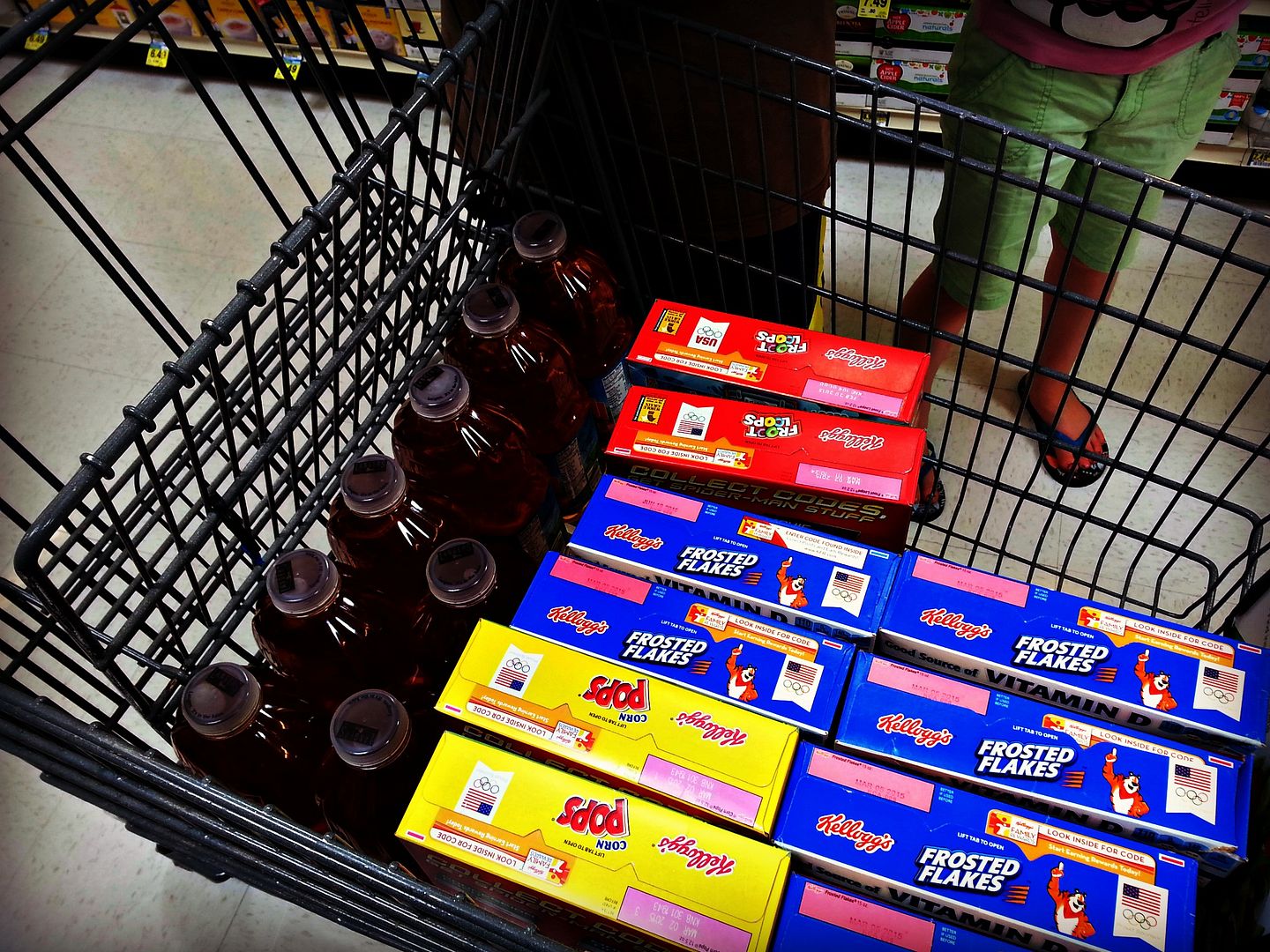 Before shopping, I spent the morning going through adds and writing down everything I wanted to buy. As I looked through the sales, I would ask the kids to go and check out our food storage, so I would know if it was something we needed to buy this month or not. Our food storage consist of our pantry, shelves in both of the kids rooms, and a shelving unit next to our washer. Over time we have been able to build up a stockpile or food storage, as us
Mormons
like to call it :) We keep these shelves stocked, constantly rotating the food and replacing it when used.
If your kids are old enough, get them involved. Be creative. There are ways for munchkins to be involved with shopping at all ages. Now that mine are getting a little bit older, I take them with me. On
Facebook
we started a convo on this very same topic. Check it out to see what other Moms are doing to shop on a budget, while having munhckins tagging along.
I mentioned in my last
grocery shopping post
, that this month I didn't need to stock up on a lot of meats and frozen foods. As I do these grocery shopping posts, you will see a pattern. Some months I stock up on canned goods, while others I stock up on snacks or meats. Shopping this way allows us to constantly rotate our food storage (so nothing goes bad) and shop the sales as well. I try to only buy when things are at rock bottom prices. This helps me keep my family fed and stay within my budget.
Oh and someone asked what our budget is right now. It is $450. We raised it a bit when grocery prices started going up. Remember that every single budget will be different, depending on where you live. Cost of living varies, so keep that in mind when you are planning out your grocery budget. Just make sure you have one. You need to have a budget when you go shopping, so you are being smart with your money. The more conscious you are of your spending, the better off you will be:)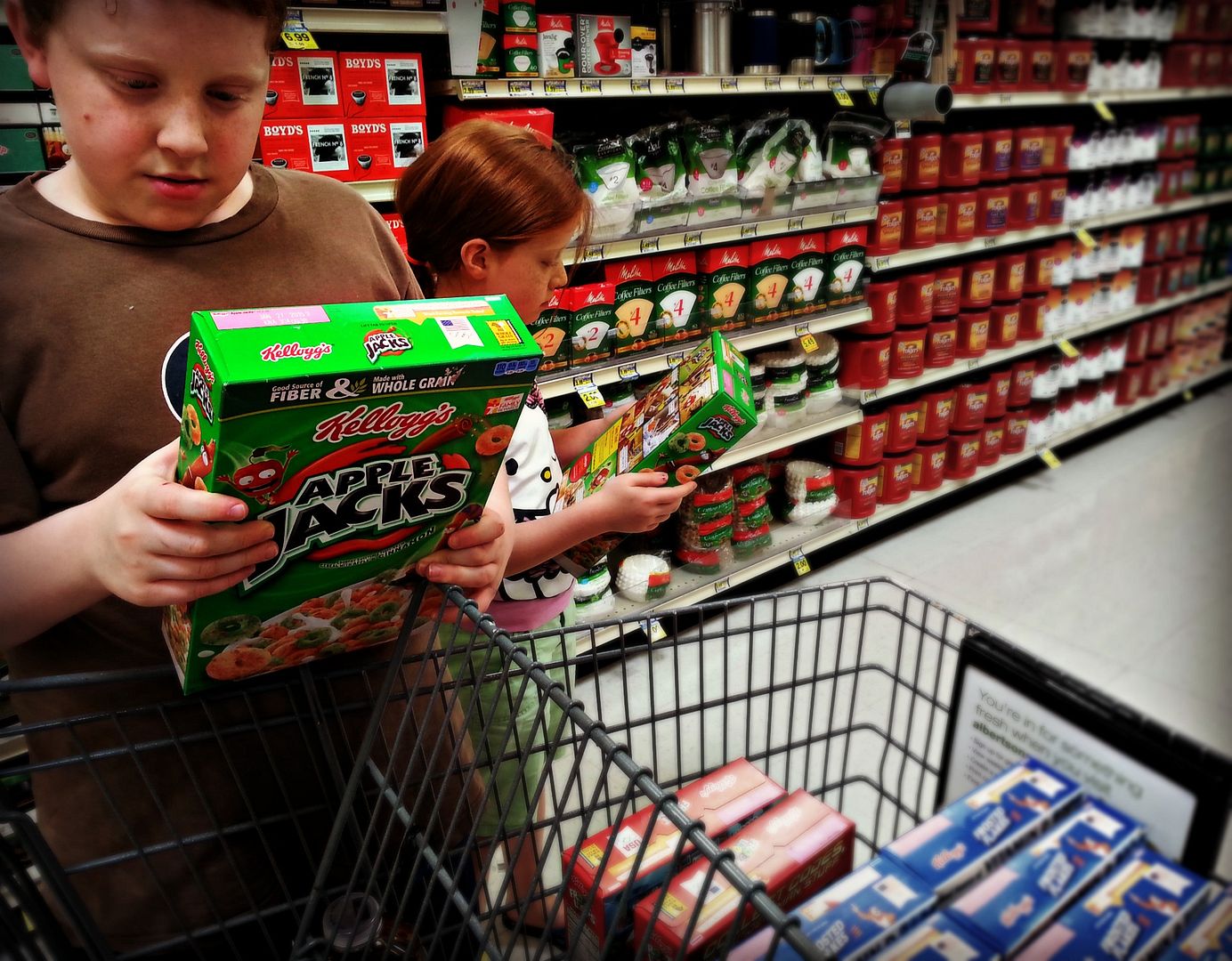 This month I was on the look out for cereal sales. We were running low (meaning I only had about 6 boxes left). My kids and husband can go through at least 6 boxes in a month. Hubby eats cereal for a snack. He is obsessed, so I was on the hunt for a good deal. I try to keep about 30 boxes of cereal in our food stockpile. I know that seems like a lot, but if I find them on sale and stock up, then I won't have to buy cereal every month. I typically buy cereal every other month. This keeps our stock at about 30 boxes. We have had times where there was little money to shop with. Keeping our food storage stocked when we did have money, has helped us in those lean times when we had little (AKA preparing for a rainy day). It is our saving grace!

I don't like to pay over $2 for a box of cereal either. Because of that, I only buy it on sale or I buy the generic kind from Winco. Typically I like to keep us stocked up on Rice Krispies, Corn Flakes, Cheerios, Honey Bunches of Oats, and Shredded Wheat. These are my favorite and in my opinion, a healthier option compared to all the other cereals out there. Hubby has another opinion. He prefers the sugary cereals. Our compromise is that I will only buy them if they are on sale for $1.99 or less. Ideally I like to get them for $1.49. That price really makes me smile...and I am not gonna lie. I like to have a little cereal snack too! Haha! Just keeping it real ladies!
I think it is important to compromise when you shop. You can have all the best intentions in the world, but if your family is wanting that special something every now and then, it doesn't hurt to indulge...for the right price that is. Then everyone gets a little bit of what they want and it is easier to keep everyone on board with healthy eating and healthy spending.

I buy the sugary cereals when they are on sale, so no crazy shopping is going on when Hubby's craving hits. When he starts craving his favorite cereal snack, he goes to our food storage and is able to pick it out. He use to have that craving and then run to the store, which would blow our budget. I started thinking ahead of his cravings and now everyone is happy. He gets to have his treat and I get to keep us within budget.
I do this for other snacks as well. We have to think ahead of those hubby's, so they don't blow our careful planning:)
I also stocked up on microwave popcorn, pickles, apple juice, margarine (don't judge me. haha!), Eggo Waffles (our special treat for those kids and me), Chimichangas for the hubbs, and crackers.
I will break it all down by price and add my money saving notes below:)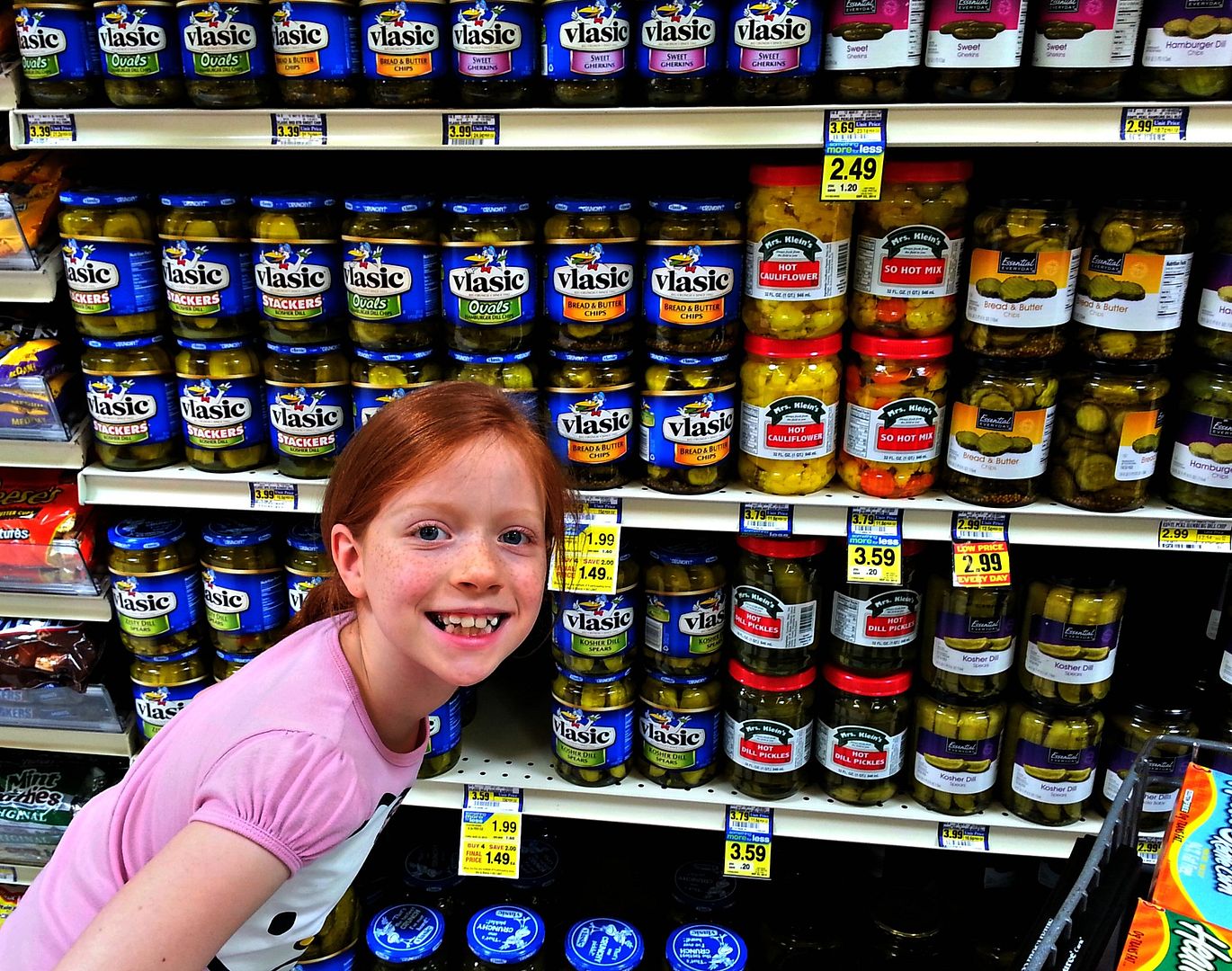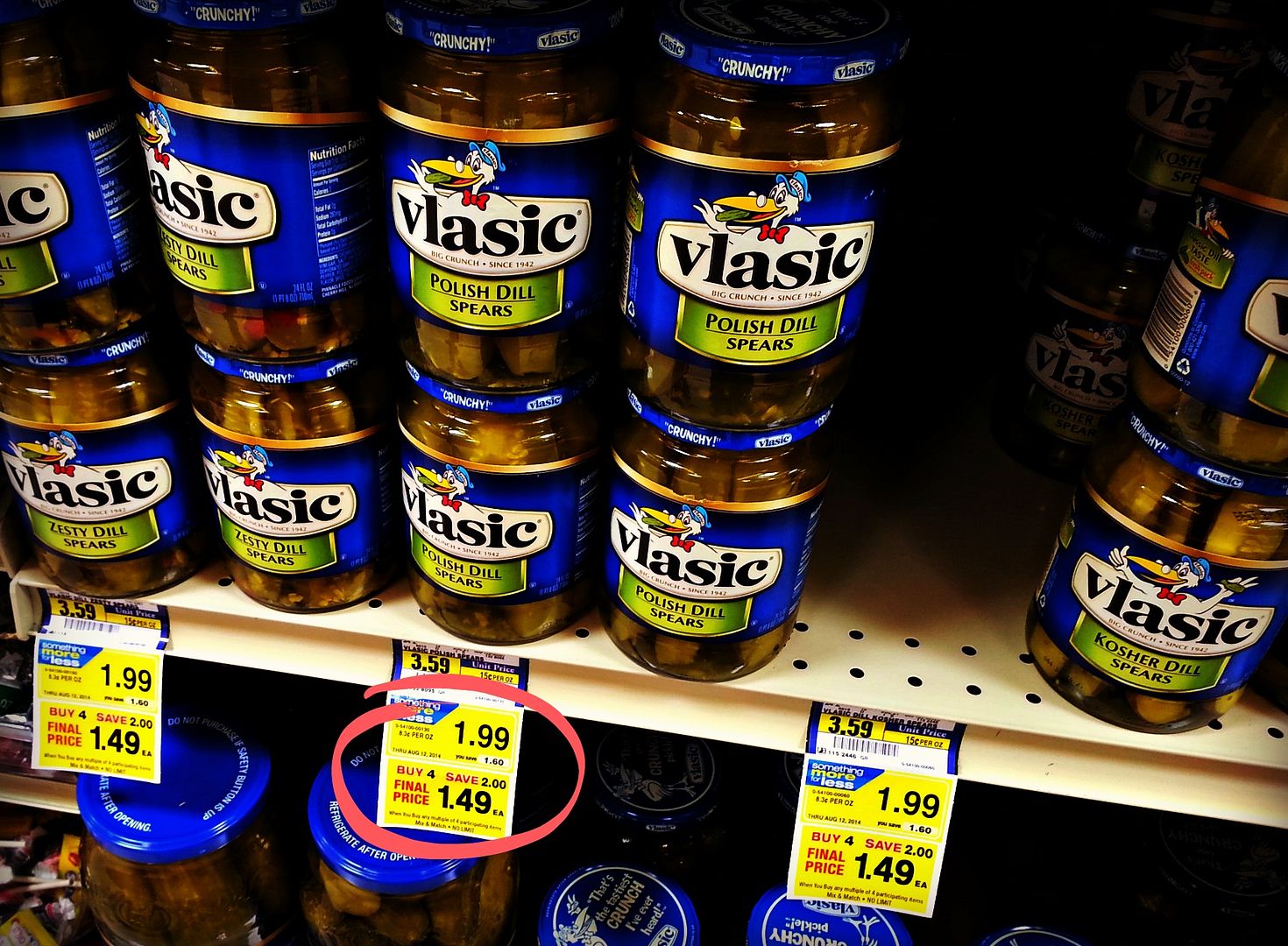 Grocery Items
4 boxes of Jolly Time Popcorn - 99 cents each
8 bottles of Langer's Apple Juice- $1.49 each
4 jars of Vlasic pickles- $1.49 each
12 boxes cereal- $1.99 each
6 chimichangas- $1.39 each
1 tub of Imperial Margarine Spread- $1.49
4 boxes Eggo Waffles- $1.49 each
2 packages of Club Cheddar Kebbler Cracker Packs- $1.99
*I used some coupons for the Eggo
Waffles and for two boxes of cereal.
Total- $63.39
Savings-- $76.10
When the cashier started congratulating me on my savings, I started doing a happy dance in the checkout. I then proceeded to take a picture of the total. I had a total dork fest in the check out line!! Sorry for whoever was behind that crazy dancing blond! I was too excited!! 55% savings is something you have to give a Woot Woot to! :)
Now I will share a little bit on how we will stretch these items throughout the month.
Popcorn- Popcorn is such a great snack. Whether you use an air popper or a microwave, it is a great snack that fills tummies. It also makes a great snack for movie night:) These six boxes will last us about two months. I put one box into the pantry and the other ones go into my son's room. His room is where we store snacks (at the top of his closet). This puts the snacks out of reach from little hands. Out of sight, out of mind is how I am able to stretch our snacks.

Apple Juice-
I only buy juice when I can get it for under $1.50. We store these in the bottom of the pantry and only take them out for special occasions
(like nana and papa come for dinner).
We typically have water or I make
lemonade
. I also love to have juice on hand for when the littles get sick. Buying it on sale and always having it on hand, means I don't have to go over budget when someone gets sick. This saves me stress and time having a few bottles always in our food storage. Thinking ahead and being prepared is a great way to save yourself time and money:)
Pickles- Oh man folks, these are a boy favorite in our house. The big boy and the little one. They can't get enough. Libby and I are not huge fans, so we let them have at it. I bought 4 jars and I had one in my pantry. These 5 jars will last us 2 1/2 months. The guys go through about two jars a month. Knowing how much your family eats of something is a great way to prepare and save. If you know how much they will eat, then you can stock up when prices are low. Start looking at how our family eats. It will be amazing to see what they favor and what they don't. This will help you better judge the amount of things in your food storage. Add a purchase date to things (with a sharpie) and then when it gets used up you can see how long it took you to finish it. I do this with things in my pantry
Cereal- Now I know I talked a lot about this one above. We love cereal in this house and I am all about compromise. I buy my favorites and Hubby's as well, when they're on sale. It helps everyone keep a smiley face:) Combine coupons for more savings!!
Chimichangas- Oh my gosh ladies! Hubby has been asking for these dang things for literally three months. I figured I should finally try to get them for him. He was a happy man. He ate his fill about an hour after I was home:) Everyone has that guilty pleasure item. Chimichangas are one of my hubby's. He is a great sport at eating everything I put in front of him. Whatever recipe I have concocted that day, he tries and is such a good example to our children. Even when I have epic fails (I have many). Chimichangas are my thank you to him for always sucking it up:)
Margarine- I know I know! We will agree to disagree on this one! Haha! I grew up on it. My parents love it and so I by default have grown accustomed to it. I don't buy butter for one simple reason, it is crazy expensive. The reason I look to see how far something will stretch for my family, is so that I can see if it is worth the money. For me, butter isn't. We go through it too fast. Whether you do butter or margarine, try to shop the sales, and plan ahead. In the fall is when butter is usually at its best price, since holiday baking is underway. If you are a butter user, how do you save? I'd love to hear your ideas and tips for purchasing it on a budget :)
Eggo Waffles- ok these things are my nemesis. I have a love hate relationship with them. I love the taste, but I could eat like 5! They have a nostalgia for me. My Mom and Dad always bought these, so they instantly taste like home. Nerdy I know! These are my guilty pleasure buy this month:) Yum! Yum!
Cheddar Club Crackers- These were half off at the grocery store today. I bought two packages. One went into the pantry and the other went into food storage. I won't take out the other package till next month. The out of sight, out of mind thing really helps me stretch our snacks.
No matter your income, there are ways to eat your favorites, whatever they are, and save money. Look for sales. Write down a list, go through with a calculator, and stick to that budget. This is crucial! If you have a husband that is a junk food junkie (like mind), come up with a compromise. This will help you both get what you want. They get a few of their treats and you get to have a budget that has not been blown. Win! Win!
Give yourself a little grace. Don't expect to be perfect. Perfect is unrealstic. As you can tell I buy prepackage things, but I always love to give my family a homemade meal as often as I can.Grace is the key here folks. Stick to your budget and you will flourish. I believe in you! (yes I sound like a cat poster, but its true. I do. Haha!)
See more monthly shopping trips
HERE
See how to cut your grocery budget on half
HERE
See how to have fresh produce all month long
HERE
How do you indulge your family's cravings and still stay on budget?
XO Danielle






Don't forget to subscribe to my YouTube Channel!