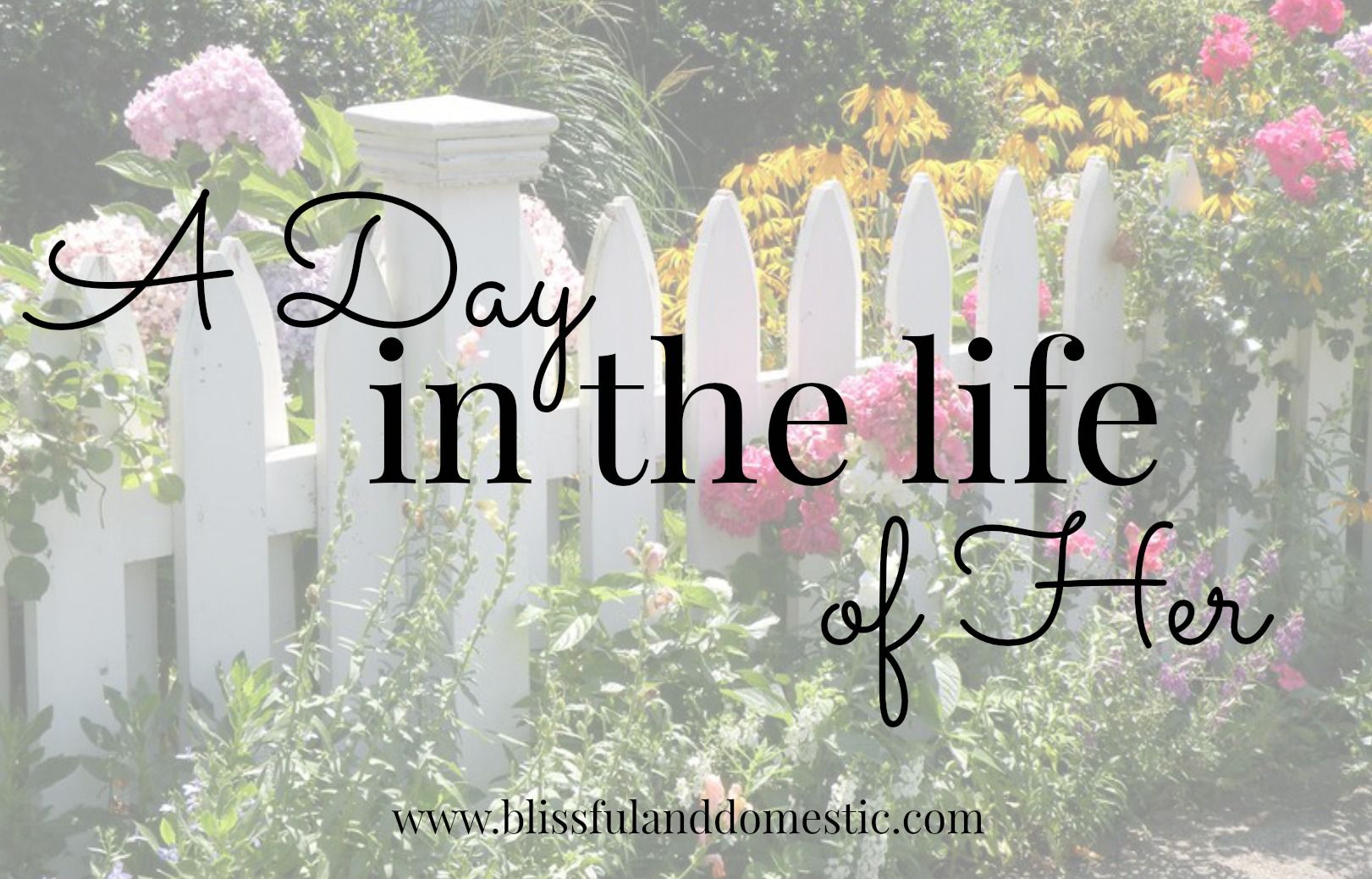 Good Morning Lovelies! Today you are invited to spend a day in the life of her.
You know that gal who you might think has it all together. The mama who seems to do it all. Well guess what? She doesn't. Let's fight those lies. This new series is an effort to get rid of the "super mom" image that we all make for ourselves in our heads. It is a

time to inspire one another even more. We do not have to always have it together to be good moms, wives, and women in sisterhood!
I have invited some wonderful women to share their story with us and to be real with y'all. They will share their struggles, their victories, their frustrations, their joys, and everything in between. It may not be glamorous, but it is real and real is absolutely beautiful
Come walk a bit in the shoes of another....
------------------------------
Hey y'all! I am Bethany Dumas. I am wife to Joseph, momma to Jonathan, Josiah, Chloe and Gideon. I grew up in Phoenix, Arizona and am now transplanted in Birmingham, Alabama where my husband and I have lived all our married life. When I was little, I went through stages of interest in certain professions but
always
wanted to be a mom. I am now a Stay at Home and Homeschooling mom, supporting my husband by saving money where I can. In addition to his
(more than full time)
job, he serves as worship leader in our church, Grace Community, and I serve alongside him as much as I am able.
The day I chose was our last day of summer vacation. It seems as school draws near we are all holding onto our last few days of "freedom" from routine and schedule, honestly, it is probably more me than the kids. We're invited to swim today and we're planning to have friends over for dinner this evening.
This day starts as most of my days begin with my "alarm" sounding, "Mama, Mama" through the monitor. This alarm has no snooze button, it continues and gets louder if I try to ignore it. My two year old, Gideon, wakes me up at about 7:30 today. My feet barely hit the floor as he is running into my room, apparently his brother (6) and sister (4) helped him escape from the crib and his first request is milk. This is his best "milk, please, mommy" face.
So I stumble to the kitchen to get him some milk and some coffee for myself. I get him the milk and find 10 things to do half way before I remember the coffee. Start the coffee maker, while trying to finish those 10 things, not doing so well. I am not a morning person, I never have been, but as "mom" I don't have much of a choice.
Finally got my coffee, it is ½ decaf and ½ regular, I am currently trying to kick the caffeine, but I love the taste of creamer with a little coffee.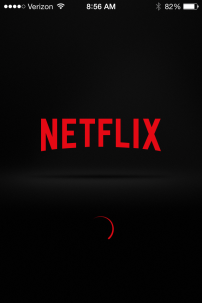 My three older kids, can fix their own breakfast, so after I get Gideon squared away, I make my peanut butter toast. I am hypoglycemic, so the peanut butter really helps me balance my blood sugar. This is the point every day I have to make a decision; this decision always affects the rest of my day. While I eat my breakfast I have two choices: to read and study the Bible or to watch Netflix. Today my Bible Study wins and I am sure I have y'all to thank for that, partially. You provided some accountability for me knowing I was going to write it down and let you read it. This saddens me a little, I wish that it wasn't such a hard choice for me, but that is a battle I am still fighting. So I put the phone down and open my Bible to Mark chapter 2, continuing in my study.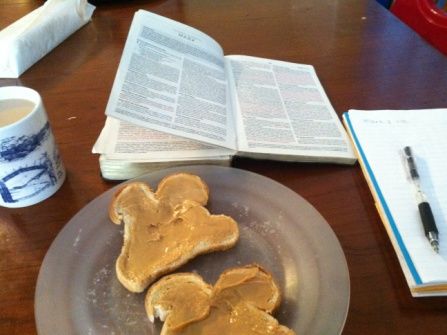 I am always glad when I choose time in God's Word, it is refreshing to my soul, refocusing my day.
Shortly after that my phone's text alert goes off and I find a text from my sweet hubby. It is nice to know he is thinking of me even when he is busy with work demands.
It is almost 9 and I really wanted to leave by 10 to go swimming. One thing I know about swimming for 4 hours is that we are all tired when we finish. So with that in mind, I get dinner prepped and ready to go in the oven for our dinner tonight. I have recently started a move toward organic foods, especially in meat and milk. On tonight's menu is baked ziti, salad and rolls. Organic cooking requires a little more thought, but we have found it to be well worth the effort.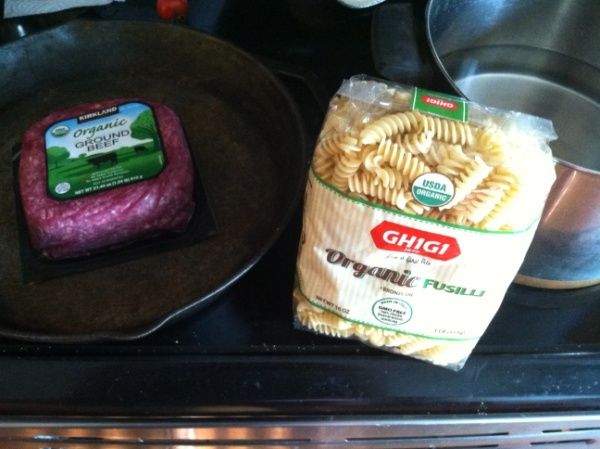 Jonathan (8), Josiah (6), and Chloe (4) all have chores they are responsible for around our house. We have lots of conversations about being helpful to the family; whether it be attitudes or actions. We have two main questions we ask, Does it honor God? and Is it helpful to our family? That is how I go about motivating them to get things in order for our evening. They have been tasked with cleaning up the playroom/ entertainment/ music room today. It takes longer than it should, but they are playing, cleaning and enjoying each other. It did get done before we left.
We had a great afternoon swimming; they are getting more independent these days. I love watching the kids master new tasks; being a witness to them learning is one of my favorite parts of being their mom.
Swimming wears them out, but my three oldest have given up naps, so we opt for a pallet on the floor and a movie for the afternoon. I'll use this time to finish cleaning and preparing for our guests, all while the little one is napping. I even had enough time this afternoon to throw the swim stuff in the laundry; it usually sits around for a while. While gathering the towels I notice something I forgot about earlier. While at the pool, my littlest had a #2 in his reusable swim diaper today, so I still have the poop to deal with and oh my the smell is enough to knock me out. I tried to hold my breath the entire time!
We enjoyed our dinner and play time with friends. No boy or girl was seriously injured during the evening. Our friends have two boys and we have three so there is always a lot of "fighting". Chloe got into the action tonight and here she is matching her brother. She is a good sport and we have found dress up to be something all our kids love to play. Their imaginations are really something!
Our friends are gone and bed time is now upon us. There is usually some wrangling that happens to get everyone into their jamies, pottied and into bed. Daddy loves to help with bedtime; his "help" sometimes drags out bedtime. But, the faster they get ready the more he'll be able to read. (I sometimes just want to throw them in bed and be done with the day, but I have learned it is a special for both the kids and my husband.) They are currently half way through "Farmer Boy", in The Little House on the Prairie Series. I use this time to relax after the long day, then I join them for prayer and its lights out for them! Tonight is Friday so I will have a little extra time with my hubby since he won't be getting up before 5:00 tomorrow for work. We always try to save at least an hour for just us each night. It is important time for us to talk through the day. My man and I are a team and his help and prayers for us are what keep me balanced.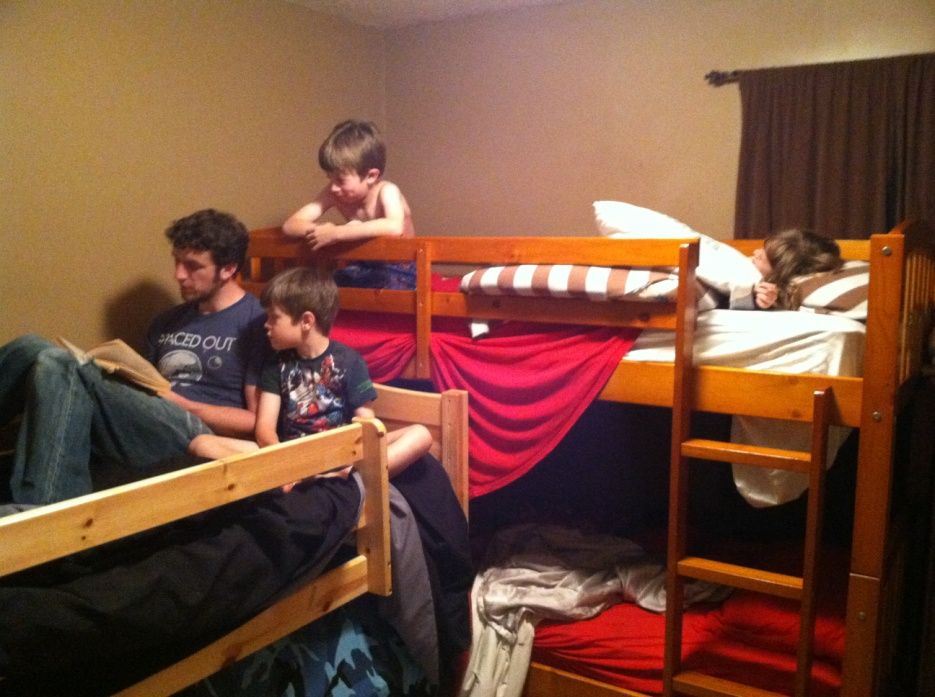 Tonight I am going to bed before I turn into a pumpkin, but just barely. There is always more laundry for tomorrow. I get told a lot that time goes by so fast, too fast. So when things seem crazy, I am struggling with my temper and I could use at least three more mes with a couple extra arms, I try to remember that "The days are long but the years are short."
Thanks for spending the day with me!
Blessings,
Bethany
--------------------------------
Thank you so much Bethany for sharing a little bit
about you and your sweet family.
Find more
A Day in The Life of Her
HERE

If you would like to be a part of the "A Day in The Life of Her" series,
shoot me an email. I'd love to have you!

blissful_and_domestic@yahoo.com

XO Danielle






Don't forget to subscribe to my YouTube Channel!