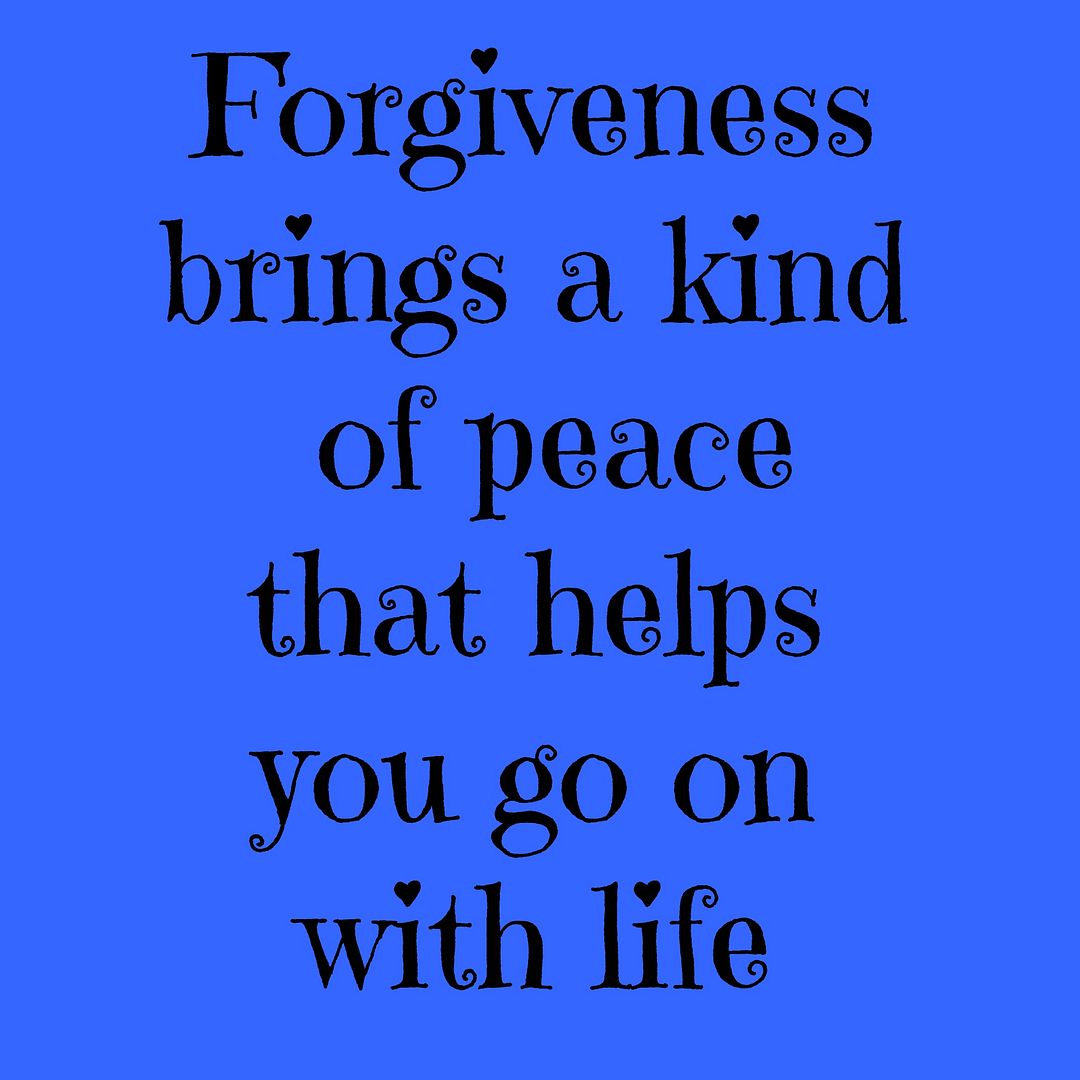 This is a guest post by
Erica Barker
Do you remember when we were kids? Or do you have a child who is learning to play with other kids? Do you remember having toys taken away or being pushed down? The adult told me, and now I have to tell my son, to let it go. Hug and make up,

forgive

your friend. That is the first lesson in

forgiveness

; on the playground. It seems easy to tell my son, "Its ok that little Johnny pushed you down so he could go down the slide first.

Forgive

him". In turn Johnny's mom steps in and says "You need to apologize, that is not how we treat our friends. He won't want to play with you if you are mean to him." It could easily be the other way around; my son doing the pushing and me stepping in to teach the lesson.
How come it seems so easy when we are kids, but as adults it's not as easy? Maybe because as adults our wrongs are much different than just pushing or taking toys. Why is it so difficult to own up to our

mistakes

and admit that we have hurt someone?

When we violate another human being, an apology and plea for

forgiveness

is essential to healing the wound and preventing difficulties in the relationship. Apologies are serious stuff. They should be heartfelt and real. When the apology is not real, it seems that the hurt is magnified and it is even harder to

forgive

. But, we must

forgive

.
15 But if you do not forgive others, then your Father will not forgive the wrongs you have done. Matthew 6:15 (GNT)
Let's look at exactly what

forgiveness

is. I can tell you it is not forgetting and going back to the way things were. If someone has taken advantage of you, you may need to set a

boundary

with that person.
To

forgive

is to release. Let it go– of our anger; of our desire to punish or teach a lesson. Freely and wholeheartedly grant freedom and blessing. It has very little to do with feelings or even trust.

Forgiveness

brings a kind of peace that helps you go on with life.
Forgiving
our offender may feel like letting them get away without being punished; especially if no other punishment is happening to them. It doesn't mean excusing a wrong or denying that it ever happened. It means we don't allow ourselves to be consumed with anger towards the one who has done something to us. You cannot allow the people who have hurt you to take up space in your mind and heart rent free.
You have a choice. You can use this hurt to make you bitter or you can use this to make you better.
Let's talk about how I have taken the steps towards forgiving. This by no means is easy or the only steps you can take. This is just the steps that worked for me. I hope this will at least give you a starting point.
1.

Address the hurt. For me, I kept a journal. I wrote down my emotions and what triggered the hurt.
2. Find a safe place to talk about your hurts.

For me, I brought my journal to my therapist. I think that everyone can benefit from therapy. Having an impartial third party hear what you are saying and help you dissect your hurt really helps.
3.

Try to see all sides of the argument. Stepping back and trying to see the other side really helped me to see where they were coming from. It was hard to lay down my cross and pick up theirs. Doing a little role play in my therapist's office helped. I knew it was a safe place to talk through hurts. I knew I could let down my guard and work through things there. That is the key. Find a safe place.
4.

Decide to let things go. This was a big one. Frankly it took me a couple of years to decide this. It did not happen overnight. It is still a process and one I must continue to decide.
There have been several people in my life that I have had to

forgive

even though I will no longer have a relationship with them. It has been much more for me than for them. It hasn't been easy by any means and some days I find myself right back in those fiery emotions again; which means I have to take a few deep breaths and I have to

forgive

all over again. It is definitely a process, but one that has begun to reap many rewards in my life. I know it can for you as well.






Don't forget to subscribe to my YouTube Channel!