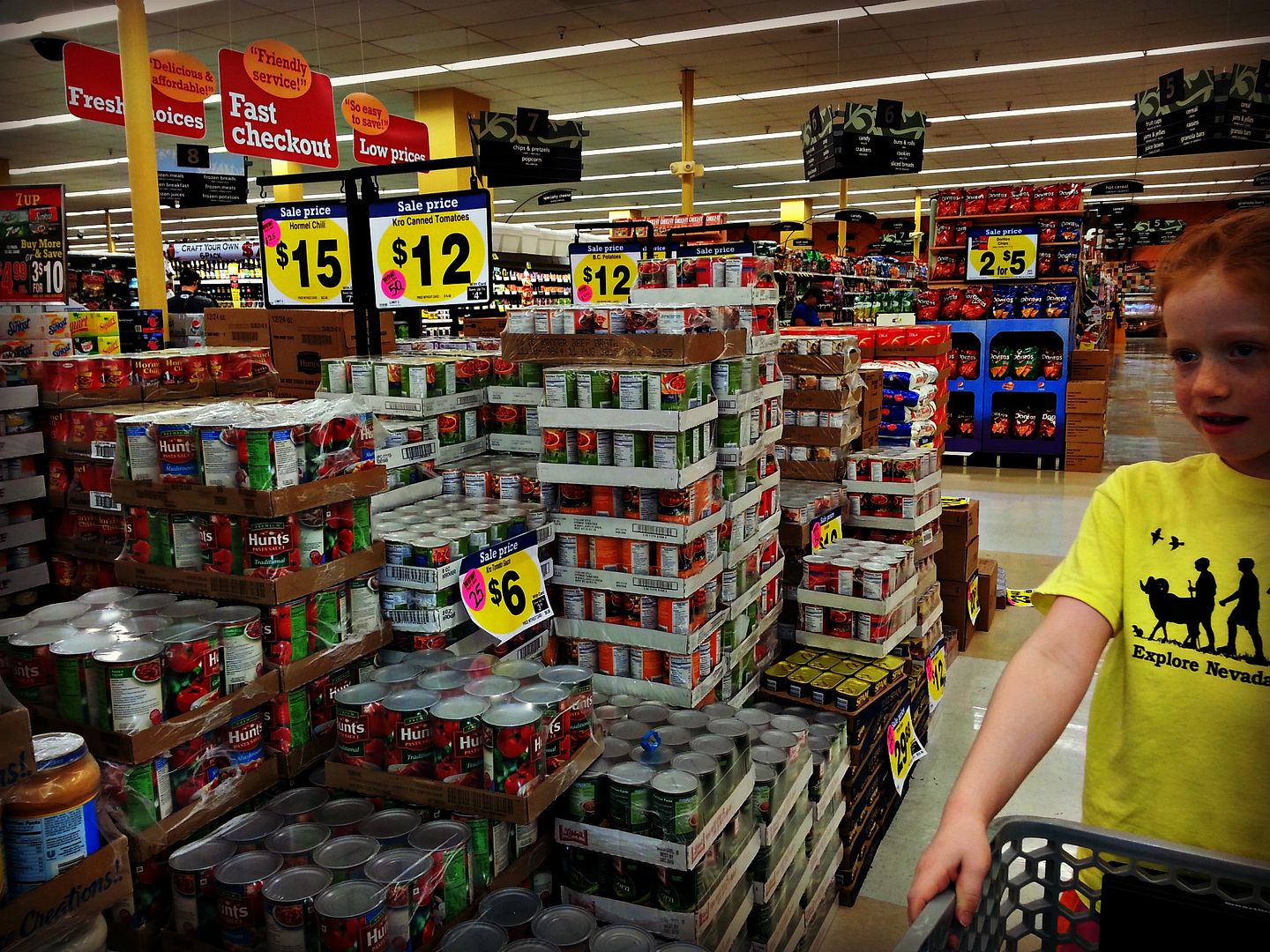 Morning lovelies! This past week I was able to take advantage of the case lot sale at
Smith's Grocery Store
. Every few months they have a great sale, where they offer a bunch of canned goods at rock bottom prices. I seriously look forward to these sales
(I know I am a big nerd!)
They are a great way to stock up and save money :)
Before going to the store, I took stock of what was in our pantry and food storage. I looked at my
staples list
to see what we needed to replace in our food storage. For each item in our food storage or pantry, I have a price I like to buy it at. For example, I won't spend more than $1.50 for a box of crackers
(wheat thins, saltines, etc)
. If I can get them for around $1.49 I am happy Mama. When I see them hit that rock bottom price, I stock up. I try to buy what will get us through to the next sale. If we run out of that item before the sale, we go without until I can get it at the lowest price possible again. If you are able to afford it, try to buy what will last you through a month or so. This helps in allowing you to only have to buy things when they are at their lowest price.
Ready for the low down on what I bought and a few savings tips as well?
Let's get to it!
What I Bought:
2 cases of peaches
2 cases of pears
2 cases of corn
1 case green beans
1 case sweet peas
1 case of cream of chicken soup
1 case of cream of mushroom soup
1 case ground turkey (12 lbs)
1/2 case apple juice (6 bottles)
48 cans of tuna
6 cans pork and beans
5 bags of Flaming Hot Cheetos
2 bags of tortilla chips
1 pie crust (2 pk)
2 bags of Fall M and M's
Total: $211.04
Savings: $158.38
Canned Fruit: I have been needing to stock up on our canned fruit. Some things I can myself like pineapple and apple pie filling, but not in the summer. It is just too hot here for me to stand in my kitchen for hours and can food. I would be a hot sweaty mess, and in the Summer, I want none of that. For canned fruit I don't want to spend more than .90 cents a can. I always weigh the options of which is cheaper. Canning it myself or getting it on sale from the store. A lot of times it is cheaper to get it from the store and less time consuming for me. It really is a personal choice. For this case lot sale, I was able to get canned peaches and pears for 75 cents a can. I bought two cases of each, so that we would have enough fruit to last us till the next sale.
Canned Vegetables: I buy a lot of our canned goods from Costco, but getting canned corn, green beans, and sweet peas for 50 cents a can is such a steal. I decided to stock up. Since I know how much I would spend on canned vegetables at Costco, I am able to know whether I am getting a good deal or not. These vegetables will last us for a few months.
Cream Soups: I have tried making this in the past. I have great recipes for them, but I prefer the canned varieties. I love the convenience of being able to quickly throw together a casserole in no time flat. It helps this busy Mama not loose her marbles:) I was able to get these canned soups for 65 cents each. I bought a case of each to replenish our dwindling stock.
Ground Turkey: I don't know if you have noticed, but around here I feel like meat is getting more and more expensive. Because of that I have had to get more creative on our dishes. I try to throw more tofu recipes into our monthly rotation. I also only buy meat when it is under $2/lb. I stock up then and make our meat stretch until the next sale. When I see ground turkey for 1.99/lb I stock up big time. I bought 1 case of ground turkey. This will last us for a few months. Deciding that I will only buy meat at a certain price has allowed us to save money and has forced me to get a bit more creative in the kitchen:)
Juice: I have mentioned before I like to keep apple juice in stock in my pantry. Having a few juices in your pantry is a great idea, especially since cold and flu season will be upon us shortly. Preparing ahead means I can have juices for if the littles get sick and not have to pay full price for it. A bit of work now, means less work and money saved later!
Tuna: I know I know! What was I thinking when I cleared the shelf at Smith's! Well I was thinking this is a great alternative to meat and my family loves tuna sandwiches! Oh and getting each can for only 50 cents each was hard to resist! Those 48 cans will last us a few months, so that is one less thing I will have to buy in the up coming months.
Pork and Beans: We love these things. I love to make our baked beans homemade, so I use pork and beans to do it. Add a bit of ketchup, bacon, onion, brown sugar, and some seasonings, and you have a scrumptious side dish to any meal. I try to get these under 70 cents a can. These were 65 cents each and I am honestly thinking maybe I should have gotten more. Hmm....decisions decisions:)
Flaming Hot Cheetos: Alright don't judge me haha! I actually hate these things, but the boy and hubby love them. When I see them for $1.49 I will buy a few bags to put up in the boy's closet (that is where we keep our snacks stored). We take these out as special treats. You can still have your guilty pleasure items, just think ahead a bit and buy on sale. Then you won't be breaking the bank every time the craving hits.
Tortilla Chips: I snagged these two bags of tortilla chips for $1.88 each. I generally buy our chips at Costco, but these were on sale and Hubby had asked me to pick some up to go with a yummy spinach dip my parents gave us. I am hoping to make it to Costco late in the week to purchase my usual big bag of chips. Those are my favorite.
Pie Crust: I have tried to master the pie crust, but I am still a newbie. In the mean time I am using the generic brand's crust, so I can make a yummy treat for Family night this week. These were priced at $2.79. I saved 50 cents on the pie crust, since it was on sale.
M and M's: Fall baking is upon us and Miss Priss is in the know. She has been asking me to get M and M's, ever since she cut a coupon out for them last month. I am obviously teaching her something good haha! We combined our coupon with a sale and were able to get 2 bags of M and M's for $2.50 each. These will be great for making yummy treats in the next few weeks and into October. Have I mentioned I love fall baking? I totally do. I am craving pumpkin and fall smells right now. Not to long and then I will be busting out the fall decor:) I can't wait! I am hosting Thanksgiving dinner this year with the family, so I am wanting to do ti big this year:)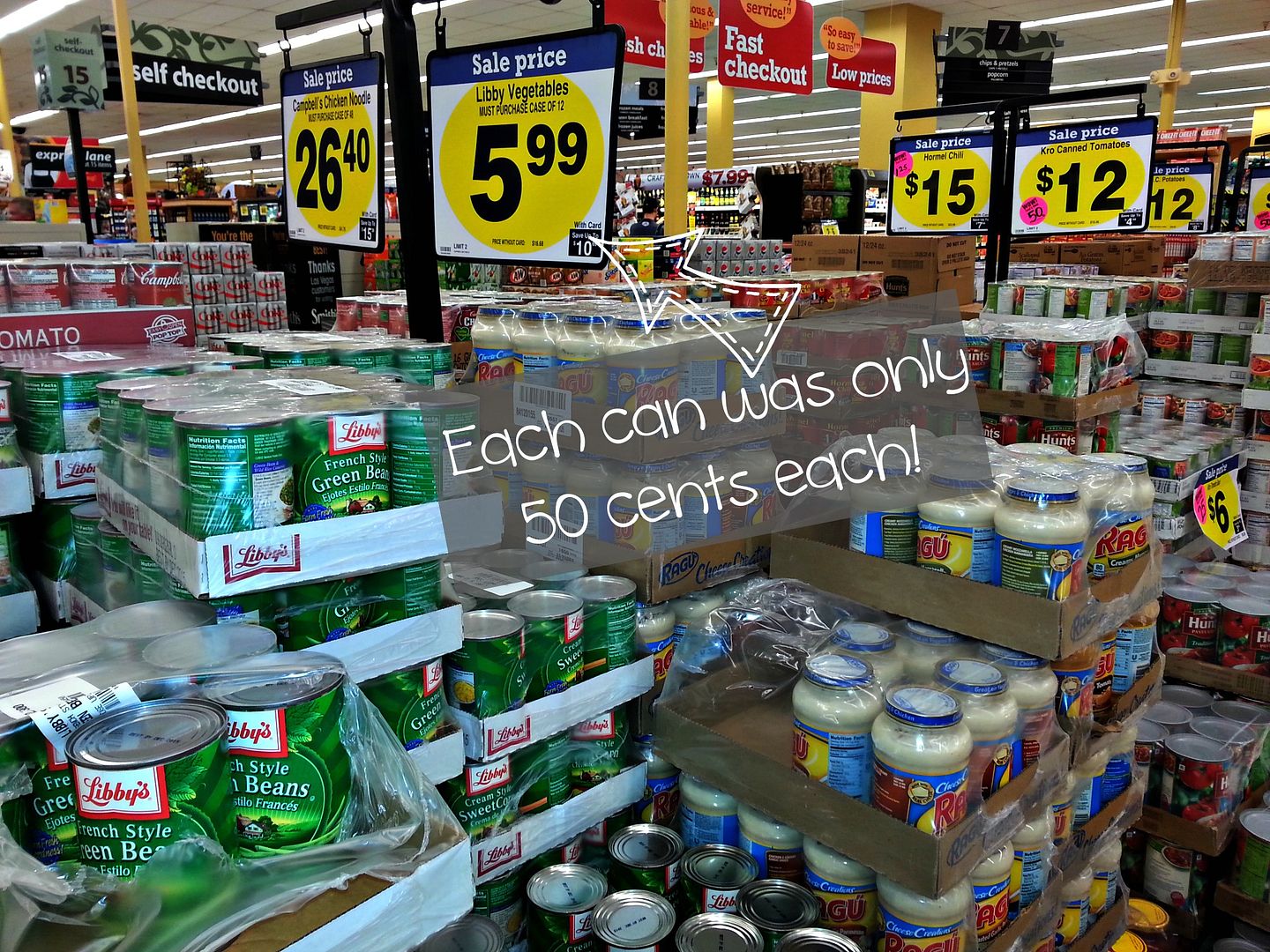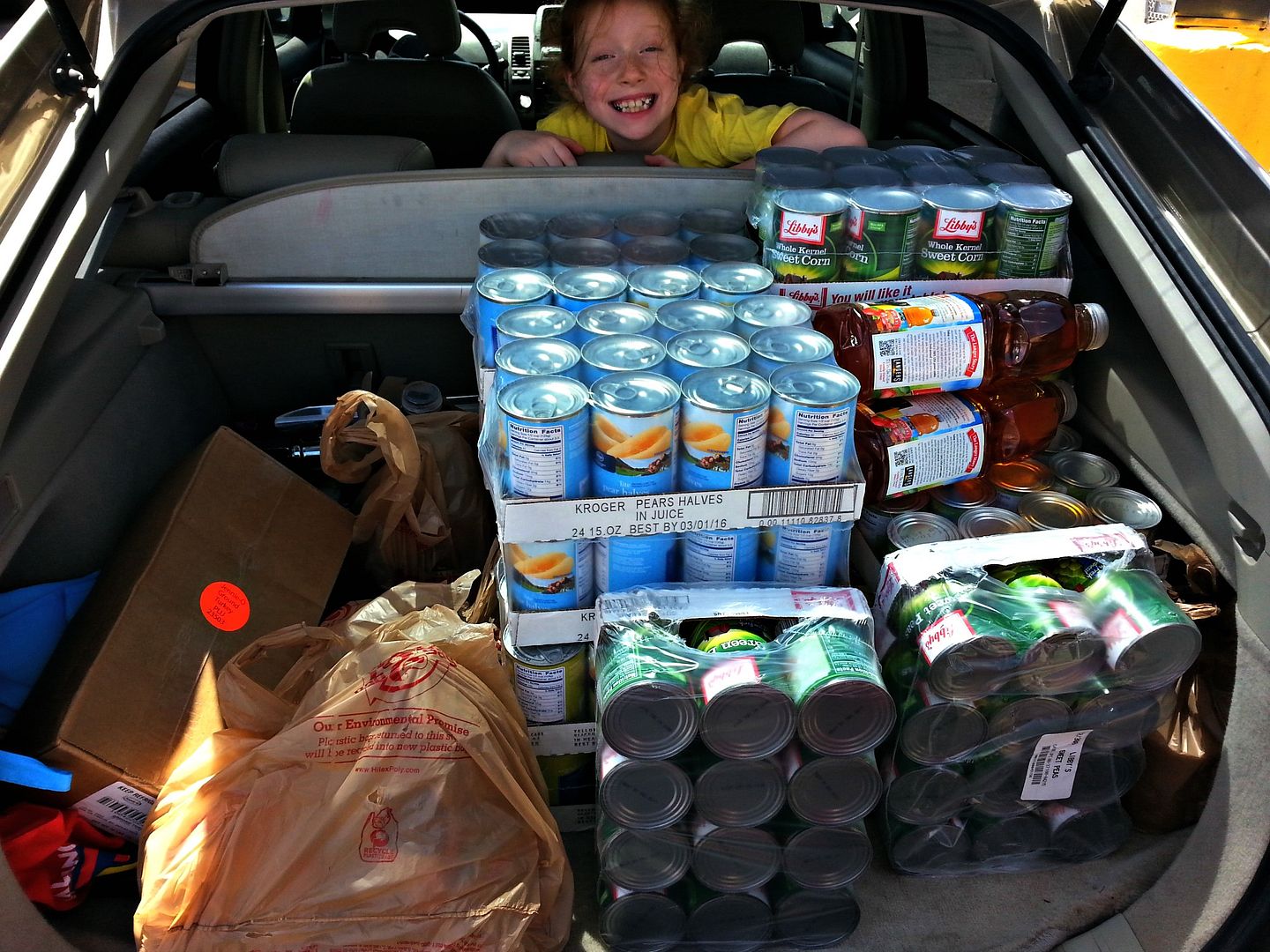 So there you have it....Everything we have stocked up on so far this month. I am hoping to get the rest of our shopping done later this week. Thank you for all your support and I hope these grocery posts help in showing you different ways you can save your family money each month. Remember that no one is perfect. We are all learning and growing. Set a budget and no matter what, give yourself a little grace. Grace is the key here folks. Stick to your budget and you will flourish. I believe in you! (yes I sound like a cat poster, but its true. I do. Haha!)
See more monthly shopping trips
HERE
See how to cut your grocery budget on half
HERE
See how to have fresh produce all month long
HERE
How do you indulge your family's cravings and still stay on budget?
XO Danielle






Don't forget to subscribe to my YouTube Channel!