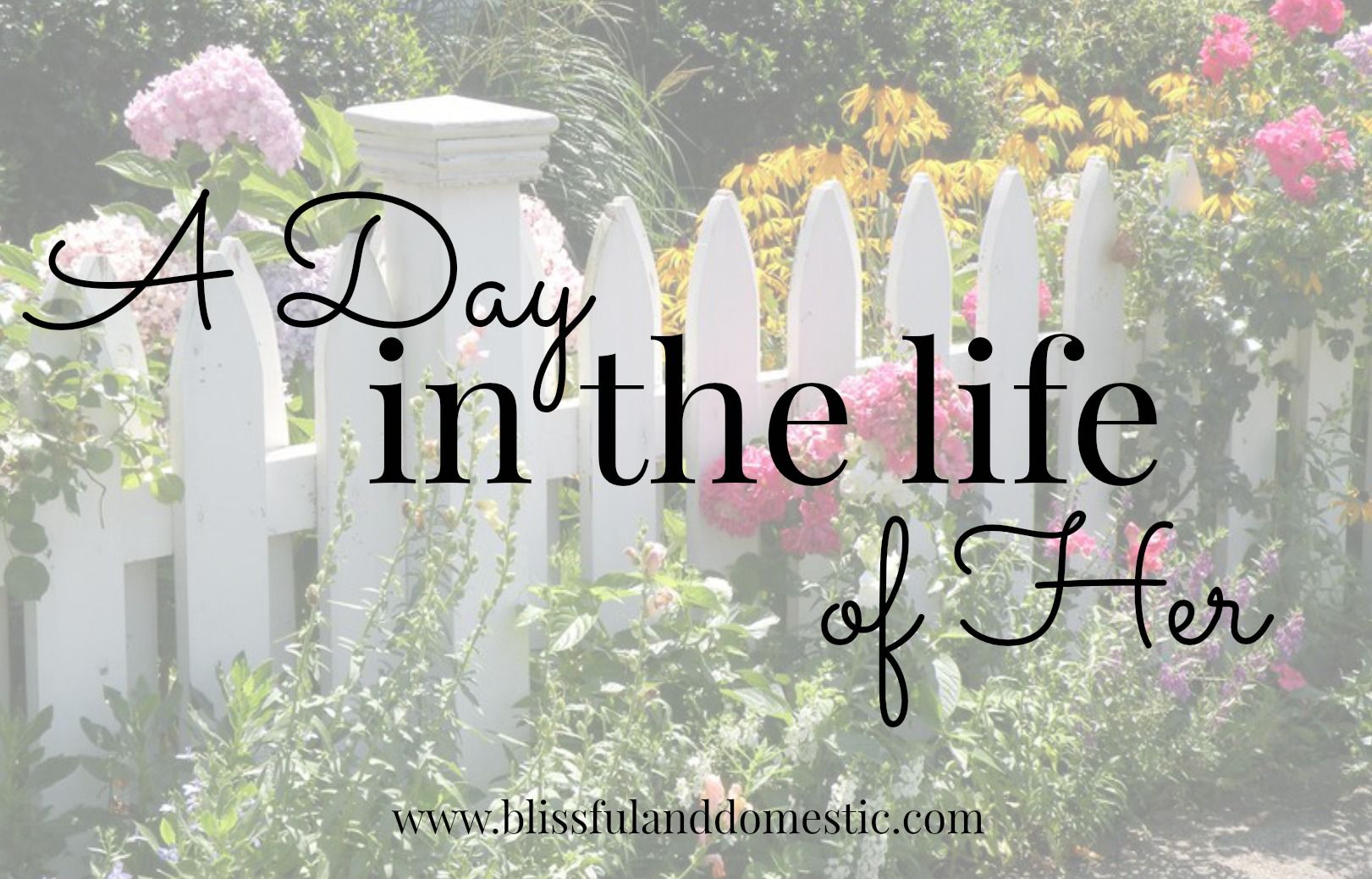 Good Morning Lovelies! Today you are invited to spend a day in the life of her.
You know that gal who you might think has it all together. The mama who seems to do it all. Well guess what? She doesn't. Let's fight those lies. This new series is an effort to get rid of the "super mom" image that we all make for ourselves in our heads. It is a

time to inspire one another even more. We do not have to always have it together to be good moms, wives, and women in sisterhood!
I have invited some wonderful women to share their story with us and to be real with y'all. They will share their struggles, their victories, their frustrations, their joys, and everything in between. It may not be glamorous, but it is real and real is absolutely beautiful
Come walk a bit in the shoes of another....
------------------------------
I am a single mom of two beautiful children; my daughter Avery, 6 years old and my son Shane, 4 years old. For the past 3 years it's been just the three of us and although it was tough at first, I'm proud to say that we now have things (mostly) together...most of the time. My mom and dad live about 3 miles away and have been my biggest support system. They are always willing to come over and help me when I need it, whether it's at 6 AM and I have to leave for an early meeting or it's at 10 PM and Shane falls out of bed, cut his head and I need a second opinion on what to do. My parents have always been there for me and I don't know what I would do without them!
The other member of our extended family is my boyfriend of two years (boyfriend sounds so strange when you're in your 30's, but what other word is there?) Brandon...aka "Mr. Brandon"...aka "Nannon". We were high school friends, reconnected about 2 years ago and have been enjoying life together since. He is one of the sweetest, most patient and kindest people I have ever met. Brandon doesn't live with us, but he does come over often. The kids love him and the feeling is mutual. Every time we turn onto our street the inevitable question
"Is Nannon there"
will be asked and the answer will usually lead to extreme jubilation or tears. Either way, I'm so happy that they all get along.
I work for the marketing department of a local hospital system and it keeps me busy, I learn something new every day and overall- I love it. I feel blessed to work for/with people who understand the trials of a working mom and are always willing to be as flexible as possible. I know that not every job is like that, I hit the job jackpot.
So here is the day in the life of a single, working mom on your typical Wednesday...
6:30 AM - My alarm goes off, waking me out of a sound sleep. I immediately grab my phone to turn it off and tap the "Email" icon. As I'm reading the emails from last evening, I'm mentally making my list for the day - Work to-do's, Spelling test tomorrow, Remember to wear sneakers on Ave, What is for dinner tonight? At 6:40 I throw back the covers to get out of bed when I hear Shane crying...
6:40 AM - I go in Shane's room and he is crying real tears. I ask what's wrong and he says he had a bad dream, can he sleep in Mommy's room. Well, yeah bud - I guess you would think it's still the middle of the night, it is totally dark. I carry him into my room, climb into the bed with him and we snuggle down into the covers. After 10 minutes, I'm starting to think I REALLY need to get in the shower and get ready for work. As I slowly climb out of bed, I hear him say "Mommy, where you going?". Oh well - at least I got some snuggle time in with my little man. I click on the TV and get showered and ready for work.
7:30 AM - Shane asks to wake up "sissy" (Avery). Since she needs to be up anyway, I say sure. You never know what mood she's going to get up in, especially when she's woken up - but I take a gamble.
7:40 AM - I peek in and they're both on her bed and they seem to be getting along. I remind Avery that it's time to get ready for school. We pick out her clothes every evening so she knows what to wear and she SLOWLY starts to get dressed. Shane and I head downstairs to the kitchen.
7:50 AM - I start making sausage for Shane and throw toast in the toaster (also for Shane). Avery isn't much of a breakfast eater, so I'll see what she wants when she comes down. I also start to make my protein smoothie for my breakfast.
8:00 AM - Avery (finally) comes down, dressed (no socks/hair not brushed, etc) and plops in front of the TV. I remind her she still has several things to do this morning before school - no response. Finally she stomps into the kitchen and grabs a bag of mini-muffins from the cupboard and sits down at the table. We review her spelling words while I'm making her lunch. I throw in a little note that says "Avery, have a good day! Please hold your pencil correctly. Popcorn Party tonight! Love, Mommy". What's a popcorn party? I have no idea, but I found my popcorn maker and it sounds more fun that way. Mom comes at 8:05 (thank goodness) and I drag Avery upstairs to brush hair/teeth/wash face, etc.
8:20 AM - My work bags are packed, Avery's backpack is packed, lunches are made for both of us and Shane is still in his jammies, snuggling with his Grammy D. They are so cute. I plant a big smooch on him and we race down the stairs (she won) and I drive her to the bus stop. We wait for the bus and she's telling me about the new assigned seating on the bus (really?), etc. As the bus pulls up she turns her little face up to me for a kiss and scampers away. I watch her get on the bus remembering how scared she was last year when she was a "little kindergardener" and how now she's one of the "big kids".
8:21 AM - Now that the kids are both taken care of it's off to work/meetings!
8:45 - 5:00 - Emails, meetings, show a pic of the kids to a co-worker, text Mom, wish I had planned dinner better, remember that I forgot to sign Avery's behavior chart paper last night, wonder how Avery's day is, more emails, more meetings, stop and pick up a container of roast beef and buns on the way home...
5:15 - As I pull into the garage, the window at the side of my house moves and I see Shane's face. He looks excited to see me!
5:16 - I open the door to the house and it's like mass chaos! Avery's backpack is lying open, papers everywhere. Shane is literally running around me pretending he is a Teenage Mutant Ninja Turtle and screaming "Turtle Power" and my mom is sitting on the couch, patiently listening to Avery read one of her books in the midst of the whirlwind.
5:30ish - It's Wednesday, standing date night with Mr. Brandon, so he comes in around 5:30. I'm heating up the sandwiches, find some green beans in the cabinet and my mom had pulled out a hash brown casserole from the freezer (Thanks Mom!) so the food is in the oven. I'm still in my work clothes, but Brandon comes in to say hello and within 5 minutes he's snug between the munchkins, and both he and Shane are now listening to the book Avery is reading. Mom sees this as a good point to exit, so she sneaks out...
Evening: The time line gets blurry here. We have dinner together, although Shane had a late lunch, so he plays with his trains most of the time. We hear about Avery's day, Shane tells us about what he & Grammy did today and after dinner Brandon does all the dishes and cleans up the kitchen while I get my turn to change and play with the kids for a bit. Shane wants me to build him a track for his trains (which he plays with every single day). Avery tells me she loved the mint Oreos I put in her lunch today but she "didn't appreciate" the reminder about holding her pencil correctly. LOL. She then remembers "popcorn party". I tell her baths first, then homework, then popcorn. She makes a frustrated noise at me and stomps away, but she listens!
By 8 o'clock, both kids are bathed, homework is complete and in backpacks and we are ready for the "popcorn party". We drag out the old popcorn machine and fire it up. The kids are so excited to make our own popcorn, and everyone gets their popcorn and sits back to watch the Pirate Wild Card game! After the first 2 innings, it's bedtime. The kids go upstairs together, and Avery helps Shane brush his teeth while I get their rooms ready for bed. I read Shane a Thomas the Train book before bed, then "Mr. Brandon" says goodnight and light's off for Shane. Hopefully he'll sleep well, since he was up so early (no naps). I head into Avery's room and we read about half a chapter in the "Harry Potter" book and then after "one more question" 5 times, she's finally ready to let me leave the room. We kiss her goodnight and head downstairs.
The living room is a mess, trains/popcorn/books everywhere. We clean up the popcorn and push the toys in the corner with the toybox and sit together for a few minutes, finally getting to talk uninterrupted about our days and plans for the weekend. At 10 PM, Brandon is ready to head home and I say goodnight to him, then get the breakfast food for tomorrow ready, fold a load of laundry, pack Shane's backpack for preschool tomorrow and head upstairs to bed to read a chapter in my book before my eyes get too heavy. I accomplish about 3 sentences and decide sleep is more important tonight. Good night!
Some might say this is a boring life, but I LOVE IT!!!
XO Amy
-----------------------------------
Find more
A Day in The Life of Her
HERE
If you would like to be a part of the
"A Day in The Life of Her"
series,
shoot me an email. I'd love to have you!
blissful_and_domestic@yahoo.com
XO Danielle