Morning lovelies! Today we are talking about garlic toast. It is probably one of my favorite things to eat! I have been a big buyer of the garlic toast you can find in the freezer section of the grocery store for quite some time. It has got to be one of my favorite Italian side dishes. It cooks quickly on my griddle and the whole family loves them. I have always wanted to make it myself though, but you need to have a broiler setting on your oven and until recently I was convinced my oven lacked that setting. I know! I know! Big blond moment on my part.
One day I was cleaning my oven and I noticed a button that said broiler! What the heck!? I have a broiler setting? I asked Hubby and he said "of course it has a broiler setting". How have I been cooking on this dang oven for over a year and did not notice the broil setting? Like I said before, HUGE blond moment. Once I found that setting, I knew I needed to try garlic toast at home. No longer would my leftover hot dog buns go uneaten. I would be able to use them as garlic toast. Woot! Woot! I was excited to give it a try.
My first try was an epic fail. I put them about 2 inches away from the boiler (top of my oven) and left them in there for 10 minutes. I am sure you can guess what happened? Yep, I burned them. It was like I was ten again and had burned the burritos in the microwave. Remember that one Dad? I was notorious for putting things in the microwave, hitting way too many zeros, and forget that I was cooking something. I'd come back later, only to see the kitchen filled with smoke and my Dad tossing yet another plate of burritos in the trash. Boy did that man have patience with my cooking or lack of really.
After a few tries ending with burnt bread, I decided to give it one last shot. I was a bit defeated, but I felt maybe this time would be the time I would get perfectly toasted garlic bread. Guess what? It worked!
Through my epic fails, I learned a few things. For my oven, I have learned that placing my oven rack in the upper middle keeps my toast from burning. I put it on the high broil setting and check it every few minutes. It usually takes 5-8 minutes to cook. These little gems are super yummy and are a great way to use up leftover buns. Using up leftovers is a great way to stretch your grocery budget further!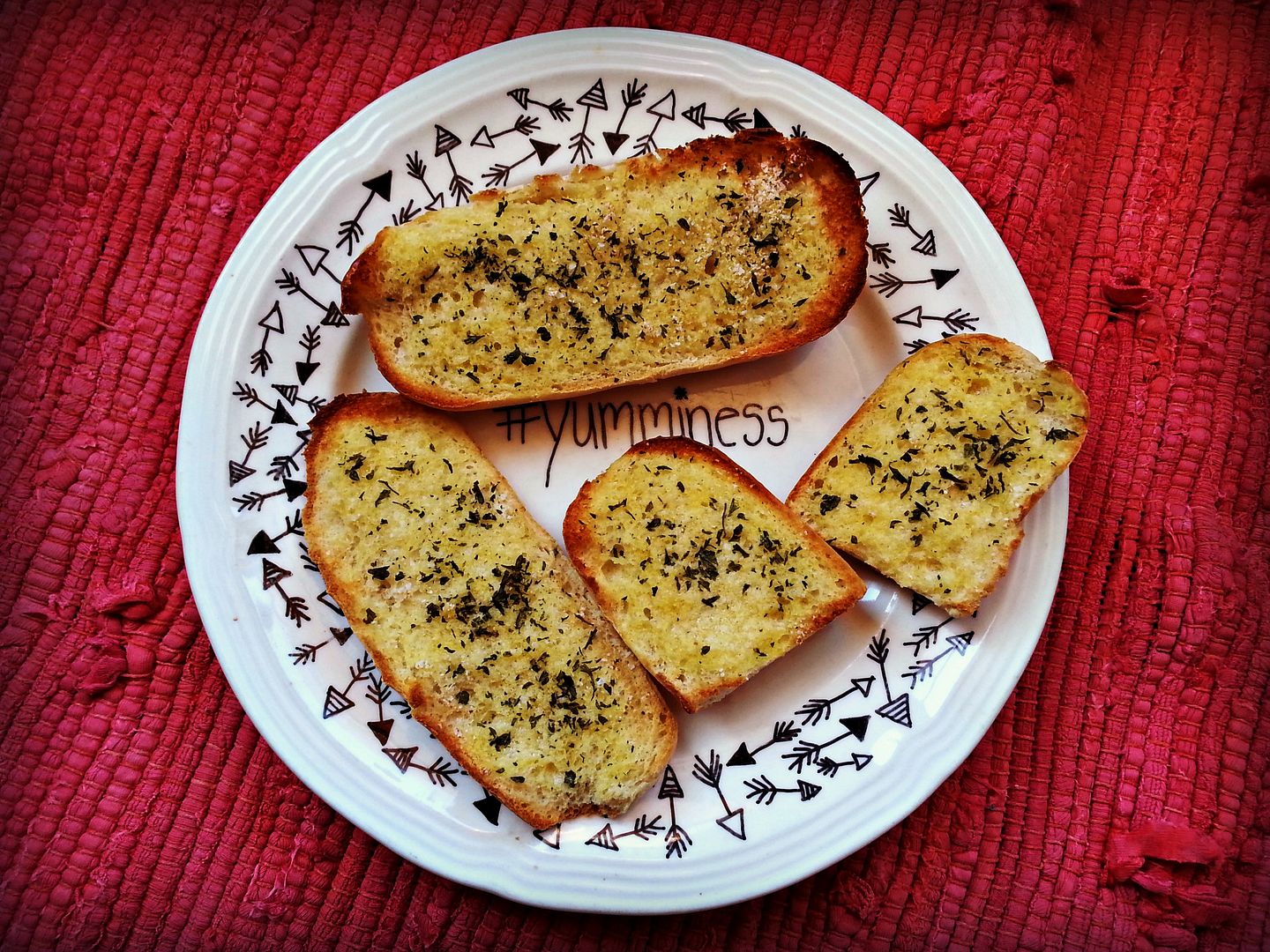 Super simple and will make a great addition to your next dinner. If you try out this recipe, tag me on
Instagram
. You can find me at
"blissful_and_domestic"
. I love seeing all the yummy things you are creating. You guys rock!
Simple Garlic Toast
Leftover hot dog buns or hoagie rolls
garlic salt
butter/margarine
parsley
Place opened buns on an ungreased baking sheet. Spread generously with butter or margarine. Next sprinkle with garlic salt and parsley. Set your oven to broil (I used my high broil setting) and cook for 5-8 minutes. Check your buns often, so they don't overcook. Serve solo as a snack or as a yummy Italian side dish! Enjoy!