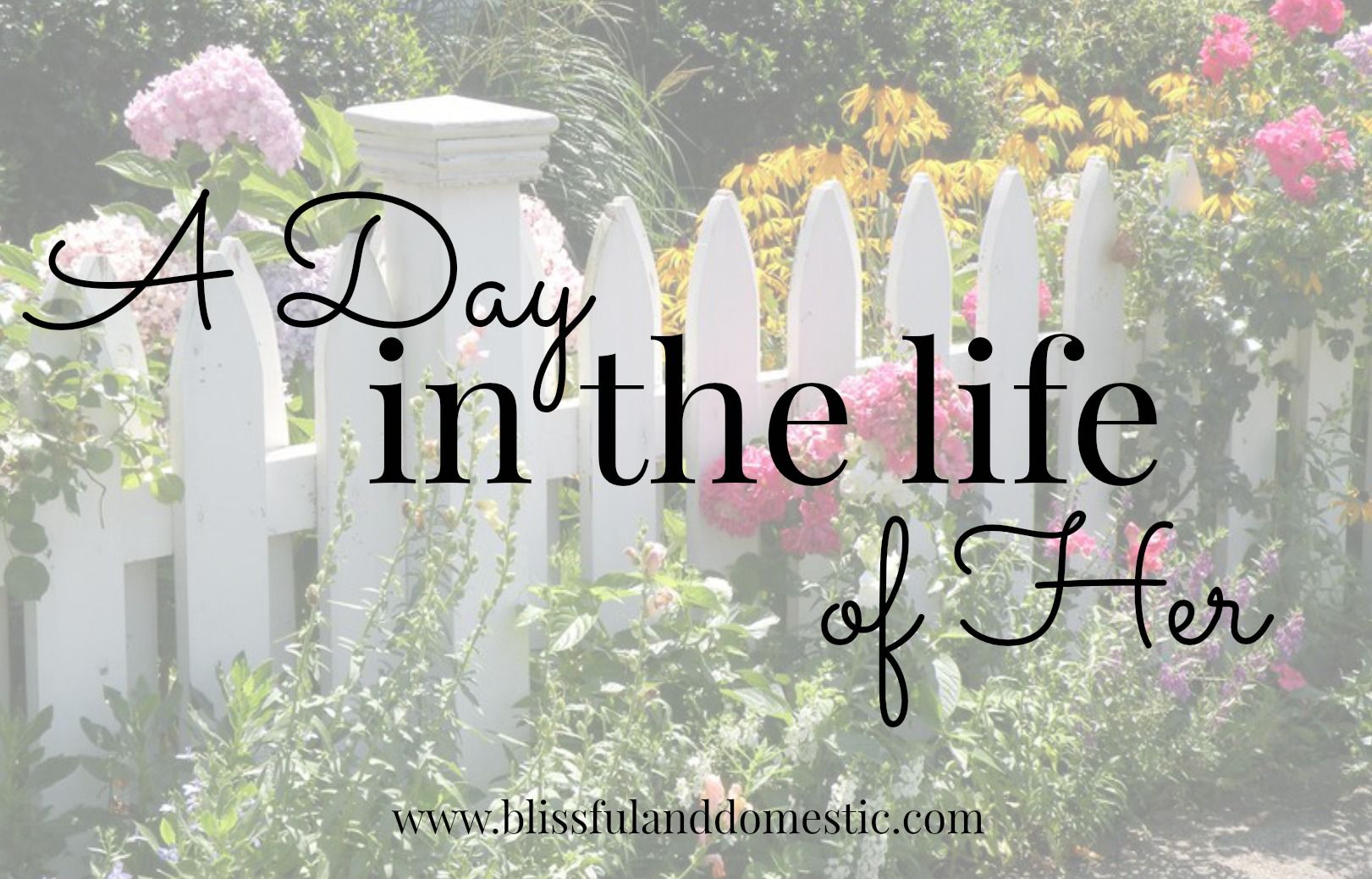 Good Morning Lovelies! Today you are invited to spend a day in the life of her.
You know that gal who you might think has it all together. The mama who seems to do it all. Well guess what? She doesn't. Let's fight those lies. This new series is an effort to get rid of the "super mom" image that we all make for ourselves in our heads. It is a

time to inspire one another even more. We do not have to always have it together to be good moms, wives, and women in sisterhood!
I have invited some wonderful women to share their story with us and to be real with y'all. They will share their struggles, their victories, their frustrations, their joys, and everything in between. It may not be glamorous, but it is real and real is absolutely beautiful
Come walk a bit in the shoes of another....
------------------------------
Today has been one of those days.
One of those days you feel physically drained but thankful.
Today started at 7:30 am, which is pretty early for me since my daughter usually doesn't wake up till around 9am.
I always feel bad in the mornings because my daughter wakes up, jumps out of bed full of energy and is ready to start her day. She is so enthusiastic. While I just lay there in bed like a Zombie praying for another hour of sleep.
I make her some oatmeal and put her in front of the TV and start a movie for her. I am hoping this keeps her entertained long enough that I can sit alone and have some coffee to wake me up.
Paislee is usually pretty well behaved in the mornings, and I am so thankful for this. I am not a morning person, so it is nice to have a toddler who understands this.
Around 10am, after lounging around for awhile I decide it is time to start the day. I have a huge to do list to get done and it has been weighing on me. My husband gets home from a business trip tomorrow and I have been trying to get everything clean and organized before he gets home. Especially since a few days after we will be having a baby!
Cleaning with a toddler around is interesting. That is pretty much the only word I can think of for it. No. Actually there are many words I can think of to describe it. But I will stick with interesting.
For some reason she gets offended when I pick up all her toys off the floor. It is like she placed everything strategically on the floor for a reason and NEEDS them to stay there. So when I begin picking up her toys and putting them in the laundry basket (this is how I pick up all her toys to transfer them back to their rightful place) she screams and tried to get everything I'm putting away. They could be toys she has ignored for days, but the minute she sees me trying to clean them up, she decides that they are all her favorites.
On really good days she will actually help me clean up her toys. I love these days, she helps clean everything up and then claps and smiles. She is so proud of herself and it shows. This always makes my heart happy. Seeing her proud of herself and her feeling like she did something important and helpful.
After I picked up all her toys, I vacuumed. While I was vacuuming Paislee went into the kitchen and drank some syrup. I guess it is my fault for leaving it in her reach on the counter. I mean, she is 2, and it is syrup.
After I put all her toys away I sweep and mop the floor. After mopping I give Paislee a pudding cup in her high chair and start some laundry. As I walk out of the laundry room Paislee looks right at me and throws the pudding cup on the floor. Oh Paislee. Why do you do these things?! I guess she thought I needed to mop the floor again.
We eat lunch and color a few pictures. Then I tell Paislee it is time for her to take a nap. She of course isn't very happy about this. I don't know why she fights naps, naps are awesome.
After about 15 minutes of crying she says she wants me to lay with her. So I do. I lay next to her, play with her hair and tickle her back until she falls asleep. I cherish these moments. Sometimes I feel too busy to lay with her for 30 minutes as she falls asleep, but I do it anyway. And I am always thankful that I do. Sometimes she just needs me. She wont be little forever and I try to take the time to really live in these moments. Sometimes I will lay next to her and cuddle her for a few extra minutes before I get up and start cleaning again. When she is sleeping she looks so peaceful I automatically forget all the naughty things she did earlier.
While Paislee is napping I run all the garbage out to the dumpster. This involves me going up and down our apartment stairs several time. Which is super fun when you are 9 months pregnant!
When she wakes up we go to the library for a little while. I like to get her out of the house every once in awhile and I need the internet there! She always likes going to the library but gets very upset when I insist she can't knock all the books off the shelf.
The rest of the day is pretty quiet. We go home, make dinner and watch Elf before bed time.
Today has had it's ups and downs. I have been upset some of the time and happy some of the time. I have almost cried out of frustration but had a smile on my face when the day is done.
I think today was the definition of what it is like to be a stay at home mom. I cleaned up diarrhea, syrup and play dough off of my child. I have vacuumed up smashed in food out of the carpet. Multiple times. I have sang songs and colored. I have raised my voice. I have laughed out loud at my daughters sassiness. I have hid in the bathroom for 5 minutes to get some time to myself. I have cuddled, wiped tears, and gave kisses.
I may have had a stressful day, but I am thankful that I got to spend it all with my daughter.
Today was one of those days.
XO Whitney