This is a sponsored post written by me on behalf of
Snack Pack
. All opinions are 100% mine.
With the holidays over and all of us once again getting ourselves back into school mode, I am sure we are all looking for simple ways to upgrade those brown sack lunches we're making for our littles.
When I was little we always got to pick out a fun treat to have with our lunch. Even though we homeschool, I try to still do the same with my kids. It was always fun having a yummy treat after everything else was eaten for lunch. Just like when I was a kid, I love to have
Snack Pack
pudding cups. They are easy to find, can be bought in bulk, I can always find coupons to purchase them, and they taste delicious! They are also made with nonfat milk and are fortified with as much calcium as an 8-ounce- glass of milk.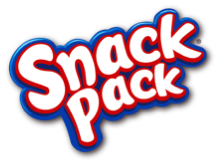 I usually buy chocolate, since it is my favorite, but they come in a variety of flavors. They have no preservatives and no high fructose corn syrup (I hate that stuff), so you can add them to your munchkins lunch with no guilt:)
Hubby also likes it when I throw one in his lunch. Hubby takes his lunch to work each day, which saves money and calories. I love keeping us out of the drive-thru (don't we all love that?)
Oh and don't forget to check out the new easy peel lid (perfect for little hands) and the cardboard wrapping. They always have fun coupons tucked inside for us Mamas to save!
How do you guys throw a little sweetness into your munchkins lunch?
XO Danielle